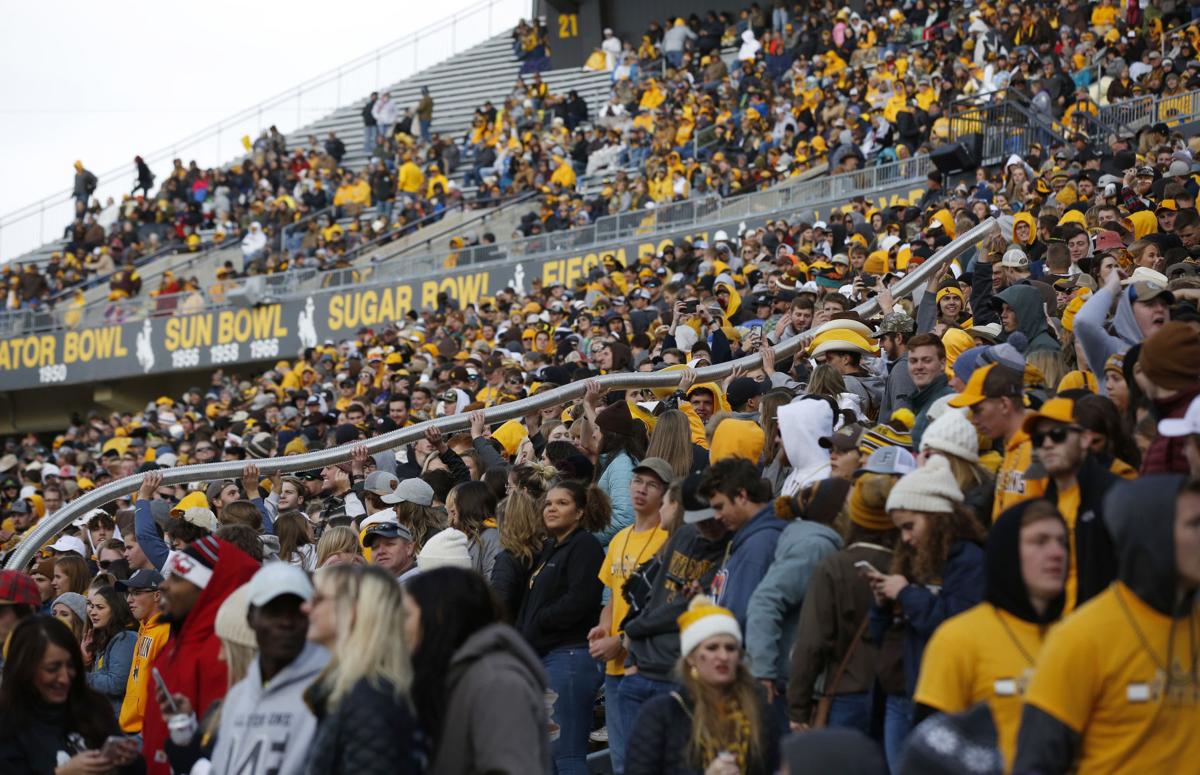 LARAMIE — In two weeks, the calendar will flip to August. Yet much of college football remains in limbo.
Sure, some Football Bowl Subdivision conferences have started to take action regarding the upcoming season in response to the coronavirus pandemic. The Big Ten, the Pac-12 and the Big East have already scratched non-conference games from their teams' schedules, but it's not surprising that the most impactful decision — whether a season will be played at all — has yet to be made.
Not when football serves as the cash cow for many FBS athletic departments across the country.
"Nobody wants to cancel football, so they're going to wait as long as they possibly can to not cancel football," Wyoming athletic director Tom Burman told the Star-Tribune. "And it doesn't matter if it's Auburn or Wyoming. We spend every cent that we get on football. It's $70 million they generate (in revenue) versus our $10 million, but it's still money out the door. So we're all are like, 'Man, can we just hold on and hope?'"
Actually, for UW, the cost of not having any kind of football season would likely exceed $10 million. Burman said the financial hit for the athletic department would be closer to roughly $10.5 million.
That estimate, Burman added, is based on the football budget that was approved by the UW Board of Trustees back in March. Assuming full capacity at War Memorial for each of UW's home games, $2.7 million in net revenue was expected to come from ticket sales, though a full stadium won't be happening.
Burman said the school's initial plan to have capacity of at least 50 percent, at least to start the season, isn't going to happen either. As of now, UW is aiming for capacity of somewhere between 30 and 40 percent, though the school has not finalized an attendance plan.
"We're hopeful that sometime in early August that we'll have a final plan as to what we can do," Burman said.
Ticket sales, though, would be just one of the revenue losses UW would suffer if it doesn't end up playing any games.
MW spokesman Stuart Buchanan told the Star-Tribune on Friday that it's too early to know whether the networks would still pay some amount to each school in the event there is no season due to unforeseen circumstances, but it's possible that no games would simply mean no money. And without football, corporate sponsorships and private donations could also be affected.
"All of those are tethered to the idea that you play a football game on Saturday," Burman said.
UW has already lost one home game off its schedule. The Pac-12's decision to only play conference games this fall has cost the Cowboys their Sept. 19 matchup with Utah.
While it's possible UW could replace the Utes with another opponent to get back to a full 12-game schedule, Burman didn't rule out the possibility of the Cowboys staying at 11 games if there's a season. If UW gets to keep its remaining five home games, including the Sept. 5 opener against Weber State, at close to 40-percent capacity for each of them, Burman said the loss in revenue would be far more manageable.
"It's not the end of the world," Burman said of that scenario. "It's a couple of million dollars."
Burman reiterated the numbers are rough estimates since the school doesn't know how many football games will be played this season if any, but there's no denying that no season at all would be a crippling financial blow, particularly for Group of Five schools like UW whose athletic departments operate on a much smaller budget than their Power Five counterparts. UW's operating budget is roughly $40 million.
Burman said UW has already had talks about how to handle the worst-case scenario should it happen, though simple answers are few and far between. While Burman said furloughs and pay cuts for coaches have yet to be implemented, they're among the cost-cutting measures that have been discussed. The school still isn't entertaining the idea of eliminating sports, Burman said.
Yet even if those actions have to be taken in the future, it won't make up for all of the revenue UW will lose if there's no football season.
"Enormous, enormous issues," said Burman, who's taken a voluntary 10-percent pay cut to help mitigate the department's loss in revenue. "And schools all over the country are looking at how do they finance that? How do they borrow against it? Do they borrow from university reserves? How do they get the university to support them?
"It's really complicated, and we're having those discussions internally right now. What would we do if that was the case? We don't know yet."
Keeping travel more regional by playing conference-only games is one way to attempt to salvage some kind of season. Another is to move the season to the spring, which is already being done at some levels.
"I'm less confident today than I was a month ago (that a football season will happen)," Burman said. "And if there isn't a significant downturn nationally in the number of COVIDs and the hospitalizations in important states like Texas, California, Arizona or Florida, I don't believe football will happen at the start on Sept. 5 or the end of August."
If competition started in January or February — still peak winter months in states such as Wyoming, Colorado and Utah — spring football would be a much tougher sell to some schools in the MW, which has 12 football members in eight states.
"That's worrisome to me," Burman said of a spring season that would begin any earlier than March. "Obviously COVID-19 is a big health issue, but if you play a game in Laramie, Wyoming, at 7,220 feet (of elevation) or in Colorado Springs or Logan, Utah, in February, good luck."
Spring football would also bump up against the NFL Draft in April, which may lead to draft-eligible players electing not to play the season so that they don't risk an injury. And if the fall season were moved to the spring, there's also the concern of playing two college football seasons in a calendar year, which Burman acknowledged is "going to be hard on young people."
But as desperate as the sport is to buy time, the reality is it's running out. The season is scheduled to start in a little more than a month with Week Zero games slated for the last weekend in August, so that last minute is coming sooner rather than later in which a decision has to be made — one that has millions of dollars riding on it for every school involved.
"I used to always use the excuse that we've got months," Burman said. "Well, now we've got weeks."
Follow UW athletics beat writer Davis Potter on Twitter at @DavisEPotter.