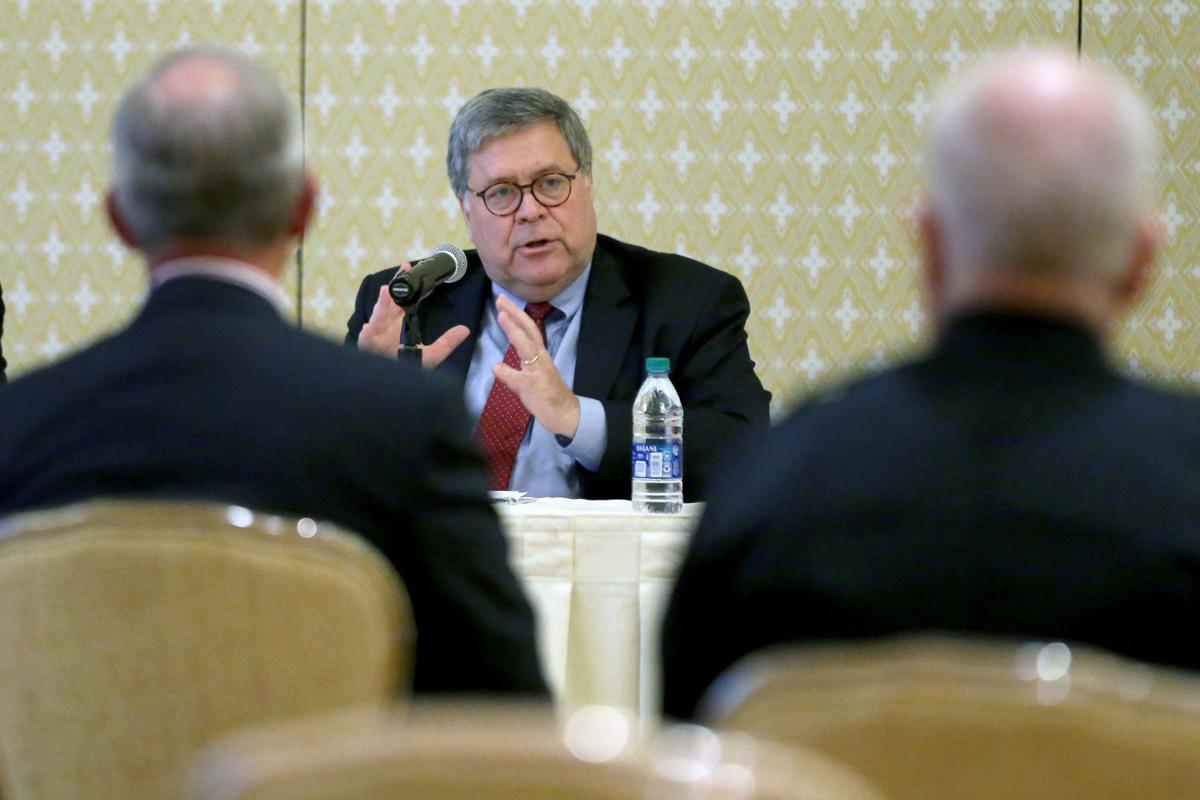 CHEYENNE – U.S. Attorney General William Barr said he would look into stalled joint venture between two of Wyoming's largest coal operators after meeting with Gov. Mark Gordon on Thursday morning.
The joint venture between Arch Coal and Peabody Energy was pitched by the two companies last year as a way to improve price stability and keep two of the state's largest coal mines viable as the industry continues to suffer from bankruptcies spurred by massive declines coal demand following a decade of coal plant closures in favor of new natural gas plants.
The Federal Trade Commission, however, rejected the deal, saying it would reduce competition in coal markets. That left both companies in a precarious financial position at a time when the Trump administration has pushed for a resurgence in coal within the United States' efforts for energy independence.
Though the five-member Federal Trade Commission is an independent agency separate from the Department of Justice's anti-trust division, Barr – in town for a meeting with Wyoming law enforcement before a scheduled speaking appearance later this week in Jackson – told the Star-Tribune he would be "taking a look" at the deal, saying he believes regulators are "addressing the problems of yesteryear" rather than keeping up with current market trends.
While Barr said he wasn't sure what level of recourse the Department of Justice could have in reversing the FTC's decision, he could at least begin a dialogue around that decision and explore the case further.
"It's about looking at the benefits of a merger at different levels of the market," he told the Star-Tribune. "If you don't take into account the extent to which it will help Wyoming compete in other markets – the coal market, for example, or the electric power market – then you're not looking at the whole realm of consumer benefit. Ultimately, you want to benefit consumers to the optimal extent, and it sounds to me like the whole picture wasn't looked at here. So I'm going to go back and look at it myself. Or at least, I'll talk to the FTC about it.
"If I reach a conclusion in which I feel like the merger would benefit competition," he added, "then I will try to use whatever authority I have to rectify the situation."
A spokesman in Gordon's office confirmed that he and Barr also discussed the recent purchase of a lamb processing plant in Greeley, Colorado, by meat processing giant JBS, which state lawmakers and the governor himself warned could have detrimental impacts to the state's ranching community and further exacerbate longstanding concerns about anti-competitive practices by the meatpacking industry.
While Barr declined to go into specifics about that case, he told the Star-Tribune he was "very concerned" about the recent trends in the meatpacking industry, noting a recent investigation the anti-trust division had begun into the meatpacking sector and the impacts it was having on livestock producers around the country.
"We're looking very carefully into that issue, and expect that we will be hearing back from them very shortly," Barr said.
Be the first to know
Get local news delivered to your inbox!