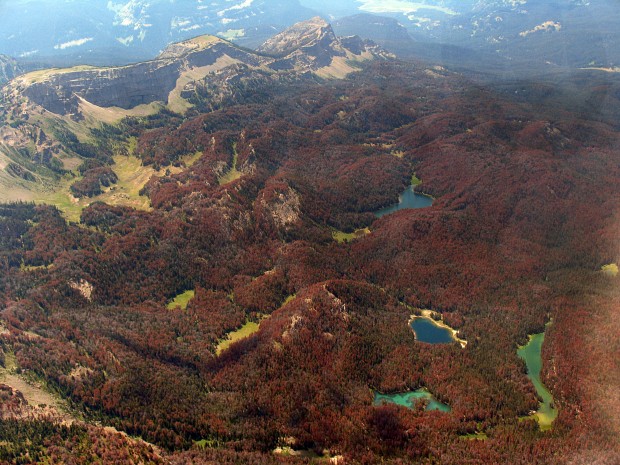 CHEYENNE -- Whitebark pine trees in the Yellowstone area are dying at a rate approaching the acreage of all trees that burned in the region's vast 1988 wildfires, a researcher says.
The Natural Resources Defense Council released a report Wednesday on the dead and dying high-elevation forests in Wyoming, Idaho and Montana.
Aerial photographs document 1 million acres of whitebark forest dead or nearly so from mountain pine beetles and an invasive fungus, report author Wally Macfarlane said. Another 1 million acres of whitebark are at risk, he said, with scattered dead trees an ominous sign that beetles might soon take a heavy toll in those forests as well.
"The progression is one-way. As soon as the beetles get into these forests, what we've found is it pushes forward to an outbreak level," Macfarlane said.
Researchers last year flew over an area the size of South Carolina and took photos of the region's 2.5 million acres -- 3,900 square miles -- of whitebark.
"That system was really pretty much in equilibrium for thousands of years. It has undergone absolute, dramatic change in just six years," said Jesse Logan, a co-author of the report and former head of bark beetle research for the U.S. Forest Service.
"Ecologically that's an astounding event."
The death of the forests has wide-ranging implications.
Whitebark pine nuts are an important, high-calorie food for grizzly bears, a federally protected threatened species. Whitebark forests also keep high-elevation snowfall from blowing or melting away before spring runoff provides critical water for cities and agriculture.
The researchers mapped the photographs and classified the proportion of dead and dying trees on a 1-6 scale. Forty-six percent of the whitebark forest surveyed scored 3 or higher, with beetle kill ranging from widespread to practically every tree.
The NRDC has petitioned the U.S. Fish and Wildlife Service to protect the whitebark pine as a threatened or endangered species. The service announced Monday it will study threats to the trees further and announce in a year whether such protection is needed.
"It's going to be pretty hard to refute the trajectory of the species. With the information that's gathered, I think they're going to have a hard time not listing the whitebark pine," said Macfarlane, with GEO/Graphics, Inc., in Logan, Utah, who coordinated the study funded by the U.S. Forest Service and NRDC.
Whitebark pines can live up to 1,000 years and thrive in higher, harsher conditions than most other trees in the Rocky Mountains. Yet their evolved defenses against beetles are limited compared to those of lower-elevation tree species, said Louisa Willcox with the NRDC.
"Whitebark pine is basically a sitting duck to the mountain pine beetle," she said.
An invasive fungus, blister rust, has been taking a toll on whitebark pine for a century. The recent toll from beetles has been far greater, however.
The NRDC blames climate change for the higher temperatures that have enabled beetles to proliferate from one winter to the next.
In 1988, wildfires burned 1.2 million acres in and near Yellowstone National Park. The whitebark devastation hasn't drawn nearly as much attention, partly because most whitebark in the region grow above 8,500 feet -- for the most part out of sight from paved roads.
Yet the whitebark devastation could last much longer than the Yellowstone fires. The trees take much longer to regenerate than the lower-elevation species that burned, said Logan.
"It's a really different ecological situation in whitebark," he said.