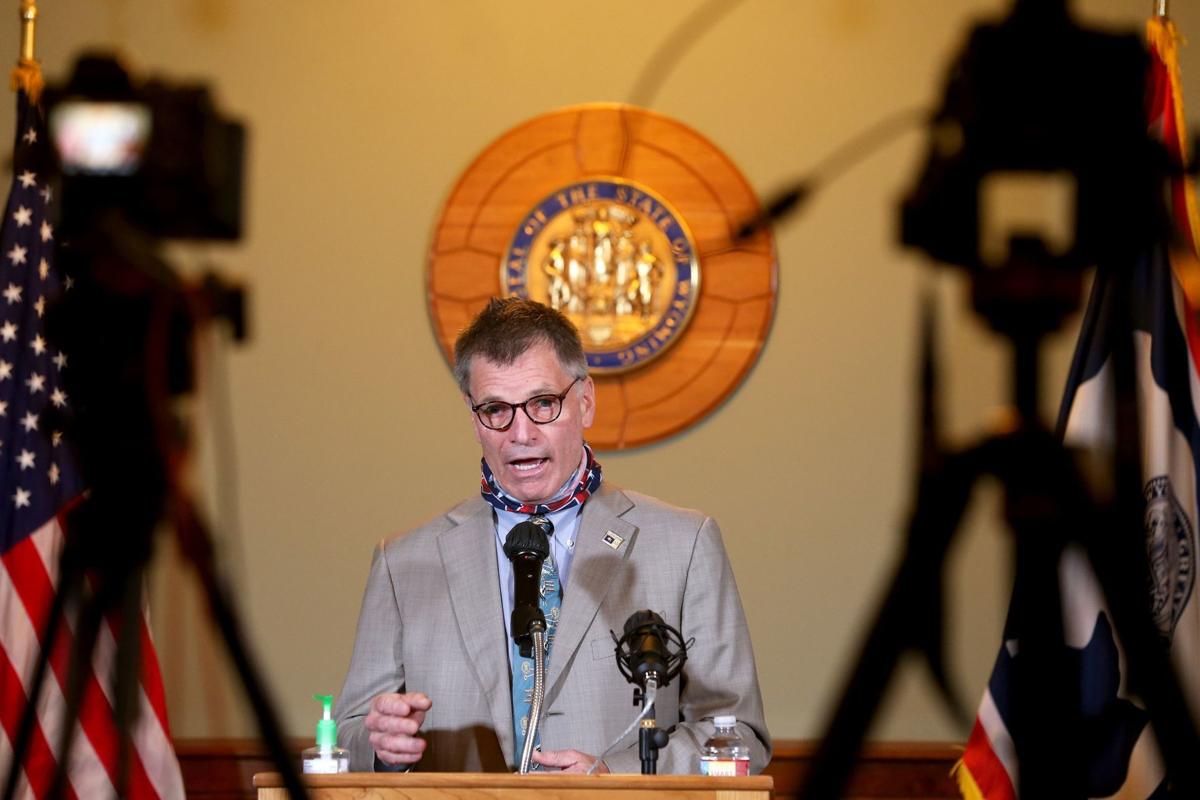 Gov. Mark Gordon said he was hopeful "up until about a week ago" that the state could soon eliminate its restrictions put in place to limit the virus' spread. Instead, because of a surge in new cases, the restrictions were extended.
Speaking Wednesday at a news conference, Gordon said Wyoming continues to experience a surge in cases that began in June. He stressed the need to follow public health guidelines to avoid the need to tighten restrictions again.
"We were really feeling like we were on such a great trajectory that we really were moving to being almost completely unrestricted," he said. "And because we've seen this spike, we've had to hit pause and extend these orders for another 15 days."
Gordon noted that governors in other states, including Florida and Texas, have closed some businesses again because of spikes there that have begun to fill hospital intensive care units to near capacity. He noted that was a possibility in Wyoming if the situation worsened.
"This is something we don't want to do," he said.
As he has in the past, Gordon framed the need to follow public health guidelines in economic terms. If people wear face masks, wash hands and social distance, the state's economy will continue to recover, he argued.
"I think people thought, 'No big deal,'" Gordon said. "And you know we can just do what we want to. And I think that carelessness and cavalier attitude has been incredibly unfortunate.
"And so, you know, I come back to saying, if you want the economy to keep going, if you want to make sure that we stay open, if you want to see us move forward to where we were hoping to be, you know, people will mask up," he said. "People will adhere to these things. People won't be so cavalier."
Many people in the state continue to forgo wearing masks in public. Gordon compared such reluctance to "a game of chicken, to a degree." At indoor businesses in Casper, for example, there are fewer people wearing masks than those going without them.
"And that often doesn't end well," he said. "So it's best to use good judgment. We're really counting on people to do that."
While Wyoming's cases spiked in June, that rise didn't prompt an immediate rise in deaths or hospitalizations. As of Wednesday, nine COVID patients were hospitalized in Wyoming and 20 people had died after contracting the virus.
Gordon noted that Wyoming's hospitals are not the only facilities whose capacities worry him.
"One of the big concerns I had when we saw the big spike, 80 cases or so, in Uinta County, was it was not much more than a month and a half before that that we knew Salt Lake was not accepting patients," he said. "And if you're in Wyoming, you're going to be dependent, if you get very sick, on being able to go to a place like Salt Lake or a place like Billings or a place like Rapid City or a place like Colorado. And in all of those cases, it's been a concern."
"So people that are cavalier and think, 'This is no big deal. I can't get sick,' or, 'It won't be bad,' particularly young people," he continued, "it could be bad and you may need to be transported to a hospital that will not accept you."
Despite the June uptick, Wyoming's infection rate continues to rank in the bottom 10 among states.
The number of detected coronavirus cases in Wyoming began spiking in mid-June after hitting a plateau. More than 41% of the state's confirmed cases were announced in June. (The virus was first confirmed in the state March 11.)
Uinta, Sweetwater and Park counties especially saw dramatic increases over the course of the month. While the state's testing capabilities also hit high marks in June, state health officer Dr. Alexia Harrist said that the surge was a result of increased transmission of the virus, not just improved testing.
Over the final 10 days of June, 254 confirmed cases and 308 total cases were announced, both of which are record highs for a 10-day span here. For comparison, 84 confirmed cases and 101 total cases were announced over the final 10 days of May.
Total cases include probable patients — Wyoming residents who have exhibited coronavirus-like symptoms after being in contact with someone who has tested positive for the virus.
Gordon said he does not plan to impose mandatory quarantines for people coming to Wyoming from states experiencing a spike in the virus. The state has yet to give its decision on a Teton County request for an indoor mask order, but the governor did comment on the situation there at the end of his news conference.
"We are seeing in places like Teton County businesses that are being overwhelmed with people that are not wearing face masks that are coming in," Gordon said. "And so where local conditions warrant and the local health officer believes it's mandatory that we have face coverings and some other aspects of that, we certainly support that."
Concerned about COVID-19?
Sign up now to get the most recent coronavirus headlines and other important local and national news sent to your email inbox daily.