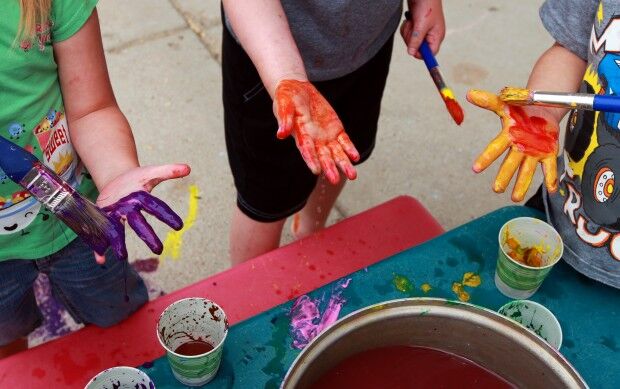 A Biden administration plan to invest billions in early childhood care and education could bring big changes to Wyoming's system.
Providers and early childhood advocates say it could mean welcome improvements, as long as there's enough money to pay for it.
President Joe Biden's American Families Plan is a sweeping proposal to invest billions in everything from child care to higher education, seeking to pay for it with higher taxes on the nation's most wealthy.
For child care, the plan promises a $15 minimum wage for workers, a cap on costs based on a family's income and avenues for providers to continue their education.
"It's really hard not to be overwhelmed and energized by this," said Becca Steinhoff, executive director of the early childhood advocacy group Wyoming Kids First.
Steinhoff is "cautiously optimistic" about Biden's plan. It needs to jump a lot of hurdles before it becomes a reality, including Congress. And paying for it will be the biggest challenge. If the federal government underestimates what it needs to offer, the plan could leave providers in worse shape.
Still, Steinhoff is hopeful.
"A lot of this is a conversation Wyoming hasn't yet had," she said.
The child care providers who spoke to the Star-Tribune said the plan sounds positive, but not if it leaves them paying the difference.
Lisa Alvarado runs a day care program from her home and said the $15 an hour minimum would be a bump for her single employee, who now makes the state average for child care workers, about $11 an hour. Alvarado said she knows her employee would benefit, but she can't afford to offer a $4 hourly raise.
Another provider who did not want their name published worried such a federal requirement would force them to raise prices on parents.
Steinhoff also worries that without adequate federal support, the initiative could harm the majority of small businesses that make up the state's child care system.
She said she's comforted by another element of Biden's plan: a promise to align child care costs with individual income.
A fact sheet outline of that plan reads "for the most hard-pressed working families, child care costs for their young children would be fully covered," and those earning 1.5 times the state median wage won't pay more than 7% of their annual salary on child care for children under 5 years.
That outline also says providers "will receive funding to cover the true cost of quality early childhood care and education."
Alvarado said as long as the difference didn't fall back to her, she knows a cap on cost would help the families she serves.
She charges $35 a day to care for a child, or $10 if she's just watching them before and after school. That's standard around Casper.
A subsidy program offered by the Department of Family Services will offset about $15 of those daily costs for families that qualify, but it leaves $100 a week to the family, Alvarado explained.
"That's a big deal when you add it up," she said. "And that's just the people who qualify."
Fewer than 500 families in Natrona County received those subsidies in 2019 and 2020, according to state data. Alvarado said families that aren't eligible for that program often struggle with cost the most.
Biden's plan must gain approval from both chambers of Congress and make it through state implementation before it touches the roughly 600 providers in the state.
So far, Wyoming's congressional delegates aren't convinced by the Biden plan. Freshman Sen. Cynthia Lummis last month told the Wyoming Tribune Eagle that Biden's plan "turns pre-kindergarten and community colleges into new entitlement programs, and you know our country can't afford that right now," adding, "The tax increases would slow down and, in some cases, actually wreck elements of our economy."
Though it's still early in the process, Steinhoff said if it does make it past every hurdle, she hopes the investments support the 600 providers that already exist here, "instead of creating something new."
Follow health and education reporter Morgan Hughes on Twitter @m0rgan_hughes