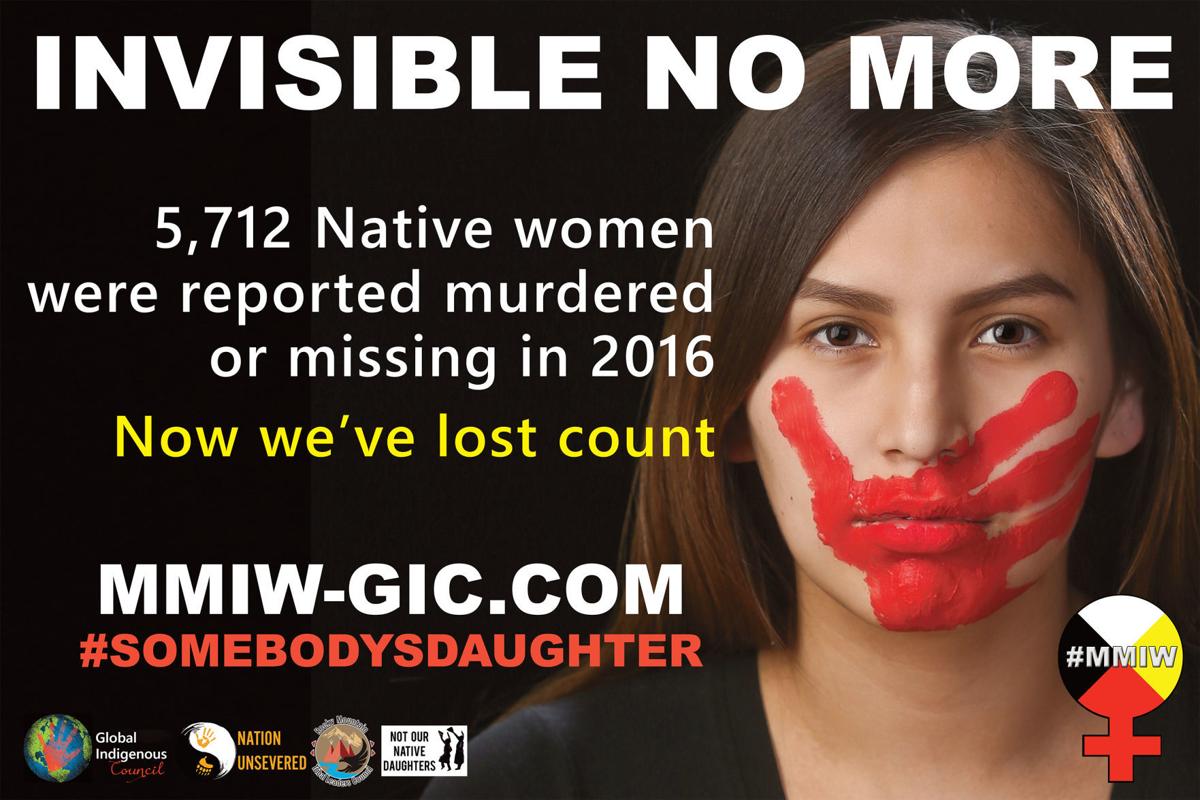 Motorists in parts of Wyoming might soon start noticing billboards meant to draw attention to missing and murdered Indigenous people across the country and state.
"The silenced now have a voice," Lynnette Grey Bull, founder of advocacy organization Not Our Native Daughters and senior vice president of the Global Indigenous Council, said in a news release. "As indigenous women, we are invisible no more."
The campaign was conceived by the Global Indigenous Council with the Rocky Mountain Tribal Leaders Council and the Great Plains Tribal Chairman's Association, according to the release.
Motorists can spot one of the billboards in Casper on Interstate 25 at Exit 187. The other will appear on a digital billboard in Riverton on Main Street at Federal Boulevard. The Riverton billboard will go online on Aug. 14
The billboards will initially be visible for a month, with hopes of keeping them up beyond that, Grey Bull, a citizen of the Northern Arapaho Tribe, said in a Friday interview.
The campaign already includes billboards in seven other states: South Dakota, Montana, New Mexico, Arizona, Oklahoma, Minnesota and Michigan.
Though the problem is not new in Indian Country, the billboards come as federal and state policymakers increasingly seek solutions to the issue.
"Without awareness there will be no change. People need to know that this has been happening for decades," Sen. Jon Tester, D-Mont., said in the release. "This is a way to bring it to their attention."
In Wyoming, increased awareness resulted in Gov. Mark Gordon in April ordering the creation of a task force — at the urging of advocates — to determine the scope of the problem in the state and suggest policy changes.
The task force meets for the second time Wednesday in Fort Washakie.
"I'm eager for us to tackle this issue, as I believe it is imperative to ensure the public safety of all Wyoming citizens," Gordon said in the news release. "The Wind River Reservation operates under a separate criminal justice jurisdictional scheme – but Northern Arapaho and Eastern Shoshone tribal members are also citizens of Wyoming. I am committed to working with our federal and tribal partners to ensure the safety of our Native American communities."
The Wyoming billboards include a statistic that "5,712 Native women were reported murdered or missing in 2016," before continuing, "Now we've lost count." That statistic referred to cases involving Indigenous women reported to the National Crime Information Center.
The billboards also include a picture of a woman with a red handprint across her face, which Grey Bull said is a traditional symbol for war and outcry among plains tribes that has come "to signify that we're not going to be silent about this issue anymore."
Grey Bull said the billboard campaign and focus on the issue has already had an impact.
She said she was just last week given the name of a woman missing for several years by that person's aunt. Grey Bull said she hadn't previously heard the woman's name among the missing or murdered.
That's another thing Grey Bull said she hopes the billboard campaign accomplishes: showing families of missing and murdered Indigenous people that others care about them and are working on solutions to give victims justice.
"It give families a sense of hope that people care about these people," she said in the Friday interview. "I hope when they drive and see these billboards, they know something is being done."
Follow reporter Chris Aadland on Twitter @cjaadland