It began as a small — but booming — cattle town, the playground of big-time rancher Frank S. Lusk and a prominent stop on the Wyoming Central Railway.
Locals eventually struck silver and, at one point, oil, with the nearby Lance Creek Oil Field becoming the nation's second-highest-producing field behind the infamous Teapot Dome. The town blossomed from there, its population hovering between 1,400 and 2,000 people despite the boom times and the busts, its Main Street boasting handsome architecture and its families laying down permanent roots.
Slowly, though, the good times ended for the town of Lusk. The silver was all stripped away. The oil fields, long considered prime, no longer produced enough to be worth the trouble. As the era of the automobile began to dawn, the railroad's dominance began to slip. Meanwhile, "The Little Town With Big Possibilities," as the town slogan boasts, was still waiting on its next big break.
The biggest town in the least populated county in the nation's least populated state, Lusk is miles from nowhere, the beating heart of a community defined by grazing herds and acres of cropland. The Niobrara River runs past the downtown like an artery across the county that bears its name. On the outskirts of Lusk sits a since-abandoned oil refinery, a fairground and rodeo arena, and, on the three roads leaving town, the occasional patch of civilization — tiny communities bearing names like Lost Springs (population 4) and Van Tassell (population 14), which sprout from the earth like lonely trees on the prairie.
"We're just like every Wyoming community," said lifelong resident Tom Wasserburger, a former county commissioner and longtime hotelier there. "Lusk is full of good people, you know?"
In the late 1990s, the town bet on the internet, going all-in on a telecommunications network local leaders felt would attract industry to replace the jobs they once had lost. At one point, the town even became the central focus of a national advertising campaign for Microsoft, spurring local officials to say some businesses were "in the planning stages" of moving there. But nothing ever came of it.
About a decade ago, the community of 1,753 applied for a Business Ready Community Grant through the Wyoming Business Council, setting aside some land on the edge of town for a business park complete with sidewalks, full water and sewer hookups, and phone lines.
A decade later, the sidewalks and sewer lines are still there. But the 40 acres sits mostly empty.
"This is a Wyoming economic development effort, I guess, from when they did the business-ready communities," Wasserburger said, driving down the lanes in a pickup too large for the narrow concrete roads. "This is what we got."
He motions to the business park's three inhabitants. Two are corrugated steel buildings. The third is a Family Dollar with a parking lot far too big for the town it serves.
Small towns, big task
Across Wyoming, communities like Lusk find themselves facing futures defined by momentous change.
Once the lifeblood for many, coal's dominance is faltering, robbing communities of hundreds of workers whose incomes flowed like water through the businesses that depended on them. Oil and gas, while still very much alive, is proving to no longer be the pillar to lean on that it once was, its prices always volatile.
Those realities have manifested themselves in the speeches of policymakers. Talk of diversifying the tax base and shifting the reliance of the state's revenue streams away from the extractive industries have become a common refrain in the Wyoming Legislature, as well as from the state's governor, Mark Gordon. Meanwhile, the state's economic development agencies — Endow, the Wyoming Business Council — are still very much in the early stages of their missions, and in some ways, are still working to find a cohesive economic strategy for the entire state.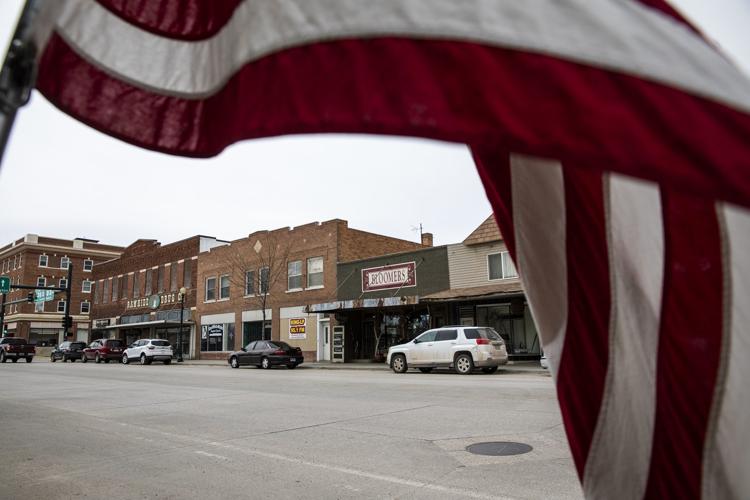 But those conversations can feel miles away from place like Lusk, where the efforts of leaders in Cheyenne are not always apparent.
"There certainly isn't a one-size-fits-all approach to economic development," said Brian Depew, director of the Center for Rural Development, a nonprofit microlender in Lyons, Nebraska. "But it's certainly easy for small towns to get left out of the big, traditional, state-led economic development programs."
Wyoming's small towns might need those resources the most. While Wyoming is home to numerous economic development programs meant to spur development and empower entrepreneurs, much of the success has been seen in the state's larger communities. According to data from the Wyoming Secretary of State's office compiled by the document filing firm SwyftFilings, Casper, Cheyenne and Sheridan were the cities with the largest rates of growth for new businesses last year.
Meanwhile, small town frustrations are building. At a meeting of the Wyoming Business Council's board of directors this past week in Cheyenne, its board members — looking to address the concerns of the state's smaller communities — discussed ways they could aid growth in the spaces between the state's major population centers, from increasing back-end support for small businesses to the delivery of "accessible services, tools, opportunities and amenities" that enable the growth small towns are looking for.
Many across the state — particularly in the Legislature — are skeptical. At its last meeting, the WBC board noted that neither Endow nor the business council had a liaison to the Legislature and, to date, even business council CEO Sean Reese admitted Thursday that lawmakers may not be "quite sure they know what we're doing."
"We have got to tighten up this communication," said board member Megan Overman Goetz.
In places like Lusk, people are tired of waiting. Not just for the discussions to pan out, but waiting for the next big thing — the next empty business park, the next internet boom, the new gimmick — to come along. It's time for something else: making that change for themselves.
"Economic development has to come from within," said Wasserberger. "I think we realize that. In smaller communities, it happens a little slower, but if we create 10 new jobs, that's more than we would have had."
Swinging for the fences
When Sen. Dave Kinskey was elected mayor of Sheridan nearly 15 years ago, Wyoming's sixth-largest city — while a charming tourist destination at the foot of the Big Horn Mountains — was in the same rut he had left it when he departed for college years earlier.
Beyond the coal mines sitting miles away, Sheridan had little to offer beyond tourism and the service industry, with a dearth of opportunities to earn a good wage or prosper in place. It's a fact that's still true today for many places in Wyoming: according to a report by the state Department of Workforce Services, of all 18-year-olds working in Wyoming from any given year, only an estimated 40 percent are still working in Wyoming 10 years later.
"When I grew up, high school students would ask where you were going to go when you graduated," the Sheridan native and 1972 Harvard graduate said. "It was always without saying that you had to leave, unless you really wanted to get it out here."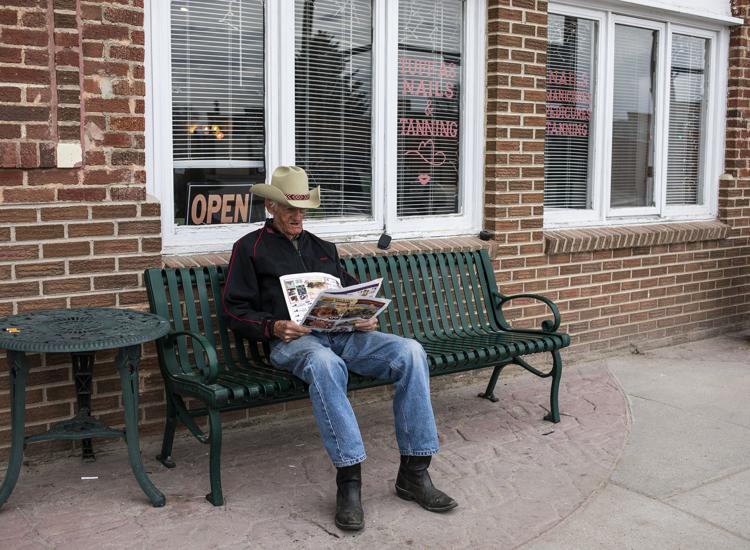 "It's natural for young people to want to go out in the world, but it should be a meaningful choice," he added. "They should leave home knowing they have options to stay if they want to. Too often, that's not always the case."
Kinskey was one of those people. After graduating from Sheridan High School, he left Wyoming and later ended up in California, where he built a business, sold it and then returned to Wyoming, only to find that the conversation was still the same after all those years away. So Kinskey ran for mayor on a platform of diversifying the economy – starting with manufacturing.
"I said, 'Let's really do it this time,'" he said.
Kinskey, with the help of others in the community, went to work to build a business park using state funding, because at the time, infrastructure was viewed as a barrier to economic prosperity. Once that was surmounted, Sheridan began to see some success with light manufacturing – a sector targeted by the state for its high-paying jobs.
A decade later, Kinskey said, he could identify 200 light manufacturing jobs in Sheridan that weren't there before — with 200 more on the way, thanks to the arrival of gun manufacturer Weatherby, the expansion of local manufacturer Kennon Products and the arrival of Vacutech, which was lured to Sheridan from Colorado thanks, in part, to its business park.
"If we didn't have that land in place, it may not have happened," said Sheridan Chamber of Commerce CEO Dixie Johnson.
Naturally, other communities hoped to emulate that success. Attempts to recreate it, however, tended to result in empty lots like those in Lusk.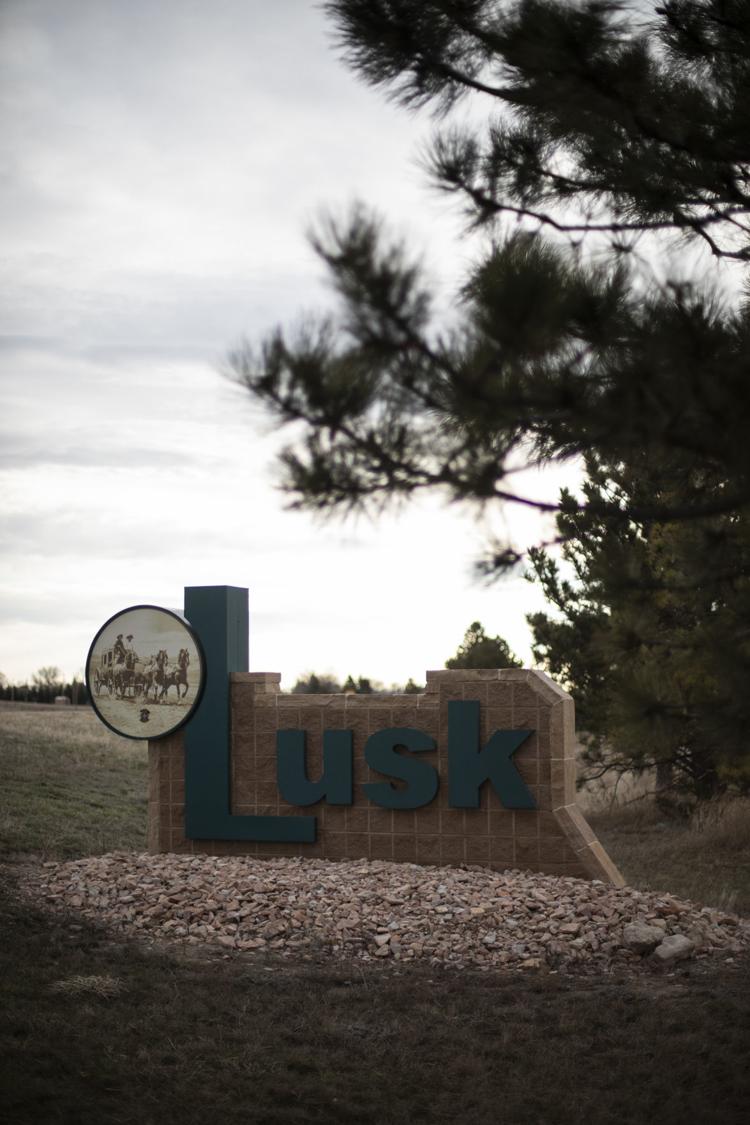 The philosophy behind those early, large, economic development efforts are emblematic of a concept in anthropology called the "cargo cult," or the irrational belief that superstition or emulation can replicate similar results in a society. The term came to prevalence in the years following World War II, when previously uncontacted tribes in the Pacific Isles — after being visited by outsiders — began to build airplanes and runways out of branches and twigs in the hope that cargo once flown in by outsiders would again return.
"I feel like in Wyoming, in a lot of these small towns, you might have cargo cult thinking," said Chuck Marohn, the executive director of Strong Towns, a community development nonprofit. "They see all this work in Sheridan, so they wonder, 'Why wouldn't it work here?' And there's no recognition it's a completely different environment — it's a completely different place."
"I think oftentimes, that over-simplistic thinking is fueled by engineers who want the contract to build the park, it's fueled by the economic development people who want the thing they can put on their brochure, it's fueled by the politician who wants the ribbon cutting … it's not fueled by what's best for the community in mind," he added.
Oftentimes, communities are not even prepared to handle the type of development that was successful in places like Sheridan. Communities like Cheyenne, long suffering from a scarcity of skilled workers, have highlighted the lack of a skilled workforce there as a significant disadvantage to attracting the type of business Sheridan currently thrives under. Others may not offer the jobs or the training that young people require to be able to stay in the place they grew up, requiring employers to look outside of Wyoming for talent.
"Industry in our area recruits all over and brings people to Sweetwater County," said Rep. John Freeman, D-Green River, a former high school teacher. "You have to have a certain life skill set to live in Sweetwater County. You're going to have to love the outdoors, you'll have to be a self-starter. You don't have a Broadway play to go to. Industry has struggled because they bring people here and a large percent eventually leave. They've trained them, they've recruited them and then they leave."
"The best thing we can do, in my opinion, is train the people who live here and want to stay here," he added.
The chicken or the egg
You have free articles remaining.
Even successful communities like Sheridan have experienced similar problems.
The hundreds of jobs Kinskey created in his administration, he later found out, weren't going to people in Sheridan: businesses, instead, were looking to places like the Dakotas, Montana and Colorado for talent, poaching from areas that could offer the talent those companies needed to be successful.
"And I thought, 'Oh my god, what was economic development even for if not for our own people?'" said Kinskey. "I was thinking of the generations coming up, the waitress struggling to make ends meet with two kids or the young couple hoping to buy a house and raise a family. Here, they got a shot at a decent life. It's for them we did all this."
Conversation around economic development in Wyoming often comes back to the concept of the chicken and the egg — the issue of needing a workforce to attract businesses, but also needing businesses to lure workers to a place. It's a conundrum that large-scale economic development often fails to solve, where the massive creation of a bunch of jobs, all at once, oftentimes necessitates employers looking from other areas of the country to find the employees they need.
Much of the problem has been a lack of resources in the state's education system. For the last two years, groups like the Wyoming Business Alliance have made education bills a chief priority, recognizing it's a lot cheaper to build their workforce rather than retrain one. Recent legislation like Senate File 111 — which will allow community colleges to offer bachelors of applied science degrees — and Senate File 43 — which expanded eligibility for the state's Hathaway Scholarship program — have elicited excitement around workforce development in Wyoming. Meanwhile, other initiatives, like the recently passed Wyoming Works Program, will help offer community colleges and schools the tools they need to build nimble and up-to-date curricula demanded by modern industry.
"Business and industry is realizing that education is a lever they can pull that they haven't been able to pull before," Superintendent of Public Instruction Jillian Balow said. "Progress is always slow in these situations, but I will tell you in the 20-plus years I've been in education, this momentum around workforce development and high school being more applicable to students has been faster and more meaningful than any movement I've been a part of in education."
It takes a village
In an innocuous brick building on the Riverton High School campus, a sawblade roared to life and bit into a 1-by-2 inch steel column.
It had been roughly seven months since Riverton senior Blake Howard first started drawing up the blueprint for a steel sled deck for his pickup. With just weeks left in his final semester, it was finally coming together. Hundreds of feet of steel had been cut and wielded together into the proper shape.
Though he doesn't plan to become a welder or metal fabricator after school is over ("I want to be a veterinarian," he said), Howard is one of a group of high schoolers here in Riverton who, very likely, will be the foundation on which Wyoming builds its workforce of the future.
The Riverton School District has long placed heavy stock in its career and technical education offerings. When enrollments fell and budgets were cut over the last two decades, the school's career technical education (CTE) offerings were always last on the chopping block, said Riverton High School Principal John Griffith. Even today, the fact the school's trades are housed in a building separate from the rest of campus is unique, even as districts have begun building specialized facilities elsewhere for students pursuing degrees outside more traditional academic paths.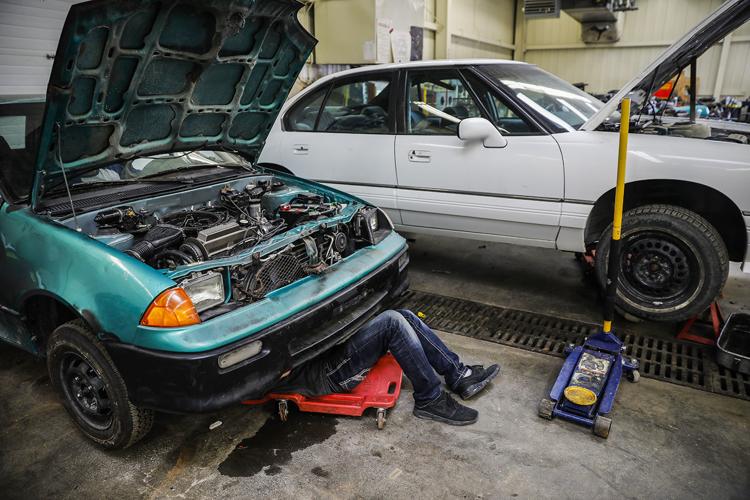 On the campus, the curriculum is constantly evolving, its offerings extensively informed by businesses in the community that advise the administration of changes in their industries and how best to prepare students for them. The auto body shop, for example, is run by a former mechanic, regularly advised by other mechanics. The veterinary technology lab has a pipeline to a local vet clinic, and students are often supplied with animals from local farms to work with so that, when the time comes to apply for a job, they are already aware of all the basics needed to keep a clinic running.
Everything is tailored to be responsive to the actual needs of the local economy, said CTE Administrator Lisa Aragon.
"I think you start by recognizing what your area needs," said Aragon. "If you train a bunch of kids and there's no jobs for them, and if you have a need and there's no one to fill that need, all you're doing is spinning your wheels. Then, you look to the skill you have in your community to try and build that."
To further encourage high achievement in the trades, the school's CTE program became Wyoming's only active chapter in the National Technical Honor Society — the definitive honor society for high school students pursuing vocational education.
While NTHS offers students recognition for their achievements, it also provides something else: the opportunity to apply for scholarships, which only serves to further encourage students looking to pursue the trades.
"We kind of saw it as an opportunity for those who are in CTE classes, who excel at CTE, to be able to be recognized for their efforts in their 'hands-on' classes," said Taylor Haley, a veterinary technology teacher and the school's National Technical Honor Society adviser.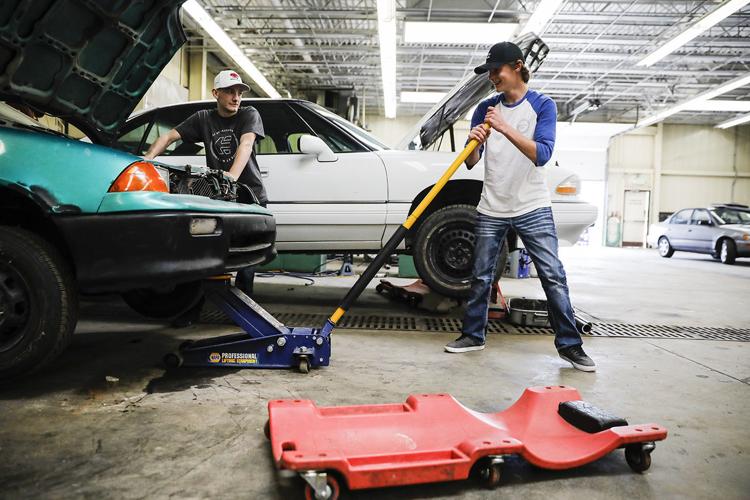 But people like Haley — and communities like Riverton — are rare, with significant pressure placed on the individuals doing the teaching.
"It takes a lot of time," said Reggie Miller, another instructor at the school. "You can't just have lip service. You need people who are going to put in the hours and be able to change a mindset, hit the wall a couple of times and find ways to get over it."
"I got three days' worth of spring break, because I was taking kids places," said Haley. "We all have to put in a ton of hours. In the spring semester, I probably put in 65-75 hours a week."
And the people who are not just willing but able to do that work are also a challenge to find. At the end of this semester, for example, the program's longtime culinary arts and fashion instructor will be retiring, leaving a gap. Though anyone in the community has the opportunity to apply for a Professional Industry Career Permit from the Wyoming Department of Education — which allows anyone with a specialized skill to teach for up to five years without a teaching certification — people with specialized skills and the time to share them are hard to come by.
"When you find someone in that area, they're fully committed," said Aragon. "It's not always easy to find them."
A progressive ecosystem
A principle called "economic gardening" — the idea that entrepreneurs, not large government programs, help to drive local economies forward — has begun to find favor among some small communities.
In rebuilding their town, the residents of Lusk have taken that concept quite literally.
Last year, business partners Carrie Bannon and Twila Barnette — who own the local flower shop — began noticing that fewer drivers traveling between Colorado from the Black Hills of South Dakota were stopping in Lusk. Some, however, would come to town and spend the whole day wandering around Main Street.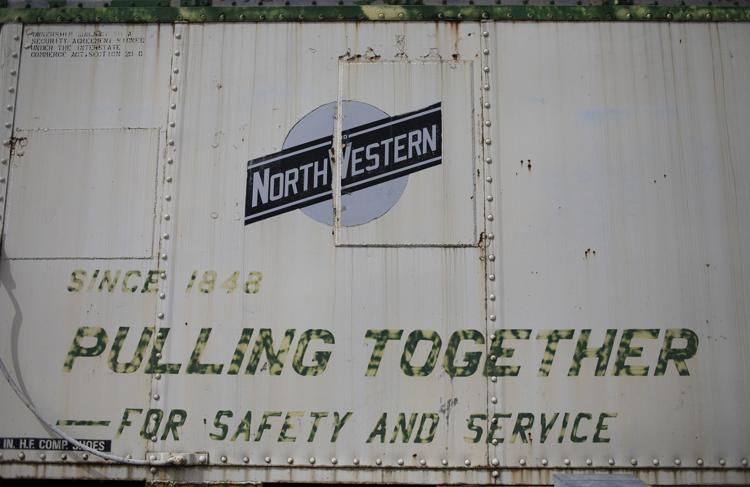 "We decided we needed to get them to come in more often, and to stay a little longer and get more people coming," Barnette said.
So they started small — planting flowers and placing them all along Main Street.
"If it looks nice, people will want to stop," reasoned Barnette.
In his travels across the country, Marohn, the nonprofit community development director, found that the trademarks of a strong town weren't necessarily large buildings downtown, big houses or wealthy residents. Instead, strong towns are defined by tight-knit communities, strong local economies and a definable sense of place and local identity. Communities where people are isolated from one another, where its residents are transient or self-involved, Marohn said, are communities not worth falling in love with nor fighting over.
"And people don't stick around," he said. "You've got to have jobs and you need opportunity. But I think you have to build that ecosystem incrementally, over time. If you don't have a commitment in your heart to the place, none of that is going to matter.
"The way you get off being stuck is you focus on community," he added. "You build your place, you connect people, you get them hanging out and doing stuff together in a meaningful way. Part of that is urban design, part of it is incrementally providing import replacement opportunities. Part of it is church, part of it is schools, part of it is community events. People need to be in love with the place, and then they'll do something to make it work."
To those who live there, Lusk is one of those places. They're proud of their pizza place and the local coffee shop, which some say serves one of the best sandwiches in the state. Wasserberger's hotel has been recognized nationally for its breakfasts and, despite a flood that devastated the town five years ago, the community continues to fight its way back.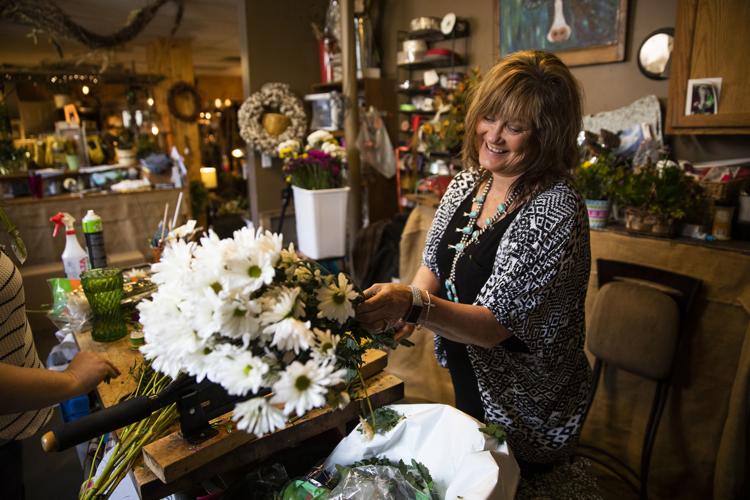 It's emblematic of agrarian communities — where persistence is inbred and where their people are quite literally tied to the land they live on.
"There are a lot of people in my high school class who have come back to this community," Bannon said. "They want to raise their families here. I don't think it's because of a certain job or not. They want to be a part of this community. That family value is still here."
For a garden to truly thrive, it takes more than seeds and sunshine: you need to work the land and pull up weeds, something professional gardeners Bannon and Barnette know all too well.
They formed a community group called "Revitalizing Our Community Spirit" last fall and elected officers in December. The group — which includes community members, local business people and elected officials — is now looking at grants of more than $1 million for community beautification, paying for everything from purchasing and tearing down eyesore properties to eventually building a new park downtown.
Experts say that approach is the right one. Micro-enterprise programs, said Depew, oftentimes have a more positive return on investment than larger, tax-incentive spurred programs funded by bigger banks, which have grown even stingier with small business lending since the last recession.
Lusk has no margin to swing for the fences anymore. According to Wasserberger, a multi-million dollar project would have the potential to gobble up their finances for a decade or more, leaving no margin for error should they make a bad bet.
Today, the community is trying a different way: starting small.
"We truly felt we had to start at the bottom and to work our way up," said Barnette. "For a place like Lusk, we have to make it totally inviting and make people want to come here. So that's where we started — with a flower pot."