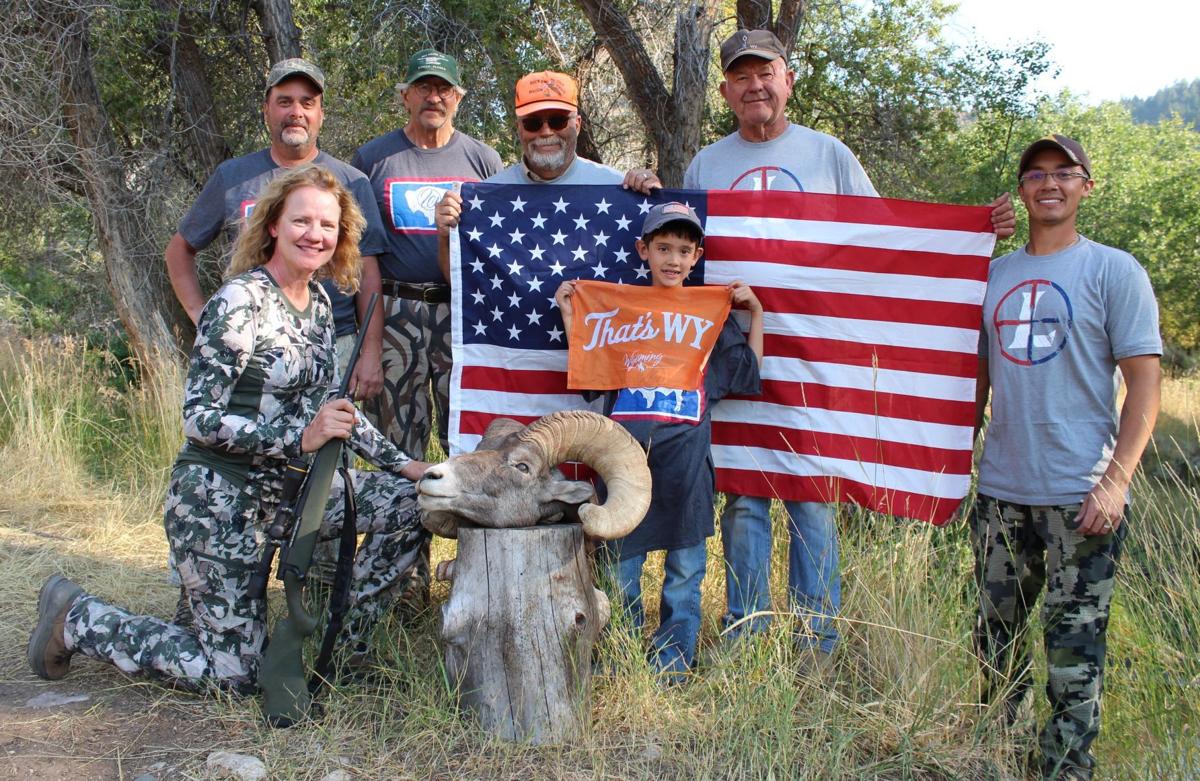 CHEYENNE — Nona Nissen never thought of herself as a hunter. But as a retired lieutenant colonel in the Wyoming Army National Guard's 1041st Engineering Company, she's been on the other side of a loaded gun (and IED) plenty of times.
Most recently, that was from October 2006 until August 2007, when Nissen and the rest of her 155 Company members moved supplies from Tikrit, Iraq, to soldiers in Mosul, Kirkuk, Al Basrah, Baghdad and elsewhere during the Iraq War. She was a single mother with three children when she was first deployed there, and she left as the leader of the most highly decorated Wyoming unit since the Korean War.
Nissen finished her tour in Iraq with a Veterans Affairs-certified disability and ended up in Cheyenne, where she's remained close to a couple former Guard officers who hunt. A casual conversation with one of them last fall led to a brand new experience with a rifle.
"I'd had a pretty horrible 2019 and was looking for a new path, and Matt (Huckfeldt) said, 'Hey do you want to go hunting with Scott (Fink) and me next year?' and I said, 'Sure, why not? I'll go,' and I think I thought I'd just be walking around," Nissen said. "Those two are hilarious, so I knew that'd be a fun time … lo and behold, four, five months later, Matt and his wife invited me over for dinner, and it was with Kyle and his wife."
Early this year, Cheyenne resident Kyle Wendtland was sitting on maximum points in the Wyoming Game and Fish Department's preference system, hoping to draw Area 12, one of Wyoming's top trophy sheep units in the northwestern Bighorn Mountains. The seasoned hunter wasn't hoping to snag the tag for himself, however. He was hoping to transfer it to a female veteran through the nonprofit Hunting with Heroes Wyoming, which offers disabled veterans the opportunity to go on a hunting excursion completely free of charge.
"Both my wife and daughter are avid hunters and like being outdoors with me," Wendtland said. "It's pretty clear that women just don't get these kinds of chances, in general, and I really wanted to have it for a long-term Wyoming veteran who is a female hunter."
Wendtland found the perfect match when Nissen's friends, Huckfeldt and Fink, told him about a 29-year veteran living in Cheyenne who would love to have a shot at a bighorn sheep hunt – the funny part, however, is that Nissen had never said those words. When she said yes to hunting with Huckfeldt and Fink, she just assumed she'd be along for the ride. She never imagined she'd be the one aiming for a bighorn sheep.
But when the group all ended up at the same dinner table, and Wendtland offered the tag to Nissen, she accepted.
As someone who'd never truly hunted before (though she'd gone along on hunting trips to hike or cook), Nissen had no gear, nowhere to stay near Area 12 and no hunting training. That's where Huckfeldt, Fink and Wendtland's army of generous Wyomingites came in.
Weatherby Inc. of Sheridan donated a 6.5mm Creedmoor Camila rifle; Teel Gun Works of Wheatland transferred the rifle; Leupold added a VX3i 4 to 14 scope, rings, bases and a pair of BX Alpine field glasses; Cari Goss and Azyre Gear of Sheridan donated a complete set of custom warm and cold weather clothing; Black Hills Energy and Marc Ostrem of Gillette offered five boxes of ammunition and a rifle sling; T and T Guns and Ammo of Gillette mounted the scope and volunteered their gun range; Mike McGrady of Cheyenne added a Mystery Ranch daypack; Lynn Stewart donated the taxidermy, and 14 of Nissen's Guard friends pitched in to cover the trespass fee to access the hunt area.
"I realized that what I thought was just a buddy hunt had become something much, much bigger," Nissen said. "I was overwhelmed both with their kind hearts and, as the process of planning went along, … (by) the Wyoming residents everywhere contributing. Wow. There is nothing like Wyoming people."
Wendtland completely agrees.
"Within a span of about 45 days, we had all these people come forward and were able to package the whole hunt for her at no expense," he said. "Even in the midst of COVID-19 and the budget and all this stuff going on, all these people were like 'Let's go do it.' … The reason we were able to put this trip together the way we were is because of these decades-long hunting relationships I have with folks, and it's the opportunity to share that with someone who's never had that chance – that's a cool thing."
That was the third sheep tag Wendtland's drawn in Wyoming, which is quite rare, so he said the goal was to share his good fortune with someone else.
The big day arrived Sept. 1, when Nissen and her hunting team headed into the Wyoming wilderness for the first of several hot days searching for sheep. On day six, the team was sweating atop Devils Canyon, looking for a ram they'd seen five days earlier on the top ledge of the canyon. About 1,200 yards down a drainage to the north of the canyon, Wendtland said hunting team member Chris Fare and his 8-year-old son, Liam, spotted six rams. Nissen and Wendtland put together a stalk, but they were short on time, and the rams got away as the sun set and the team lost visibility.
"I was a little nervous that night, so I'm glad we didn't get the ram that night," Nissen said. "I had time to pray and think about it and center myself. It was really important to me to do it in one shot so the animal didn't suffer too much."
Wendtland said the Fares spotted the rams again Sunday morning, and the group included the ram they'd had their eyes on five days earlier that earned the nickname "Wyoming chocolate" for its distinct color. After a failed first stalk, at 234 yards, Nissen tried again.
"The rams were bunched, feeding, and did not want to separate," Wendtland said. "They waited and waited some more. Nissen was certain three days passed as they waited 15 minutes for the rams to separate. Her 6.5 barked, and one clean shot sealed the deal."
"Wyoming backcountry – there is nothing like it," Nissen said. "It's a very wild, vast and beautiful place, and it was very peaceful just to go from ledge to cliff to a ridge and get off the four-wheeler and scope and see if you could find any … it's a centering experience."
Asked how it compared to her prior experience handling guns in a combat zone, Nissen chuckled.
"The big difference is you're at the top of the food chain when you're hunting."
Be the first to know
Get local news delivered to your inbox!