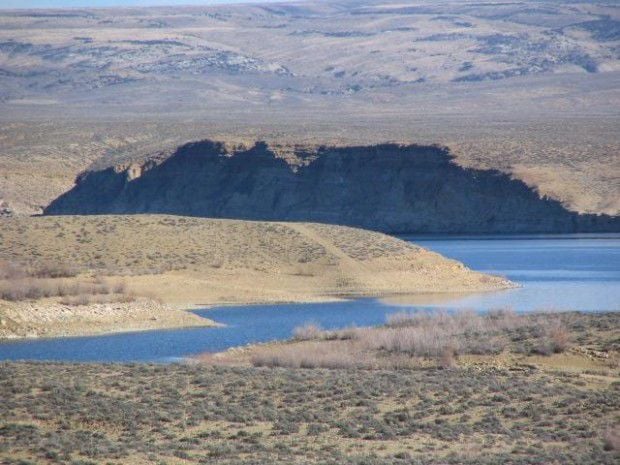 Authorities searched Monday for a missing 7-year-old boy who was last seen leaving a campsite in Sweetwater County on an ATV with his father on Thursday night.
The ATV was later discovered submerged in the water below a 200-foot cliff near the Firehole Canyon and Sage Creek area of the Green River and Flaming Gorge Reservoir, according to the Sweetwater County Sheriff's Office. The body of the boy's father was found with the wreckage, but the child has not been located.
Sheriff's deputies responded to a missing report on Friday evening near the canyon and learned that a 34-year-old man and his 7-year-old son left their campsite at about 11:30 p.m. on Thursday, the sheriff's office said. A witness reported the pair never returned.
Deputies searched throughout the night Friday. At about 6:30 a.m. Saturday, they saw an oil slick and debris floating on the surface of the water below the 200-foot cliff, which is on the northern side of the reservoir where the Green River emerges into the lake, said Dept. Jason Mower, a spokesman for the sheriff's office.
Around noon, divers found a submerged ATV in the area of the debris. They also found the body of the boy's father with the vehicle. The child, however, remains missing.
"Our hearts hurt for this family," Mower said. "We are and will continue to do everything we possibly can to locate this child."
As of Monday, the search for the boy was continuing. After a search Monday morning of the water failed to turn up the boy, the sheriff's office announced it was bringing in a side-scan sonar team with Sublette County's Tip Top Search and Rescue.
"We have now canvassed the entire area by air, boat, vehicle and on foot over the last two days," Mower said. "Our dive team is resupplying today, and we are meeting early tomorrow morning with everyone involved to coordinate continued search efforts."
Mower, in a statement, warned people against privately searching the area, especially near cliffs.
"We would hate for some other accident to occur or someone else to get hurt," he said.
Authorities did not identify the child or the man.
Be the first to know
Get local news delivered to your inbox!