Pause your Netflix for a second.
I know, I know — you've still got six seasons of "The Great British Bake-Off" left to binge and it gets dark before 5 p.m. now and none of your friends want to hang out unless you're all outside and 6 feet apart.
But Cody engineer Gary Boring might just have a fix for your 2020 malaise, and it doesn't even involve buying a jigsaw puzzle.
Zber, an invention Boring debuted to the public earlier this year, is a light-up yard game that he describes as a mixture of four games: "a little bit of bocce ball and a little bit of croquet, a little bit of 'horse' from basketball ... and then disc golf obviously is a little bit of it," he said.
The rules are simple: Position the five different light-up posts, throw an LED-lit flying disc at them one by one, and try to knock over the ball sitting on top in the fewest attempts.
In other words, it's a game you can play after sundown (in fact, it looks way cooler if you do) while easily keeping your social distance — especially if you throw a Frisbee as erratically as I do.
Boring sent a Zber set to the Star-Tribune to try out, so two friends and I brought it to a Casper park one night for a test run. The set-up was simple, even in the dark, and the batteries are pre-installed, which is convenient. In addition to the poles, it comes with six light-up discs and a bag to carry it all in. (Two dogs joined us in the adventure, so having extra discs to distract them was a bonus.)
We decided to be adventurous in setting up our five "holes." One was hidden behind a tree, and some were hardly visible they were stationed so far apart. There are a few more rules as far as who throws in what order and how scoring works, etc., but essentially you play through the holes forward and back and see who won the most by the end. You can also get creative and add any additional rules you want — that's the "horse" element — but we kept it pretty straightforward, pole locations notwithstanding.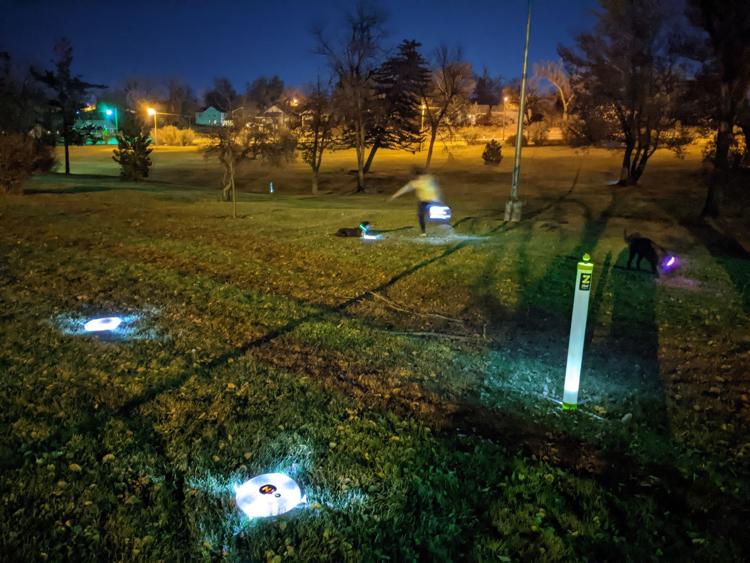 And the relentless Wyoming wind was less of a deterrent than I'd expected.
"That was part of my (goal), being an engineer, is making a quality product," Boring said. "And so those are full-sized Frisbees. I didn't want to do any half-size little toy Frisbee. The hardware is stainless steel. The rivets, the tether cable is all stainless steel. The legs are aluminum. We could've made those out of plastic, but the aluminum is going to stand up a little bit better. And so, we just tried to make it as quality and as durable as I could for an affordable price."
Zber retails for $129 on Zberdisc.com. (Boring is sticking with the direct-to-consumer model for now for fear that retail stores would raise the price.)
Full disclosure: I did not pay for a set, so each reader will have to decide for themselves whether the price is a sticking point.
And we did have two technical difficulties: one pole's flashlight went out, and one disc's LED light may require some super gluing. But Boring said that anyone with similar issues can reach out to Zber for free replacement parts.
"We want a good reputation out there," he said. "If it's, say, two years down the road, maybe not, but if it's a newer game and anybody has had a problem, just send us an email and we will send it out free of charge and free replacement on anything that doesn't work."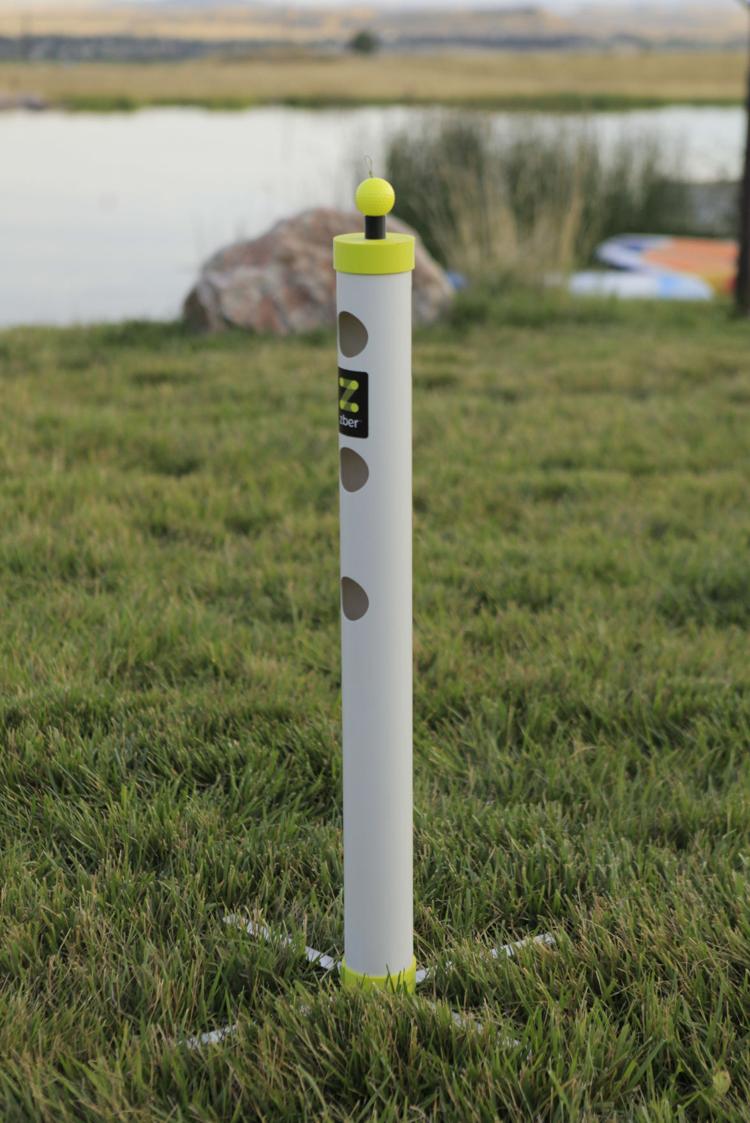 Overall, though, it was a very fun game with a snazzy aesthetic that I could see providing hours of entertainment for people of all ages.
And, despite the fact that I'm a pretty garbage disc thrower, I won. So, obviously, I am extremely biased in its favor.
Boring debuted the game in January at the Dude Ranchers' Association Convention in Santa Barbara, California.
"That was kind of our plan, was to get it to the dude ranchers, have their guests play it, and then hopefully they would want it," Boring said. "It really helps to play the game. That was the thought. It's very interactive."
The fact that the game is conducive to COVID-19 restraints is a silver lining to a pandemic that has canceled trade shows and conventions where Boring was hoping to show off his product.
"Hopefully, COVID will pass and we can hit some conventions and some summer festivals," he said. "That was kind of one of our things was the beer festivals and all of those this summer where people gather, to be able to take it out to play it at those kinds of places."
Boring grew up with three brothers, and they were always playing different games, he said.
"In 2017, we'd been playing a little nighttime bocce ball and decided, 'We need another nighttime game,'" he said. "So that was the emphasis was something you could play at night."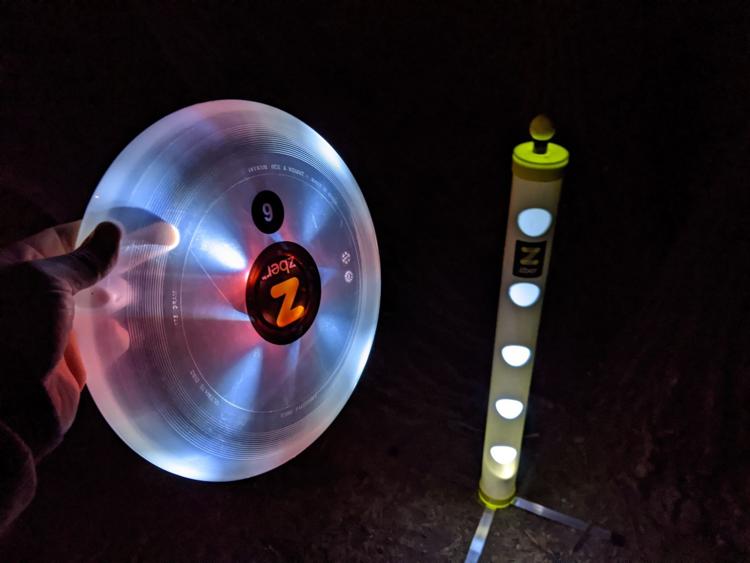 He also wanted it to be a game the whole family could play.
Semi-retired from a career in construction, Boring had the know-how and availability to take on a different kind of project.
"It has been fun," he said. "It's completely different and a diversion. I've been kind of an inventor, entrepreneur all the time in the background."
He began working with PVC pipe and LED lights, gradually making improvements until he felt it ready to show it off. He registered for utility and design patents for the game and a trademark for the name.
"I'm pretty happy about that because to get a four-letter word federally trademarked is pretty tough to do anymore," he said.
And earlier this year, a Zber Kickstarter brought in over $6,000 to help Boring get it off the ground.
The biggest challenge was finding a manufacturer that would keep the product affordable. Getting U.S. companies to offer quotes for small quantities was no easy feat, he said, so he ultimately decided to go with a Chinese manufacturer.
The video, photography, graphics and marketing work for the product, however, has all been done with Cody companies, Boring said.
"We're trying to keep it very Wyoming," he said.
Follow managing editor Brandon Foster on Twitter @BFoster91