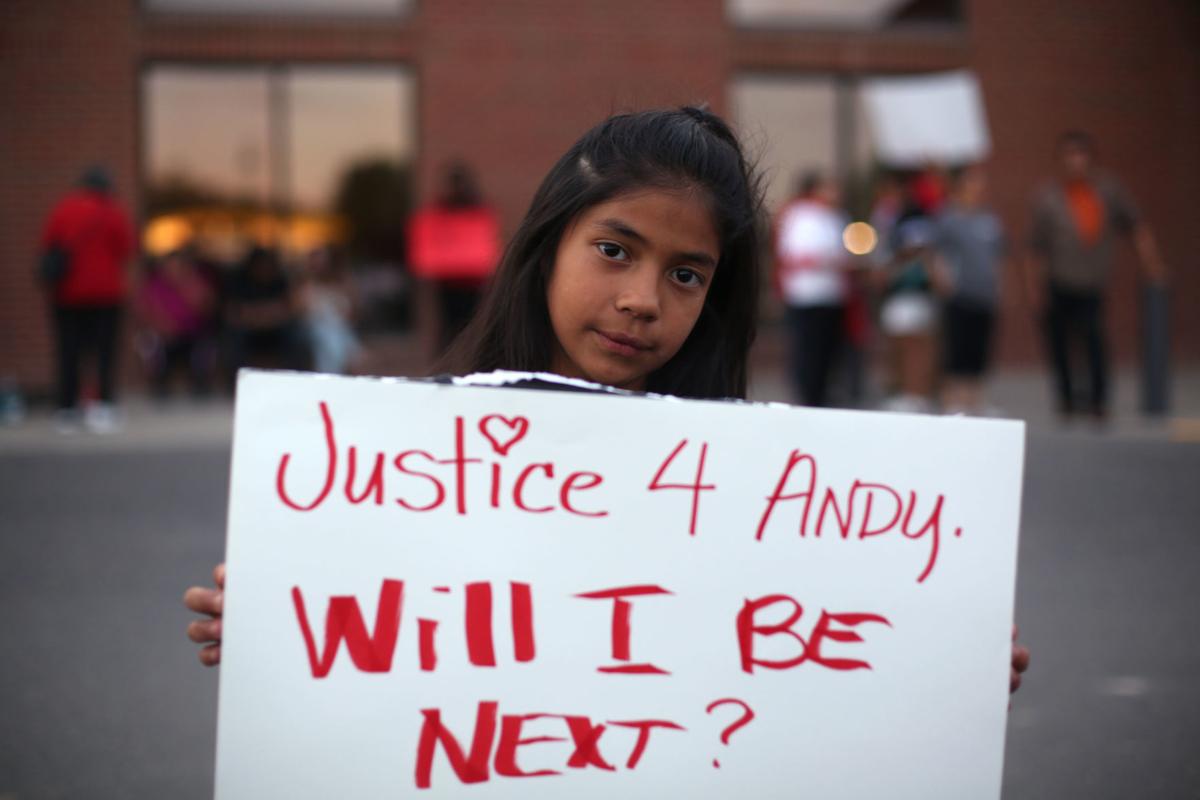 After recent events reignited long-simmering concerns around race relations in Riverton, many in the community are planning events to move forward and show that area residents can be united.
A talking circle on Saturday will allow the community to discuss the recent shooting of a 58-year-old Northern Arapaho man and heal from the aftermath. An annual Martin Luther King Jr. Day walk on Monday will include students from several school districts — just weeks after some Riverton students were disciplined for wearing attire associated with a violent and racist group.
Those two recent events in Riverton have prompted community members to confront concerns from some that the city — which borders the Wind River Reservation — isn't a welcoming or understanding place for those from different backgrounds.
Last September, Northern Arapaho tribal member Anderson Antelope was shot and killed by a Riverton Police Department officer after authorities said he stabbed the officer with a knife outside a Walmart store. The Fremont County attorney in late November determined the shooting was justified after an investigation.
That incident, organizers of Monday's walk said, "once again thrust (Riverton and Fremont County) onto the national stage by negative publicity about race relations."
"These incidents don't just happen in isolation," said Chesie Lee, a Riverton resident who heads the Riverton Peace Mission.
That group — which was officially formed last year — is one of the organizers of Saturday's event. The group was created to help erase divides between Native and non-Native residents of the city.
Lee said she and others had wanted to work to some sort of solution or host an awareness event in the wake of the shooting and dearth of information. But when the planned inquest — meant to provide transparency to the public and family of Antelope — was indefinitely called off, Lee said she knew her group needed to organize something.
Saturday's event will include trained facilitators with expertise in the talking circle approach posing questions, as well as opportunities for those in attendance to voice their opinions and listen to others.
You have free articles remaining.
Lee said childcare and food will be provided at the talking circle. It takes place from 10 a.m. to 1:30 p.m. at the Central Wyoming College Intertribal Center.
After Saturday, Lee said she hopes to start seeing improved relationships between all area and Riverton residents and a better understanding of the historical trauma faced by Native Americans, like citizens of the Northern Arapaho and Eastern Shoshone tribes.
The event, she said, will try "to create the vehicle for that to happen."
While Saturday's event is a first step, Lee said she hopes it prompts continued discussion and generates potential solutions, adding that similar initiatives prior to this lost momentum before substantive solutions could be attempted.
"I'm hoping that the big difference is that there will be something we can work on to follow through," she said.
Following the Saturday event, the 17th annual Fremont County Martin Luther King Jr. Day/Equality Day Walk for Unity will be more poignant than in past years given the recent events at Riverton High School.
The walk to Riverton City Hall will start at the City Park at 10 a.m. Monday and include speakers, with each of the six Fremont County school districts participating in the event. The walk is sponsored by the Wyoming Indian High School Traditional Club, Riverton Chamber of Commerce and Fremont County Celebrates Diversity, according to organizers.
"This year the walk will be big," Colleen Whalen, one of the walk's organizers, said in a news release earlier this week. "Today, because of the ignorant actions of a few students seeking attention, interest is high and everyone is going to show up. I worked in Riverton High School (RHS) and I know those two boys do not represent the student body or the staff. Students, staff and parents were horrified and ready to react in a positive way."
This isn't the first time those in Riverton have had to address questions of how members of underrepresented communities are treated, though. Lee, one of the organizers of Saturday's event, said the shooting of two Native Americans at a detox center in the city by a white man in 2015 prompted conversations about the racial tensions in Riverton.
And, the first Martin Luther King Jr. Day walk in Fremont County in 2003 was organized by Wyoming Indian High School students after the World Church of the Creator in 2002 announced its intentions to relocate its headquarters to Riverton. According to the Southern Poverty Law Center, the group — which is now known as the Creativity Movement — and its members follow violent neo-Nazi, white supremacist ideals.
Hundreds, between more than 700 and 800, turned out for that first walk. Organizers are hoping for a similar turnout this year.
"The Martin Luther King Walk of 2003 was very important for us. We stood up against bigotry and white supremacy as a community," said Samuel Iron Cloud, a Wyoming Indian High School graduate who helped organize the first walk, according to Whalen. "This is just as important today. I think it is crucial that we remain unite and not divided, especially with the current state of our nation. It's important we stand together as one!"