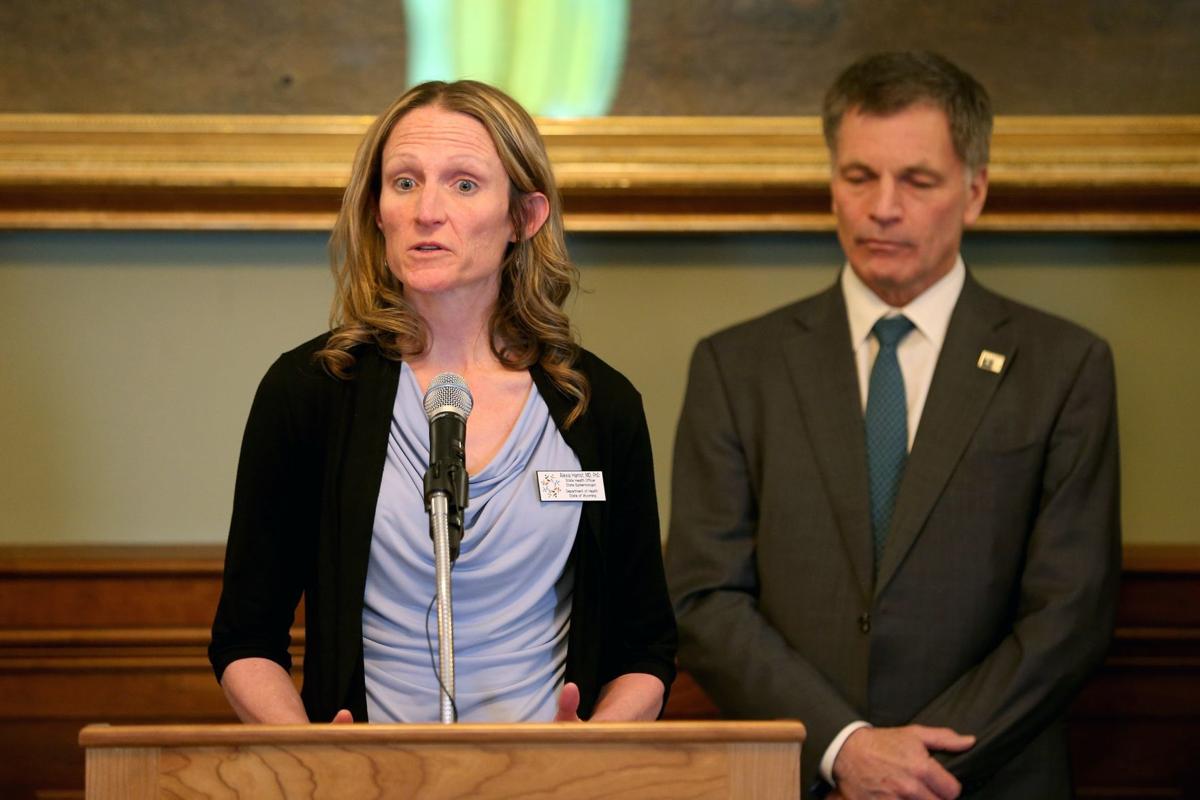 The spike in COVID-19 cases in southwest Wyoming appears to be connected to a public gathering where social distancing rules weren't followed, the state's top health official said Tuesday.
Cases in Uinta County have soared in June. From the pandemic's start in mid-March to late May, the county had recorded nine confirmed cases. With three more cases Tuesday, Uinta now has 80 confirmed coronavirus infections — the state's third highest total.
"Many of the new cases there appear to be connected to a particular gathering at a public location where social distancing rules were not taken seriously," Dr. Alexia Harrist, the state health officer, told reporters. "People exposed at the gathering then spread the virus to others who were not there."
Harrist did not identify the gathering but said it involved "young people gathering in a celebratory way."
Some of the Uinta County cases include health care workers, which Harrist said can have "multiple unintended effects."
"This situation illustrates how it doesn't take much to really change the disease picture within a community," she said.
Harrist made the comments during a press conference where she and Gov. Mark Gordon stressed the importance of following measures intended to slow the virus' spread and prevent spikes seen in other states.
Wyoming now has 237 active cases, Gordon said. At one time, that number had fallen under 200.
"And that makes me sad, because we are now spiking," he said.
Gordon early in the pandemic resisted calls to implement a state-at-home order, insisting that more targeted restrictions, combined with personal responsibility by residents, could effectively slow the spread of COVID-19. Wyoming has avoided many of the difficulties experienced by other states since then, with low rates of infections and deaths relative to the rest of the nation. Even with the rise in cases, only seven people are currently hospitalized after contracting the virus.
But, Gordon said, Wyoming's ability to maintain that progress requires its residents to remain vigilant.
"I'm a cowboy by background and I know when grass is clean and horses are fresh, we all want to run out in the pasture and buck," Gordon said. "This is a time when we do not want to run away. This is a time when we want to mind our P's and Q's."
A spike in cases could affect Wyoming businesses, Gordon said, as they work to recover from the sudden economic downturn that coincided with the pandemic. Gordon said he'd been traveling the state recently talking to industry representatives.
"And all of those industries are worried about their productivity going down (and) our tax dollars being compromised as people are careless and reckless," he said.
Harrist also emphasized that allowing virus numbers to spike now could harm recovering businesses. She noted instances where one sick person spread the virus to multiple coworkers.
Because some people with the virus are asymptomatic, it remains important to continue social distancing and wear face coverings, she said.
"Depending on the size and nature of the employer, a few sick workers or many sick workers can have potentially devastating effects on the businesses we count on in Wyoming for jobs and for services," she said. "This disease has not gone away. So please think of others when you make choices."
As of Tuesday afternoon, Wyoming has confirmed 866 cases of coronavirus, with 223 additional probable cases, according to the Wyoming Department of Health.
Eighteen Wyoming residents have died after contracting COVID-19.
To limit the virus' spread, Gordon and Harrist began implementing restrictions in March, including the closures of schools and many businesses and limitations on gatherings.
While in-person schooling remained closed through the spring semester, many businesses have reopened, albeit with restrictions. The state has also continued to lessen restrictions on public gatherings. As of June 1, groups of up to 250 people can gather outdoors.
Concerned about COVID-19?
Sign up now to get the most recent coronavirus headlines and other important local and national news sent to your email inbox daily.