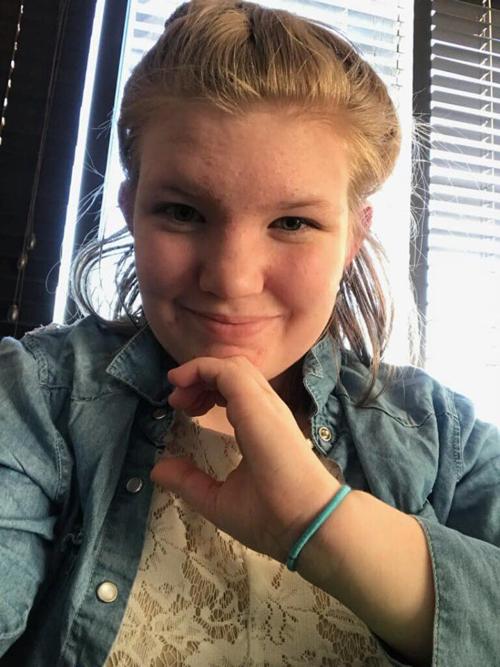 A 17-year-old South Dakota boy will remain in juvenile detention under a $1 million bond while he faces second-degree murder charges in adult court after the body of a teen girl believed to be missing from Wyoming was found Monday in the basement of his home.
Michael Gavin Campbell made his initial appearance before 4th Circuit Judge Kevin Krull on Wednesday morning at the Meade County Courthouse in Sturgis, South Dakota.
Campbell, his straight brown hair extending past his collar, wearing handcuffs and dark juvenile detention togs with the size 2X in white emblazoned on the back, answered in a quiet voice "Yes, your honor," as the judge asked him if he understood the charges and the potential punishment of life in prison.
Campbell, of Sturgis, is charged in the death of the girl, whom authorities believe to be Shayna Ritthaler, a 16-year-old who went missing from Moorcroft on Oct. 3.
Krull agreed with acting Meade County State's Attorney Michele Bordewyk's request for that documents in the case including the probable cause complaint be sealed.
But in pushing for no bond for Campbell, Bordewyk cited a violent act that led to the girl's death.
She said the defendant told authorities he was with the victim when an argument between them began, turning violent.
"And he shot her," she said.
Campbell's attorneys, Steven Titus of Gillette and George Grassby of Rapid City, urged a $250,000 bond citing Campbell's lack of a prior criminal record and his employment at a Deadwood casino while seeking a General Education Diploma.
They said Campbell would continue to live with his parents in Sturgis as the case proceeded.
Bordewyk countered that Campbell should remain incarcerated.
"The facts show that he is a danger to the community," she said.
Krull agreed, setting the bond at $1 million.
Krull set arraignment for Campbell for 10 a.m. Oct. 17 in Sturgis.
The body was found after deputies and agents with the South Dakota Division of Criminal Investigation searched the suspect's house.
The search was requested by the Lawrence County Sheriff's Office, which had been working with the Deadwood Police Department and the Moorcroft Police Department.
Sign up for our Crime & Courts newsletter
Get the latest in local public safety news with this weekly email.