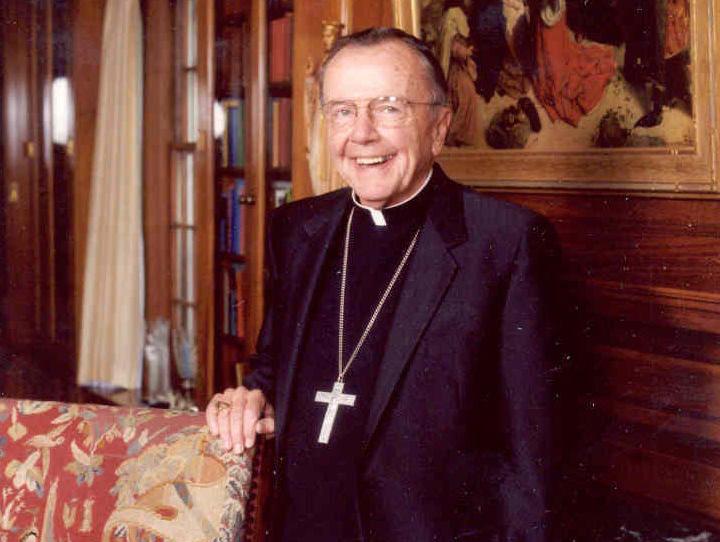 Natrona County's top prosecutor was handed the criminal investigation involving retired Wyoming bishop Joseph Hart three months ago and was tasked with handling any prosecutions related to the case, the district attorney in Cheyenne confirmed last week in response to a Star-Tribune public records request.
"I don't have the current investigation, so the 2019 case," Laramie County District Attorney Leigh Anne Manlove said in a voicemail left for a reporter last week. "I have nothing. Because my office is not handling that case. All of that investigation, everything, the affidavit of probable cause ... everything went to the district attorney in Casper, Dan Itzen."
Manlove was responding to a public records request sent by the Star-Tribune last week to a number of law enforcement agencies that may have been involved in an investigation into retired Bishop Joseph Hart, who has faced repeated allegations that he sexually abuse boys throughout his 45-year career as a priest and bishop. The requests were specifically for any public records mentioning Hart.
The response by Manlove is the first direct confirmation that the criminal investigation involves the man who was once the highest-ranking Catholic cleric in Wyoming.
Authorities and the church have declined to name either man, but statements from the department indicated that one of the men is Hart. Police said their investigation into the two men included elements from a 2002 investigation and the reopening of that same investigation in 2018. Hart was investigated by Cheyenne police in 2002. The allegations were brought to light again in 2018, when the Diocese of Cheyenne announced that it had opened an independent investigation into Hart and that the diocese believed Hart had abused two Wyoming men who made allegations against the retired bishop.
The 2002 investigation ended with police and then-Natrona County District Attorney Kevin Meenan finding that the allegations against the retired bishop were unfounded.
Police have said they passed their charging recommendation to prosecutors. Reached outside of court Friday, Itzen declined to comment on Manlove's statements. The Star-Tribune also sent records requests to the Casper Police Department and the Natrona County Sheriff's Department, both of whom said they had no records mentioning Hart.
Hart has denied all allegations of sexual misconduct. A message sent to his attorney last week seeking comment for this story has not been returned.
In an email sent Wednesday, Manlove wrote that her "office does not have any documents regarding Joseph Hart. The 2002 and the 2019 investigations were referred, because of conflict of interest issues, to the DA in Casper."
Manlove later stated that her comments were not for attribution and that they were intended only as a response to the records request. While journalists will talk with sources off the record or on background, such arrangements must be made by mutual consent. In neither her initial email nor her voicemail did Manlove request that her statements be off the record or on background. She also did not ask the Star-Tribune if those comments could be off the record or on background. The Star-Tribune is publishing her comments because of their significant public importance.
Citing two anonymous sources close to the case, the Star-Tribune previously reported that Itzen would handle the investigation because of a conflict of interest in Manlove's office.
In the nearly 18 months since the diocese made that announcement, church officials say they've substantiated four more allegations against Hart.
Decades of allegations
Allegations of sexual abuse have dogged Hart for years. Over the past decade, the Diocese of Kansas City-St. Joseph has settled with 10 men who accused Hart of abuse. The first known allegation against him was made in the early 1990s, by the family of a man who died after spiraling into drug abuse in the 1980s. The family accused Hart of abusing the man on trips around the West, when the victim was a boy.
That appears to have been a pattern for Hart. Of the six men who say they were abused by Hart in Wyoming, at least two of them were Missouri residents who say they were abused on trips to the Equality State.
Hart's attorney, Jubin, previously denied that Hart had ever abused boys on trips.
It remains unclear how expansive Itzen's investigation, which has now passed the three-month mark, has become. The Diocese of Cheyenne has said six victims were abused by Hart in Wyoming. It's unclear, though, how many are part of the police inquiry.
A Kansas City Police Department spokesman said last week that a criminal report had been made against Hart in August. The report alleged that Hart had sexually abused a teenager in 1974. Because of Missouri's statute of limitations, police could not move forward with the report. The spokesman also said no one from Wyoming had been in touch with Kansas City police.
If Hart is charged, there are national implications. He would become the highest-ranking Catholic cleric to be charged with sexual abuse in U.S. history. He is also the subject of a Vatican investigation that could see him defrocked. If that happens, Hart will join other disgraced high-ranking church officials in laicization, like ex-cardinal Theodore McCarrick. Last year, McCarrick faced a wave of sexual abuse allegations, and the Vatican removed him from the priesthood.
McCarrick now lives in a friary in rural Kansas. He is the most senior Catholic cleric to be removed from the priesthood in modern history. A victims' advocacy group has called on the Diocese of Cheyenne to send Hart to the same friary. Hart, who is in his late 80s, currently lives in diocese housing in Cheyenne.
According to USA Today, between 4,700 and 6,400 priests, brothers and Catholic school workers have been accused of sexual misconduct. Because of statute of limitations laws across the country, most will not face criminal prosecution. Wyoming has no such law.
Star-Tribune reporter Shane Sanderson contributed to this report.