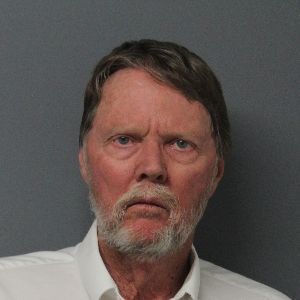 A former Torrington municipal judge who faces 10 criminal charges — including three counts of sexual assault — is negotiating a plea agreement in the case, his lawyer said Tuesday.
The lawyer representing Gregory Knudsen, 70, made the statement to the district court judge overseeing Knudsen's case shortly after he pleaded not guilty to the 10 counts at a video arraignment. In addition to the three sex crimes, Knudsen also faces a single count of burglary and six misdemeanor counts: five of stalking and one of unlawful contact.
Craig Silva, Knudsen's defense lawyer, did not tell Judge Dawnessa Snyder the anticipated terms of the deal or what sticking points had prevented it from yet being struck. Silva did, though, ask the judge if she had any types of prohibitions on no contest pleas, which — unlike guilty or not guilty pleas — must be approved.
Snyder said she did not have a blanket prohibition to making such pleas to any particular type of crime. Their entry does require a "good reason," she said.
Knudsen's Tuesday morning court hearing was the latest in a case that became public in late March. It was then that he made his initial appearance in Goshen County Circuit Court, where prosecutors declared the charges against him. A judge — from Laramie County, rather than Goshen County, as would be more typical — ordered Knudsen free on a $10,000 personal recognizance bond.
According to court documents filed along with the charges, prosecutors believe that Knudsen over the course of years sexually assaulted women whom he met in his private law practice.
On one occasion, prosecutors allege, Gregory Knudsen entered an unconscious woman's house and molested her, only ceasing his attack when a child entered the room. The 70-year-old also, according to the prosecutors' allegations, forced a woman who was seeking legal advice to touch his genitals. He then held her down in an attempt to further assault her, the documents allege.
Tuesday's approximately 20-minute hearing was held by video, as has become common since the spread of the novel coronavirus within Wyoming.
Snyder — the Carbon County District Court judge who was assigned the case from Goshen County's docket — read Knudsen the charges he faces. She paused after each set of criminal counts to ask Knudsen if he understood the charges.
He replied, "Yes, your honor," and the judge continued.
When provided for the first time an opportunity to plead, Knudsen spoke clearly.
"I plead not guilty, your honor," he said.
"To all counts?" Snyder asked, in clarification.
"Yes, your honor," Knudsen said.
Silva, Knudsen's attorney, then asked the judge if change of plea and sentencing hearings — which both accompany plea agreements — are held by video or in person. Snyder told the defense lawyer that either is possible.
Silva then told Snyder that he had been working out a plea agreement with Kevin Taheri, the Natrona County assistant district attorney who was appointed special prosecutor for the case.
Court documents do not specify the reason for the appointments of a prosecutor and judge from outside Goshen County. However, such appointments frequently are undertaken when a conflict of interest — or the perception of one — is possible.
When Taheri told Snyder that he had no issues for her to address, the judge adjourned the hearing.
Even before the charges against Knudsen became public, he had been barred from practicing law in Wyoming. The Wyoming Supreme Court in July of last year — months after the criminal investigation had begun — ordered his disbarment because an investigation by a lawyers' disciplinary board found Knudsen had slept with a client of his private law practice and lied to investigators about it.
It's been longer since Knudsen served on the bench: In January of last year he was replaced as municipal court judge, according to minutes from a town meeting. Those records do not indicate if his replacement is connected to either the criminal allegations or the non-criminal finding of misconduct.
Concerned about COVID-19?
Sign up now to get the most recent coronavirus headlines and other important local and national news sent to your email inbox daily.