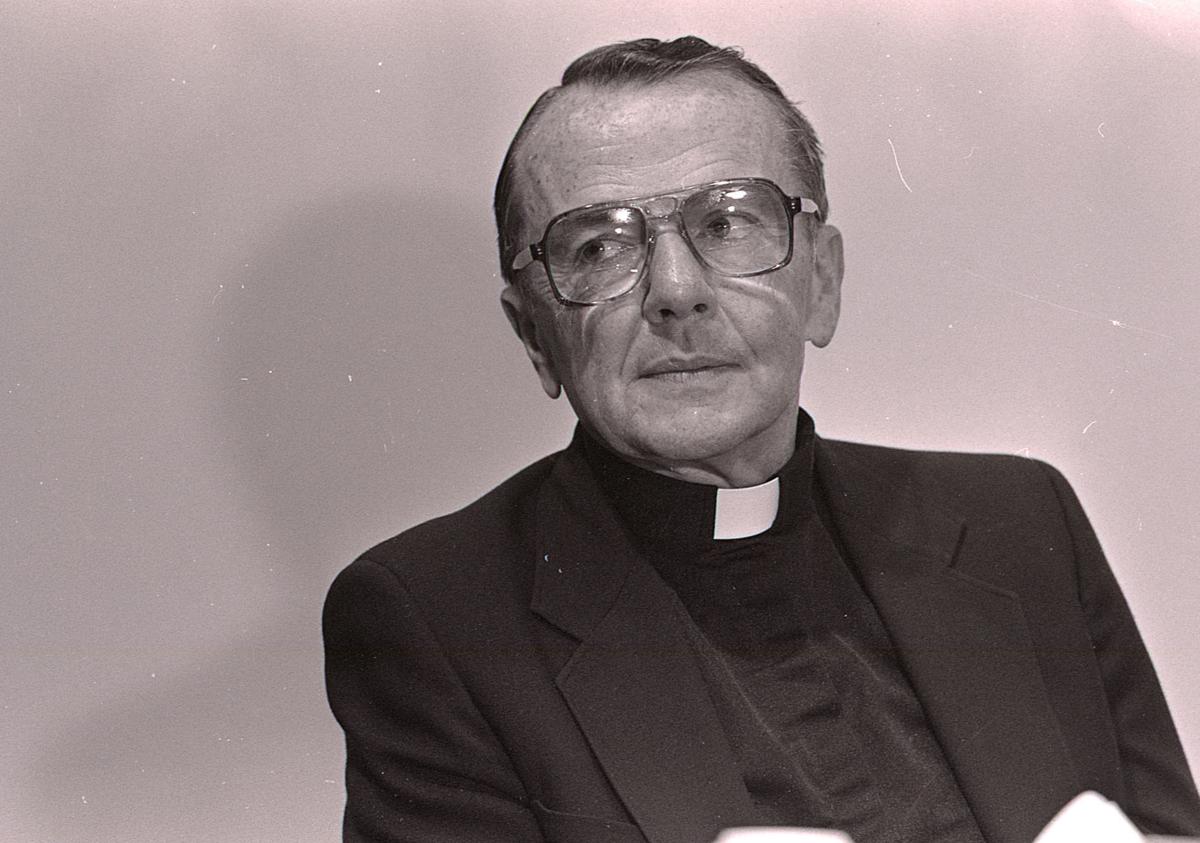 Natrona County prosecutors have again decided not to pursue sexual abuse charges against retired bishop Joseph Hart, who has been accused of abusing boys dating back to the early 1960s.
The decision was confirmed Tuesday by Michael Schafer, an assistant district attorney in Natrona County. In a message to the Star-Tribune, Schafer said that prosecutors "did take a look at it for the Laramie County District Attorney's Office, and after reviewing the investigation, we don't feel like we can be successful" in prosecuting Hart. Cheyenne's top prosecutor recused herself from adjudicating the case last year, citing a conflict.
The decision brings an end to six weeks of uncertainty for alleged victims and concludes a two-year criminal investigation into Hart, who was a top Catholic cleric in Wyoming for a quarter-century. In early June, a victim's advocate from the Natrona County District Attorney's Office called the alleged victim at the center of this case and told him Hart would not be investigated. Then, two weeks later, prosecutors decided to review the case again, after meeting with Cheyenne Police and realizing that prosecutors had misread documents foundational to the case.
Cheyenne police had requested the meeting with prosecutors because the investigators felt the case was strong and they wanted an explanation. But prosecutors have returned to their original decision not charge, and the review apparently wasn't enough to sway prosecutors into charging Hart, who has been accused of sexual abuse by more than a dozen men in Missouri and Wyoming, who've come forward in a rolling wave beginning in the early 1990s.
Wyoming represented perhaps the only chance for Hart to face criminal prosecution for his alleged abuse; the Equality State has no statute of limitations, as Missouri does, and Hart could still be charged in 2020 for crimes he allegedly committed in the 1970s.
Cheyenne police declined to comment Tuesday. The accuser at the center of the case told the Star-Tribune that he "couldn't understand why they didn't convene a grand jury and let them decide." The man, who the Star-Tribune has referred to using the pseudonym Martin to protect his identity, also noted the "trail of shattered lives" that Hart has allegedly left in his wake.
The majority of the men who've accused Hart of abuse are from Kansas City, where Hart was a priest for 21 years before coming to Wyoming in 1976. But at least six have alleged they were abused in Wyoming by Hart during his time as bishop.
Hart has consistently denied all allegations of sexual misconduct. His attorney, Tom Jubin, did so again earlier this month. Hart will turn 89 in September; Jubin described him as being in poor and worsening health.
In an email to the Star-Tribune on Tuesday, Jubin said he was "gratified by the district attorney's decision."
"Bishop Hart has consistently maintained his innocence while never diminishing the pain felt by the victims of abuse," Jubin wrote.
Martin and another person who told Cheyenne police that Hart had abused him in Wyoming both said they were never contacted by prosecutors at any point during the 10 months that the district attorney's office had the case. Darrel Hunter, a Kansas City man who spoke with police and said his two brothers, both of whom are deceased, were also abused by Hart decades ago, also said he was never contacted. It's unclear why the misreading of the case documents was not discovered until mid-June, after Martin had been told the case was closed.
Rebecca Randles, an attorney in Kansas City who has represented Hart's accusers in civil suits against the church, has said previously that she made many of her clients available to investigators. Randles did not return a message seeking comment Tuesday.
The decision deals a serious blow for those who want Hart to be held accountable from within the criminal justice system. There's still an ongoing church investigation that could see Hart expelled from the priesthood, but church officials and people who've accused Hart of abuse say they've received no update on the status of that case, which was referred to the Vatican two years ago. A previous church investigation into Hart ended with no action being taken; Hart was eventually restricted from publicly celebrating mass in 2015.
Hart has never been charged with a crime, and this is the second time in 18 years that Cheyenne police and a Natrona County prosecutor investigated Hart. In 2002, Martin spoke to a Cheyenne police investigator who, Martin said, was antagonistic to the point that Martin stopped speaking with him
The investigator — Jeff Schulz — recommended the case be closed in early summer 2002. Then-Natrona County District Attorney Kevin Meenan followed through with that recommendation and went further, calling the allegations baseless and without merit. Schulz has previously declined to comment and did not return an email seeking comment sent earlier this month. Meenan has not returned repeated requests for comment sent over the past two years.
For the next several years after the '02 case was closed, Hart would be a named defendant in lawsuits in Kansas City. The church there ultimately settled with 10 men who said they were abused by Hart. But in Wyoming, he continued to live in a diocese-owned house and live as a bishop emeritus. In 2010, then-Cheyenne bishop Paul Etienne asked the Vatican to investigate Hart, but nothing came of the inquiry. In 2015, Etienne blocked Hart from publicly celebrating Mass.
In 2017, current Cheyenne bishop Steven Biegler quietly opened an internal investigation into Hart. He forwarded information about the case to Cheyenne police in April 2018 and then publicly announced in July 2018 that two men — including Martin — had come forward and that their accusations were credible and substantiated. It also called the 2002 investigation "flawed."
A message sent to a diocese spokeswoman Tuesday was not immediately returned. Last month, after Martin was told that prosecutors wouldn't proceed with charges, both the Kansas City and Cheyenne dioceses put out statements saying that they continued to believe the victims and that the dioceses stood by their previous determinations that Hart had abused the victims.