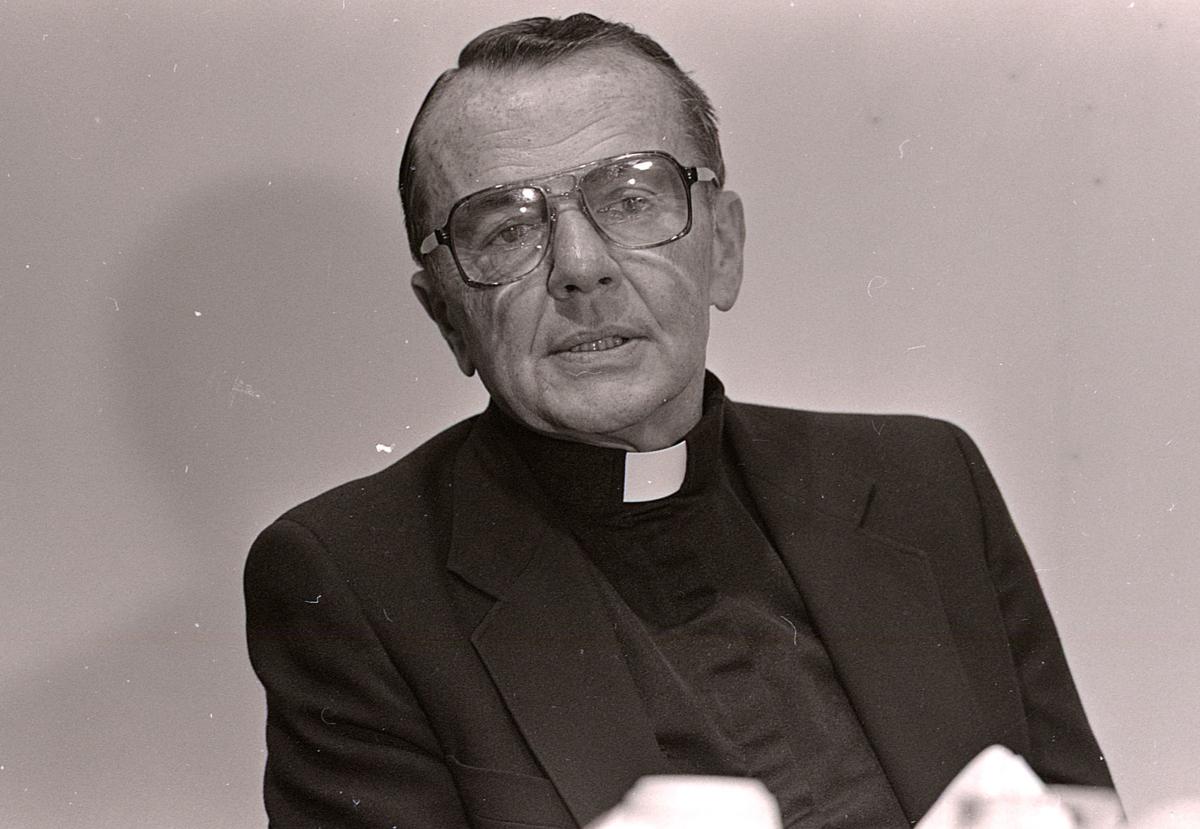 There doesn't appear to be much interest at looking back to 2002.
Cheyenne police say they have no plans to reexamine that year's most high-profile sexual abuse investigation. In April 2002, recently retired Wyoming Bishop Joseph Hart was accused of sexually abusing a teenage boy in Cheyenne in the 1970s. The Cheyenne police investigation that followed lasted two months before the allegation was declared unfounded because of a lack of victim cooperation.
Nor is there interest by either of the two men who followed Hart as bishops of Wyoming to look backwards. David Ricken, now a bishop in Wisconsin, and Paul Etienne, now the archbishop in Seattle, both said they couldn't investigate Hart during their respective reigns atop Wyoming's Catholic church. The victim wouldn't cooperate, they said. Neither answered when asked by email if they regretted how they handled the matter. Throughout both of the men's tenures, Hart's alleged victims were coming forward in Kansas City, all alleging abuse. The church settled lawsuits with 10 of them.
A spokesman for the Denver archdiocese, which oversees Wyoming, declined to comment when asked if the church would look into why nothing was done about Hart for so long.
Over the past two years, the investigation has been reignited. The unfounded claim has turned into the basis for a Vatican trial and a criminal case in Wyoming that now awaits a decision by prosecutors that could prove to be historic. The victim who wouldn't cooperate has now spoken with civil and church authorities. His account has been deemed substantiated by the church.
The victim and his family have been repeatedly, consistently critical of the 2002 investigation. A family member told the Star-Tribune that the family is furious and wants accountability.
Kevin Malatesta, a spokesman for the Cheyenne Police Department, said the 2002 investigation would be handled differently now — and it was, he said, alluding to a recent police investigation into priest abuse.
"Things have certainly changed or evolved in the ways that investigations are conducted," he said. "What we're doing is obviously a much more involved investigation. ... Methodologies have changed in the ways that interviews are conducted, evidence is collected."
A long history
Hart was a Catholic cleric for nearly 50 years, including 25 years as the bishop in Wyoming. For a quarter-century, he has been dogged by allegations of sexual misconduct against boys. The Diocese of Kansas City-St. Joseph, where he worked before coming to Wyoming, has settled lawsuits brought by men who accused Hart of abuse. The Wyoming diocese has said it's substantiated claims made by at least six men who say they were abused by Hart in the Equality State.
An attorney in Kansas City who has represented some of Hart's alleged victims told the Star-Tribune that Hart likely has 30 victims whose abuse he either participated in or witnessed.
Hart has repeatedly denied the allegations over the years. Repeated attempts to contact his defense attorney, Tom Jubin, have been unsuccessful in recent months.
While he has faced repeated civil lawsuits, Hart has only twice faced a criminal investigation. The first time was in 2002, when an investigation was opened in late April of that year after a woman told a Laramie County sheriff's deputy that Hart had abused her son in the 1970s. Cheyenne Police Lt. Jeff Schulz took over that investigation, according to the police report.
Schulz spoke with the accuser, who lives out of state, several times throughout May and June 2002. But the alleged victim stopped responding to Schulz in June, according to the report. Hart, who was a year into retirement in 2002, denied the allegations to Schulz.
In July 2002, Schulz recommended the case be closed. Natrona County District Attorney Kevin Meenan was passed the case because of a conflict of interest within the Laramie County District Attorney's Office. Later that same month, Meenan concurred with Schulz and wrote in a public statement that the "allegations are without merit and that therefore the case must be unfounded."
Meenan also wrote that Hart's accuser refused to cooperate. The prosecutor "directed that the Cheyenne Police Department take no further action in the matter and that the case investigation be closed."
In the police report, Schulz doesn't indicate that the alleged victim "refused" to cooperate. The report states that after an initial conversation, Schulz spoke with the victim several more times about writing a statement detailing the allegations. Schulz wrote that the victim stopped responding and did not provide that statement.
But the victim has maintained in recent interviews that he was mistreated by Schulz. He told Wyoming Public Media that Schulz's questions felt like a cross-examination, rather than an interview with a victim. The victim told radio reporter Tennessee Watson that Schulz told him that Hart is a "pillar of the community" and asked why he was bringing these allegations forward.
Reached by phone by the Star-Tribune earlier this month, Schulz declined to comment on the 2002 investigation or any ongoing inquiry into Hart.
Meenan, meanwhile, has not returned repeated requests for comment made by phone and email. Someone at his residence in Casper signed for a certified letter sent by the Star-Tribune earlier this month again asking for comment.
David Clohessy, who works for the Survivors Network for those Abused by Priests, accused police of mishandling the 2002 report against Hart and needed to "take specific steps to ameliorate the harm they caused."
"The cooperation of victims is more crucial in child sex cases than in any other kind of crime," Clohessy, the SNAP official, said. "So police officials must take every step possible to 'undo' the harm done in the first Hart investigation. At a minimum, that means publicly identifying those who supposedly 'erred,' disciplining them, explicitly spelling out what reforms have been adopted and aggressively using the department's 'bully pulpit' to seek out others who saw, suspected or suffered clergy sex crimes and cover-ups in Wyoming's Catholic diocese."
Malatesta, the Cheyenne police spokesman, said it was "difficult for us to speak on behalf of people who haven't worked here in decades." He said that the police inquiry from 2002 would've been handled differently today.
"It wouldn't be done the same way," he said. "It's not being done the same way."
Family criticism
The family member of the person who accused Hart of abuse in 2002 said she was furious at the police and said that police changing their techniques didn't absolve them of blame.
"I've learned a lot over the past 20 years, as well, but if you called me out on something I did 20 years ago, I would be willing to talk about it and be willing to discuss what went wrong, what should've happened and what we've learned today," the family member wrote in a message to the Star-Tribune. "Without Bishop (Steven) Biegler pushing this case, it never would've seen the light of day."
Hart's alleged abuse is indeed again in the spotlight, in large part because of Biegler. The current bishop in Cheyenne opened an independent investigation into Hart in December 2017. Eight months later, Biegler said in a statement that the diocese had identified two victims of Hart who were credible. One of those was the 2002 accuser, who Meenan had determined was not credible.
In the statement announcing the diocese's findings, Biegler also wrote that the 2002 investigation was "flawed." A diocese official later said the victim's statements of abuse were enough to indicate to investigators that abuse had occurred.
"The Diocese of Cheyenne obtained the civil investigation file from 2002 through an open records request," a diocese spokeswoman said in a statement Tuesday. "The file contained information that contradicted the District Attorney's July 2002 press release, which stated that there was no evidence to support the allegations and that there was a lack of corroborated evidence for the allegations."
In August 2018, Cheyenne police announced that they were investigating clergy abuse. A year later, the department said in a press release that they were recommending charges against two men; one, police said, was a former clergyman. In that release, police said the investigation stemmed "from a case initiated in 2002 that was reopened in 2018," which points firmly at Hart.
Police and prosecutors have declined to identify either man.
Malatesta said the new investigation "began with new information and new evidence" than the 2002 inquiry. He declined to say what that evidence was or what was otherwise different now compared to 2002.
"I can't really speak to what somebody may have thought if they had that evidence 17 years ago," he said.
Attorney General Bridget Hill declined to comment on whether her office would look at the 2002 investigation. In recent years, as more states' attorneys general have looked at priest abuse, some have examined law enforcement agencies' handling of those cases.
Looking back?
The hesitancy to look backward is not isolated to law enforcement. Hart's two successors atop the Catholic flock in Wyoming, Ricken and Etienne, both said they couldn't investigate Hart because of a lack of victim cooperation. Ricken appears to have taken no action regarding Hart after the conclusion of the police investigation in 2002. A spokeswoman for the Diocese of Green Bay, where Ricken currently serves as bishop, did not respond to a question about whether Ricken regretted his handling of the situation.
"In regard to the most recent allegations against retired Bishop Hart, so as not to jeopardize or influence the canonical process being handled in Rome and the ongoing civil investigation in Cheyenne, no further comments will be made," the Green Bay diocese spokeswoman said.
Etienne requested that the Vatican investigate Hart in 2010, though it's unclear if that inquiry was ever concluded. Etienne restricted Hart from publicly celebrating Mass in 2015.
A spokesman for the Denver archdiocese, which oversees Wyoming, declined to comment on whether the archdiocese was concerned about the lack of action taken by the two Wyoming bishops.
Meanwhile, the investigation into Hart by prosecutors in Natrona County has entered its third month. It's unclear if and when any charges will be filed. Malatesta said he "thought things would've moved by now." He added that he doesn't have a timeline on when prosecutors will make a decision.
A Kansas City Police Department spokesman said last week that his department had received a criminal complaint against Hart alleging that he had molested a 14 or 15-year-old boy in 1974. Because of Missouri's statute of limitations, the case could not proceed. Wyoming has no such statute. If Hart is going to face criminal prosecution, it will have to be here.
If Hart is indeed charged, he will become the highest-ranking Catholic cleric in U.S. history to face criminal proceedings for sexual abuse.
At the same time, Vatican officials have said they will investigative Hart, who is expected to face a church trial that could see him removed from the priesthood. Currently, though he cannot publicly celebrate Mass, he is still a retired bishop and member of the clergy.