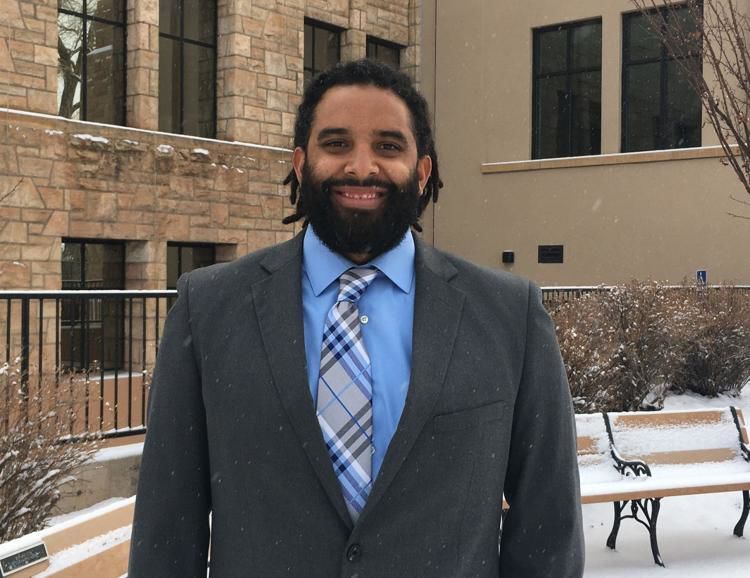 In his 10 years with the University of Wyoming Police Department, Aaron Appelhans was a detective, a patrol sergeant and an administrator. He dabbled in crime prevention, public information and supervision. He boasts a heavy toolbelt of training and instruction certifications. Even before he put on the badge, he says his time traveling the state as a university admissions officer taught him how to talk to anyone.
Now, he's graduated. And he's making history as the state's first Black sheriff, joining its first Black police chief, Jim Byrd, who broke that barrier in 1966.
With his appointment, Appelhans becomes part of an unprecedented group of Black sheriffs taking office across the country following November's election. In Georgia, three counties elected their first Black sheriffs. Stafford County in New Hampshire voted for Mark Brave, a lieutenant who publicly supports expanding body camera usage and making the agency's operations more transparent. Eric Fagan made headlines in Fort Bend County, Texas, winning election on a reform platform focused on increased training and public oversight. The last Black person to hold that office was a former slave, elected in 1876.
"You don't see a whole lot of people in law enforcement that come from underrepresented populations," Appelhans said. "Whether that's me being African American, or other ethnicities, or females. It's a big responsibility, one that I don't take lightly or shy away from. I have an opportunity to show people that people from those underrepresented populations are just as capable and qualified as everybody else."
Appelhans' appointment signals a shift towards a more compassionate style of policing in the Albany County sheriff's office, one that draws on his experience as a community member, as an advocate for sexual assault victims and as a Black man, people who've worked with him in the past say.
Protesters, activists and local community advocates spent the summer organizing and lobbying for changes to law enforcement in Albany County, with particular focus on replacing former sheriff David O'Malley. After Deputy Derek Colling shot and killed Robbie Ramirez in 2018, activists called for expanded mental health crisis training and an emphasis on de-escalation in law enforcement. Protests about Ramirez's death began anew this summer when people took to the streets to protest the police killing of George Floyd in Minneapolis.
"This was something that could have been avoided had the officers had proper training," said Seth McGee, a Laramie local involved with this summer's protests. "There has been a lot of talk about how we can implement health care professionals in those situations to prevent anything like that from happening again."
Middle road approach
Appelhans says he's determined to bridge the gap between progressive and conservative views on the role of law enforcement. It's part of his overall nonpartisan approach, a sort of middle road when national and local politics are increasingly divided down party lines.
With his progressive supporters questioning the office's responsibilities and conservatives looking to expand police power, Appelhans sticks to the books.
"My approach to law enforcement is really to serve and protect. It sounds cliche, but it really is," he said. "We have an opportunity to partner with people, listen to the community, listen to public and other agency input and make changes if needed."
Appelhans is careful not to call those changes reforms, but his priorities point to a more progressive approach to policing, one that places a greater emphasis on activities outside of making arrests and writing tickets. One of his top priorities in his new role, in line with protesters' demands, is implementing training across the department that will give officers tools to de-escalate and resolve crises without resorting to violence.
"We're really trying to be more transparent with the public and let them know what we're doing and why we're doing it," he said, "not just during a big case."
Activists like McGee have been asking for more transparency from the department since before Ramirez' killing, McGee said. He said that in Laramie, it helps to know a law enforcement officer or two by name — he's even seen first-hand someone name-dropping a deputy after being pulled over and getting let off with just a warning. Knowing who your local officers are is a good thing, he said, but ideally that relationship should be one of mutual support rather than a hall pass.
In his first days on the job, Appelhans was already working on making connections with local advocates and agencies that can support law enforcement in Albany County. He's focused on fostering a team approach to mental health or other crises.
Before taking up his new post, Appelhans served for five years on the board of Laramie's SAFE Project, a support and advocacy program for victims of sexual assault and domestic violence. Executive Director Faryn Babbitt said he was a valuable mentor to her when she first took the helm, and she's looking forward to partnering with the sheriff's office to provide unprecedented trauma-informed training to the force.
That partnership, and the new sheriff's experience with advocating for survivors of assault and trauma, informs a more sensitive approach to getting justice for victims in Albany County.
"In some of those situations, law enforcement is a good resource," Appelhans said. "We're bound by the law to help, but we may not have the best solutions for someone in a crisis. We want to give that person in a crisis the best help we can get and get them to the appropriate place."
When Babbitt heard that Appelhans' name had been thrown into consideration for the sheriff position, Babbitt texted him right away.
"I said I thought it was a great idea," she said. "I was excited about the possibility of a person of color, and someone young, being in a position like that, so I encouraged him and was really excited when he decided to apply."
The bigger picture
With a wife and kids in middle and high school, taking the job was not an easy decision for Appelhans. But he felt a responsibility, he said, to bring an outside perspective to the role and to be a role model for others looking to get into law enforcement who may be intimidated by how overwhelmingly white and male it is, not just in Wyoming but across the country.
Babbitt said she's had multiple conversations with Appelhans over the years about how important it is for police departments to look like the communities they serve. He's passionate about getting women and people of color into law enforcement to foster a more equitable criminal justice system, she said.
"I think he will make a very concerted effort to broaden that recruitment base," Babbitt said, "and to try to bring people on board who are not the 'traditional' cop."
Linda Devine, a Laramie criminal defense attorney involved with local protests this summer, emphasized how important it is for law enforcement to see the bigger picture when it comes to prosecution. To her, that means looking past someone's record and into race, poverty, and mental health issues that often go unaddressed in the courtroom.
But Devine said her experience opposing Appelhans at trial during his time as a UW police officer makes her optimistic for his new role.
"I've always appreciated the work he's done," Devine said. "I've never thought he was just out there trying to charge people for the hell of it. I didn't always agree with his charge positions, but I certainly respect him as a law enforcement officer and as an individual."
Devine said the impact of race on policing mostly goes unnoticed in Albany County, but that doesn't mean it doesn't exist.
"A lot of people think that Wyoming, and especially Laramie, is so removed from big cities that there's not any type of implicit bias or systemic racism, which is completely a false assumption," Devine said. "It doesn't mean that people are walking around consciously being racist, it's just these underlying biases we all have. And law enforcement may not think that it's there, but it's there."
Babbitt said she's seen her fair share of corruption in law enforcement, but that Appelhans' record sets him apart from it.
"Aaron is a really good cop. He has a lot of life experience that brings a special and unique approach as a person of color," she said. "He's lived in metropolitan areas, he's lived in rural areas like Laramie. He's definitely willing to create change and listen to everybody, and I admire that because that's going to be a big job and a hard job."
As a Black man, Appelhans said he's no stranger to racism. Earlier this month, state Rep. Cyrus Western responded to an article about Appelhan's appointment on Twitter with a GIF showing a Black sheriff from the Mel Brooks film "Blazing Saddles" saying, "Where the white women at?"
Appelhans' initial reaction to the tweet was disappointment, he said. But he wasn't surprised.
"Unfortunately this wasn't unexpected. Things like this have happened to me before, just not as publicly," Appelhans said at the time. "Being the first to do anything, it's going to come with some trials and tribulations."
The sheriff talked to Western after the lawmaker removed the tweet, trying to educate him on its racist connotations and to encourage him to do better in the future.
"Aaron is obviously the sheriff, but he is also a Black male," Devine said. "My hope is that he'll be a leader that can show other deputies and law enforcement how different things we say and do can be based on our own perceptions."
Devine said she sees racial bias in Albany County's criminal justice system all the time. In several cases, she's watched as a white person gets out on bond immediately while a person of color charged with the same crime has to endure three or four bond hearings before they're released. She also said that based on her experience in court, people of color who get pulled over while passing through Wyoming are subject to higher scrutiny than white drivers.
Change ahead?
If national historical examples are any indication, Appelhans' presence as a Black sheriff is going to change the kinds of crimes prosecuted in Albany County.
In a study conducted by George Bulman, a professor of economics at the University of California, Santa Cruz, counties transitioning between white and Black sheriffs saw a decrease in arrests for offenses with disproportionate representation of the sheriff's race.
"What we can see is if you switch from having a white to a Black sheriff, the arrests of Blacks go down compared to under white sheriffs," Bulman said. "So clearly race is playing a role here. And the same thing is true the opposite way."
This doesn't mean that murders or other serious offenses aren't prosecuted when the sheriff's race matches that of the defendant. Data showed little change in the racial makeup of felony arrests, but the real difference lies in smaller misdemeanors and violations.
"Sheriffs are such an interesting institution because they have so much autonomy," Bulman said. "They have a great deal of discretion in terms of who they hire and what types of crimes to pursue for these more minor offenses."
They also occupy a unique role, governing crime that happens outside city limits. In Albany County, that's just about everywhere outside of Laramie. Most people don't think about the sheriff, Bulman said, until they land themselves in trouble.
At least for now, however, people on both sides of the political aisle have their eyes on Appelhans in his first weeks in office. True to his philosophy of serving and protecting, however, Appelhans plans on balancing public input and working to make his existing force as good as he can.
Some activists may be pushing for Appelhans to clean house at the sheriff's office, Devine said, but for now he's more focused on providing tools to improve the force he's inherited. Babbitt said he's discussed training officers to deal with trauma victims with her, bringing in SAFE Project staff to educate deputies.
"I know he's not going in there with a big head thinking he's going to turn everything upside down and get rid of a bunch of people and be this tyrant," Babbitt said. "I know he wants to support the men and women who work in the sheriff's office who do good work and give them the tools that they haven't had but they need to be better."