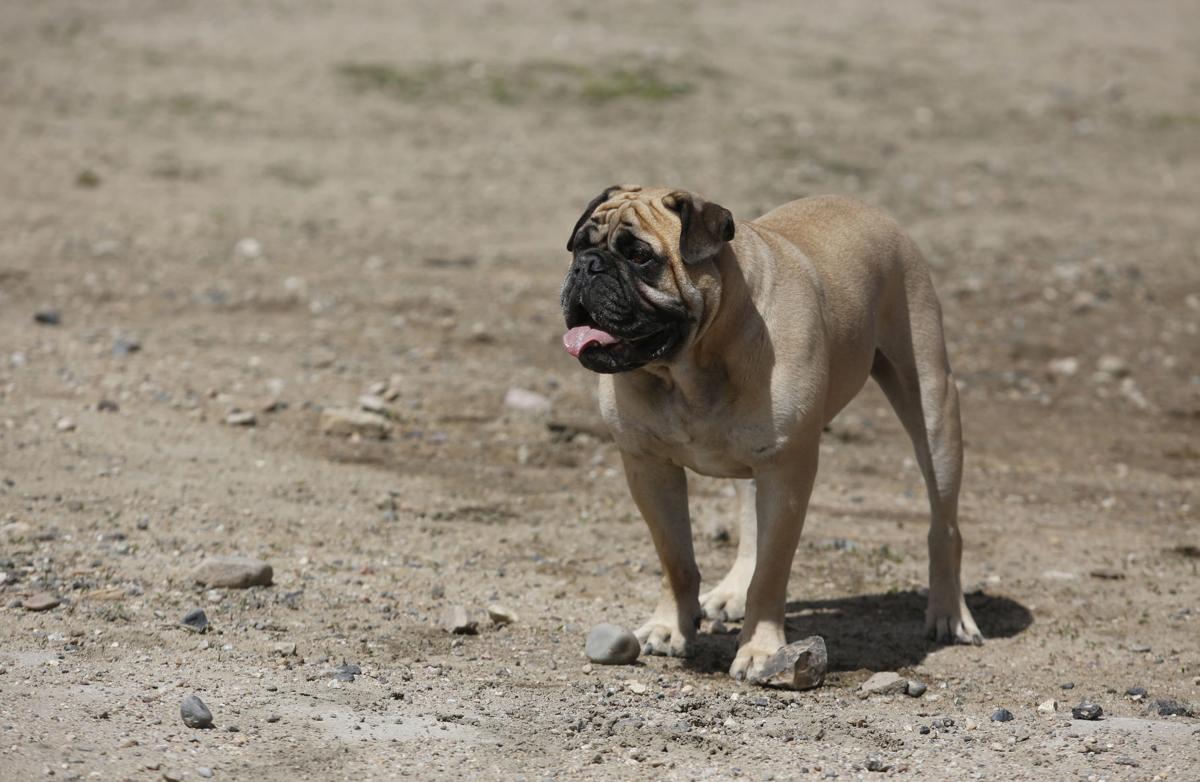 On a weekday morning last month at the Pet Ring Foundation, a wrinkly-faced English bulldog ignored everyone else in the room as he tenaciously chased a tennis ball across the Casper shelter's blue floors.
"Buddy loves his toys," said the shelter's director Preston Pilant, as he watched the sandy-colored dog bound around the room.
It seems like a harmless enough habit, but Buddy's passion for playing almost got him killed last year. The pooch, who was walking alongside his owner Lucy at a park in north Casper, dropped a toy he was carrying and started to play with it on the street.
A nearby driver grew impatient as Lucy tried to pull the heavy canine out of the road. Pilant said the man intentionally ran over Buddy, then put his car into reverse and hit the dog again before leaving the scene.
Buddy panicked and ran off, but a group of Lucy's friends — including Pilant — formed a search. Lucy eventually found her pet, who was taken for medical care and miraculously survived. But the director said it was still a horrific evening.
"Buddy is her close companion," said Pilant, who sometimes watches the dog for Lucy. "It was hard for her to deal with [almost losing him]."
Multiple witnesses copied down the driver's license plate and the man was later convicted of animal cruelty and sentenced to probation, said Pilant. Those who love Buddy considered the punishment a slap on the wrist.
Animal cruelty laws are "a joke" in Wyoming, said the director. Many residents consider pets to be family, he explained, yet the laws treat them as property.
"Our animal laws in general are just completely vague ... they need to be re-written," Pilant said.
Pilant isn't the only person who thinks the laws are lacking. Wyoming ranks near the bottom nationally in terms of animal rights, according to two national animal rights groups.
The Animal Legal Defense Fund, a national legal advocacy organization for animals, and the Humane Society of the United States both cited Wyoming as one of the worst five states for animal protections in 2017.
It's difficult for an offender to be convicted of animal cruelty in Wyoming because the laws are ambiguous, explained Lisa Kauffman, the society's Idaho director who's temporarily filling in for Wyoming. Prosecutors don't want to waste time pursuing a defendant when their attorney will likely find "wiggle room" and avoid a conviction.
Even those who aren't concerned for animals should still pay attention to animal cruelty because its a red flag, according to Kauffman.
"People who become serial killers or who move into domestic violence or crimes against children — they usually start with animal cruelty," she said, adding that the alleged school shooter in Parkland, Florida, had a history of abusing small animals.
This link has been noted by the FBI, which started keeping a database of those with animal cruelty convictions about two years ago, she added.
While Kauffman would like to see the state create clearer laws and stricter penalties, she also acknowledged that Wyoming is already struggling with overcrowded prisons and doesn't need any more inmates. The Humane Society is therefore encouraging lawmakers to increases the fines and require mandatory counseling.
"Counseling can get that person the help they need," she said.
The link between animal abuse and harming humans is also concerning to Rep. Eric Barlow, R-Gillette.
"Information I have heard from domestic violence prevention groups seem to indicate a significant correlation between those who abuse animals and go on to abuse people," he said in an email sent to the Star-Tribune this week.
Barlow was among the legislators who recently supported a bill that would have raised the maximum fines for those convicted of an initial offense of animal cruelty to $2,500, and the maximum fine for a subsequent offense to $10,000. Cruelty to animals is now a misdemeanor punishable by a maximum fine of $750 for a first-time offense and $5,000 for subsequent convictions.
The bill was sponsored by Rep. Mike Gierau, D-Teton County, who said his constituents asked him to increase the fines last year after a local resident was filmed abusing a horse.
The bill failed during the last legislative session, but Gierau said he's determined to try again next year.
Lisa Robertson, the co-founder of Wyoming Untrapped, was among those who asked the representative to work on strengthening penalties.
"The animals in our state suffer silently while we sit back and do nothing ... I want to see leadership take a step and acknowledge that there needs to be change," she said.
Others think existing laws are already enough.
Representative Roy Edwards, R-Campbell County, told the Star-Tribune that he voted against the bill because he does not believe that animals are equal to humans.
"There are already enough penalties … God left [animals] on this earth for us to take care of, not for them to dominate us."
Gierau said he plans to work with those on both sides of the issue throughout the next year. Some ranchers and farmers have recently reached out to the representative and explained they're worried that strengthening animal protections will harm their businesses.
"People get defensive because they feel that their livelihood is being attacked," he said, adding that he understands and wants to work together on a solution.
Ken Hamilton, the executive vice president of the Wyoming Farm Bureau Federation — the state's largest organization of farmers and ranchers — said he doesn't necessarily object to strengthening penalties for animal abusers.
"We want to make sure that it's narrowly enough written that it doesn't have an impact on the agricultural community," he said.
Hamilton recalled that some of his members were told they're cruel to animals because they keep livestock outside in the winter.
"Sheep have three inches of wool so they don't get cold like a person ... People do have a tendency to sometimes anthropomorphize animals and I think you have to be careful that you don't do that," he explained.
But Hamilton said he thinks a middle ground can be reached.
Gierau told the Star-Tribune that he wasn't discouraged by his bill's defeat this past session. Meaningful legislation takes time and he considered this a strong first step.
"I hoped it would open up a discussion — and it has."
Katie King covers the city of Casper.