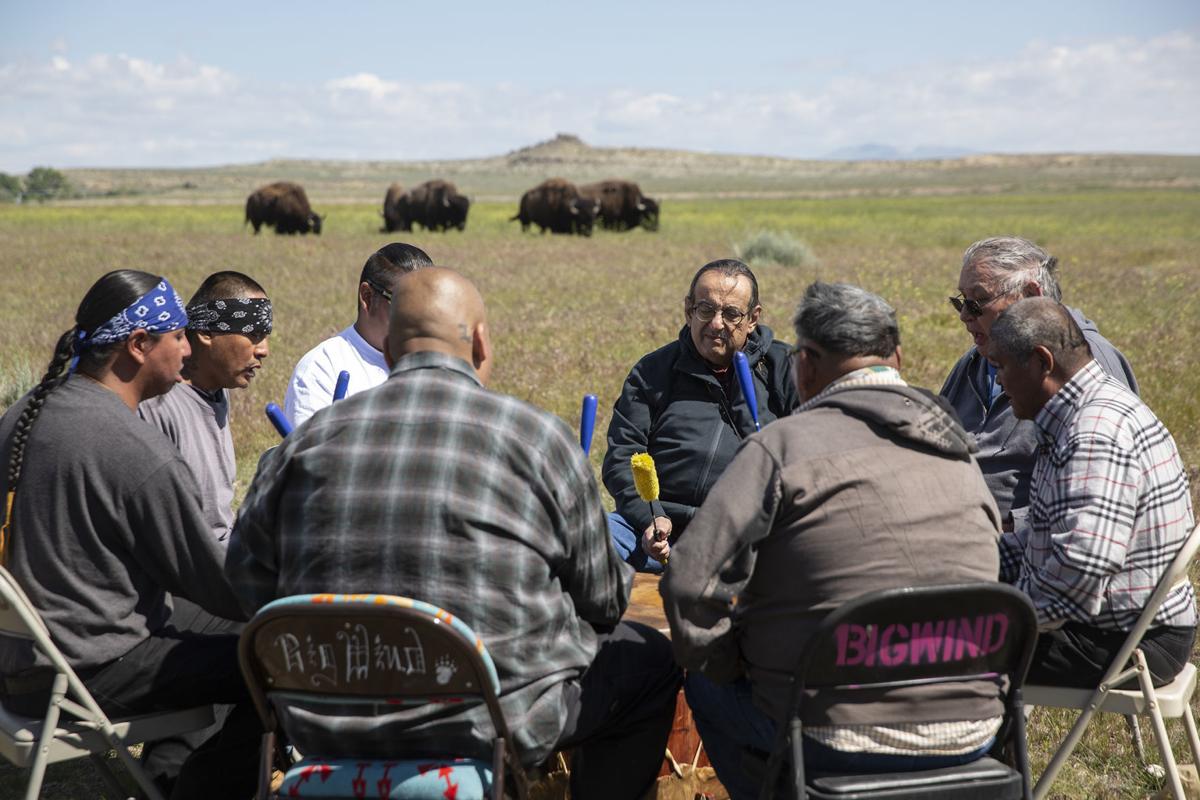 Tribal representatives, including one from a Wyoming tribe, are pushing the federal government for money and cooperation as tribes seek to restore buffalo to tribal lands.
Before a congressional subcommittee hearing on Wednesday, tribal buffalo restoration advocates testified in favor of proposed federal legislation that would provide $14 million in grants for tribal bison restoration and establish a program within the U.S. Department of the Interior to work with tribes on buffalo restoration and conservation. The bill, the Indian Buffalo Management Act, would only apply to tribal lands.
"The Fort Laramie Treaty of 1868 guarantees tribes access to buffalo so long as buffalo may range. Unfortunately, like many other treaty provisions, the federal government has failed to live up to this promise," Ervin Carlson, president of the InterTribal Buffalo Council and a member of Montana's Blackfeet Nation, said at the hearing. "However, adoption of the Indian Buffalo Management Act provides an opportunity for the federal government to honor this treaty provision."
Jason Baldes, Eastern Shoshone tribal member and the tribe's buffalo representative, was also part of the group lobbying for the bill. He said he was originally scheduled to testify but time restraints prevented him from doing so.
Still, Baldes said he was able to meet with lawmakers, including Rep. Liz Cheney, to advocate for passage of the legislation and look for co-sponsors.
Baldes is also a board member of the InterTribal Buffalo Council and tribal partnership coordinator for the National Wildlife Federation. While he said he's been to Washington many times to work on various issues and speak with lawmakers, these most recent meetings were "one of the few times that I'm on my way back from D.C. that I feel good about the meetings that happened."
"The fact that we had favorable meetings with everybody that we spoke to about the Indian Buffalo Management Act, we've got no complaints," he said. "We're just really pleased, and surprised frankly, that it's moving this way."
At the hearing, the Bureau of Indian Affairs said it supports the bill, which was introduced in November 2019. But the bureau's director, Darryl LaCounte, said the act doesn't provide money permanently, which could require the Department of the Interior to pull funding from elsewhere.
"The Department recognizes our shared interest in modernizing buffalo management in Indian Country and appreciates Congress' attention to this effort," he said in his testimony. "The buffalo has a historical, cultural and spiritual connection with many Tribes and plays a significant role in ensuring traditional Tribal subsistence. Supporting Tribal subsistence is a priority for the Department and the Administration."
You have free articles remaining.
Baldes, who helped re-establish a buffalo herd on the Wind River Reservation in 2016 after a more than 130-year absence, said passage of the bill could be a way to help Indigenous nations once dependent on buffalo heal from past trauma and injustices.
"Native American people, we have lived with this animal for millennia," he said. "And just because we've been separated from from this animal for 130 years, that doesn't diminish the cultural importance that we still have, even though the federal government tried to wipe them out, tried to wipe us out, tried to wipe out our languages. Our culture is still there."
If passed, Carlson said the act would help with bison population management; roundup and distribution of surplus buffalo to tribes; reintroduction of buffalo into the diets of Indigenous people, which would prevent and treat diet-related diseases; facilitate the creation of a centralized herd to ensure a reliable source of buffalo for markets; and to exchange buffalo among tribes to enhance genetic diversity.
The InterTribal Buffalo Council, which has been pushing for legislation like this for years, has 69 member tribes in 19 states with 55 bison herds — making it the largest collective herd in the U.S., Carlson said.
Tens of millions, perhaps as many 60 million, bison — considered an important ecological keystone species — once roamed America before the U.S. government and settlers nearly wiped them out. The near-extermination of buffalo led to tribes' confinement to reservations, loss of land and a changed lifestyle, Carlson said during his testimony.
"Buffalo are sacred to American Indians," he said. "Buffalo provided us food, shelter, clothes and essential tools."
Although not all tribes have the large land base of the Wind River Reservation, it's still important for them to be able to have a buffalo herd, Baldes said, adding that the proposed legislation would help ensure that.
"Some of our member tribes don't have that capability; they're on smaller land bases. They just want to feed their people," he said. "All of the spectrum of bison conservation is important. This money will ensure that ITBC can best meet the needs of those member tribes."
The Billings Gazette contributed to this report.