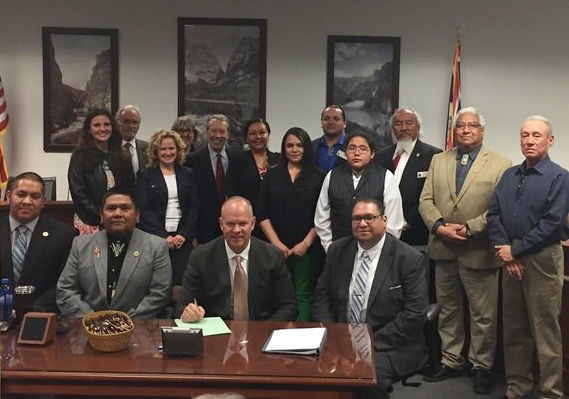 The recent signing of a bill that will help educate future generations about Wyoming's native population was hailed as a "momentous occasion" brought on by years of work by advocates.
House Bill 76, known as the Indian Education For All bill, was signed late last week by Gov. Matt Mead. It instructs state educators to consult with Wyoming's native population, including the Northern Arapaho and Eastern Shoshone tribes, and create education materials that will be made available for use by the state's 48 school districts.
Jason Baldes, the executive director of the Wind River Native Advocacy Center, credited Native Americans' presence at the Legislature for helping to move the bill through the legislative process.
That commitment continued when the bill was signed last week. When Baldes and others heard it was set to be signed by Mead, they headed to the capital to be part of the "momentous occasion."
Cherokee Brown, a co-founder of the advocacy center, said last month that the bill's passage was a step forward for Wyoming's future generations.
"I want to know that my children aren't going to have to worry so much or work so hard," said Brown, who was not available to comment Monday. "Quality education is not quality education if it's not fair and equitable."
Baldes said it was a formative experience for him, acknowledging that he had been part of the push for the bill for only a couple of years. There were other activists who've worked toward this moment for decades, he said, and the moment really belonged to them.
There already exists one resource that could be made available for districts' use. PBS recently released a series on Wyoming's tribes, which Baldes and others have said districts could begin using right away.
Baldes said the advocacy center is in the process of securing money, mainly from private groups, to create other materials, but he was pleased that the PBS series was already set to be picked up by districts.
He credited the series with helping to advance the bill. It showed legislators the educational product that could be created from working with the tribes. It also helped establish relationships that were critical during the legislative process, he said, and will continue to be as educators and tribal activists work to create materials.
"The ball's in our court," Baldes said. "I think there are several people and organizations who see the importance" of creating more material.
The core of future materials will need to start with tribal sovereignty, which is the root of misunderstanding between American Indians and other Wyomingites, Baldes said.
"I think that is the core understanding that people need to have as to why we have a tribal government, why can we have casinos," he said. "There's so much intertwined in that federal Indian law that most people in the general public don't understand."
He listed other areas that could be covered by educational materials: Native Americans' use of trails; the Lewis and Clark expedition; and the sheep eaters, who belonged to the Eastern Shoshone tribe.
State superintendent Jillian Balow said in an interview last week that she supported the bill and said there had been little advancement of Native American education materials in Wyoming.
Balow said she still keeps an American Indian worksheet from her son's time in elementary school. It's the same sheet she had used when she was a teacher.
"We do not have dynamic expectations for making sure Wyoming students learn about the heritage of tribes and learn about their profound impact on culture, on politics and very existence of our state," she said.
Mead, through his spokesman David Bush, praised the law in a statement Monday. He said the law "sends a message that the heritage, history and contributions of American Indian tribes are important to the education of all Wyoming students."
Superintendent Steve Hopkins, of the Natrona County School District, said Native Americans are part of "who we are" as a state.