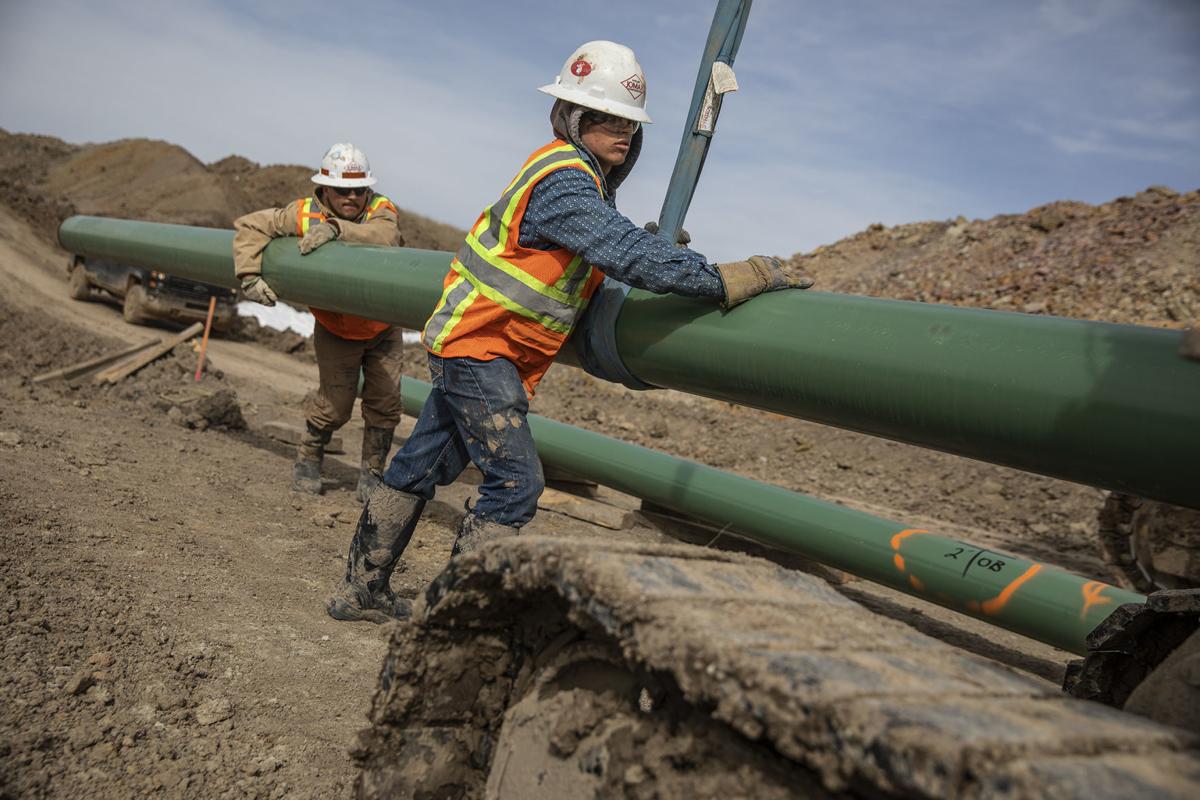 Welcome to the Star-Tribune's Energy Journal, a play-by-play of the past week in Wyoming's wild world of energy. I'm your energy and natural resources reporter, Camille Erickson. Sign up for the newsletter here.
BLM collecting public feedback on Wyoming Pipeline Corridor Initiative 
The Bureau of Land Management announced last week it will hold two virtual public meetings about the proposed Wyoming Pipeline Corridor Initiative, an effort to expand the state's pipeline infrastructure and help companies transport oil and gas products. 
Both sessions will take place on Thursday, May 28. The first session is scheduled from 11 a.m. to 1 p.m. and the second from 5-7 p.m. Registration is required to attend online.
The agency intends to answer questions the public has about the pipeline or federal regulatory processes to help inform their future comments. Though questions and answers exchanged during the sessions will be published on the BLM's website, they will not be entered into the project record as formal comments. 
"These virtual meetings are designed to provide an overview of the project and our draft alternatives, which will hopefully be valuable for the public in submitting comments to the BLM," said Duane Spencer, the acting state director for Wyoming's BLM. "We encourage all interested in the project to attend."
Last month, the bureau released a draft environmental impact statement after reviewing the potential consequences of pipeline development on sage grouse habitats, air quality, water resources, existing mineral industries and much more.
The BLM identified its preferred alternative as one that would amend appropriate resource management plans, or RMPs, in order to designate new pipeline corridors on public land. But the agency would only accept the development of pipelines on the designated routes transporting "carbon dioxide, enhanced oil recovery products and other compatible uses." 
The pipeline initiative stretches back roughly eight years, when then-Gov. Matt Mead announced plans to expand the state's energy pipelines. In 2012, the Wyoming Legislature dedicated money from the Abandoned Mine Land fund to the project.
By approving nearly 2,000 miles for potential pipelines, the state reasoned it could potentially expedite the review process for future pipeline construction on federal land by oil and gas companies. 
That said, the federal government's approval of the proposal would not immediately authorize pipelines along the corridor. Instead, the initiative would amend resource management plans, as needed, across multiple BLM field offices to accommodate future development. Companies hoping to build a pipeline within the approved corridor would still need to undergo additional review processes.
The Enhanced Oil Recovery Institute, the Wyoming Pipeline Authority and industry leaders identified the 1,914 miles of land in central and western Wyoming they considered appropriate areas to reserve for pipelines. The 200- to 300-foot-wide corridors would transport products related to carbon capture and enhanced oil recovery projects.
For instance, carbon dioxide can be injected into reservoirs to remove residual oil that traditional drilling processes did not extract. But companies need to be able to access carbon dioxide affordably. That's where more pipelines come in. Operators could source carbon dioxide from natural hydrocarbon reservoirs or sequester it from existing power plants, according to the project proposal. It would then be transported along the pipeline corridor to oil fields.
During the scoping period, several comments indicated public concern over increased greenhouse gas emissions, compromised air or water quality, wildlife disturbances and a host of other environmental consequences associated with the proposed developments.
Public comment will also be accepted until July 16. Comments can be submitted at go.usa.gov/xpCMr.
Wyoming Machinery Company announced Wednesday it will lay off 13 percent of its workforce. The leading heavy equipment maker cited the economic collapse fueled by the COVID-19 pandemic and corresponding downturn in the state's energy industries as reasons for the layoffs.
Decker Coal Company furloughed 98 miners this month, sending them home until May 26, according to a company statement. The Decker coal mine is located in Big Horn County in southern Montana just north of Wyoming's border. Many of the employees live in Sheridan and commute the 16 miles to the coal field.
The Office of Surface Mining Reclamation and Enforcement has proposed a new rule to streamline how it handles the 10-day notices it extends to state partners to investigate a citizen complaint about potential violations at a mine. But some citizen groups are concerned the new rule may weaken federal oversight of state regulators and potentially compromise the thoroughness or expediency of investigations into citizen complaints.
The U.S. Department of Energy announced it plans to purchase 1 million barrels of oil for the Strategic Petroleum Reserve, several weeks after the Trump administration floated the option of filling the 77 million barrels of available space in the reserve to help the oil and gas industry (via The Hill). 
According to the American Petroleum Institute, demand for petroleum nationwide plummeted about 27 percent to 14.2 million barrels per day last month. 
The Trump administration moved to block a Washington state law that imposed safety restrictions on oil shipments by rail following a string of explosive accidents.
Renewable energy's contribution to the nation's electricity supply has been steadily climbing since the pandemic swept through the U.S. and slowed demand for power. Most wind projects slated for development in Wyoming this year are still moving forward.
Still, 719 workers in the clean energy sector filed for unemployment in April — declining 8.4 percent, according to a report conducted by BW Research Parnership. That's in addition to the 281 Wyoming workers in clean energy who filed for unemployment in March.
Natrona County Planning Commission approved a permit to build a utility-scale solar farm north of Casper near the town of Bar Nunn during a public hearing last week. The company behind the proposed solar energy project, Dinosolar LLC, plans to construct a 240-megawatt, commercial solar photovoltaic system on 1,170 acres of leased private land a half-mile west of Bar Nunn.
West Texas Intermediate (WTI) $27.56, Brent (ICE) $31.13
Henry Hub $1.59, Wyoming Pool $1.42, Opal $1.42
U.S 339 (-35), Wyoming 4 (-0)
"State regulators sometimes need that federal hammer, and you need to be able, as a citizen, to know that you're going to be listened to."
Concerned about COVID-19?
Sign up now to get the most recent coronavirus headlines and other important local and national news sent to your email inbox daily.