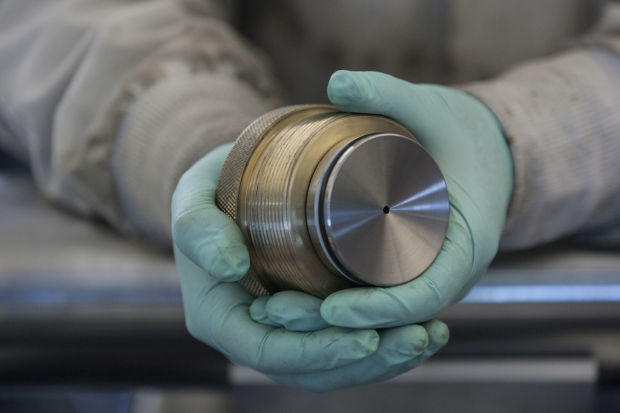 Welcome to the Star-Tribune's Energy Journal, a play-by-play of the past week in Wyoming's wild world of energy. I'm your energy and natural resources reporter, Camille Erickson. Sign up for the newsletter here.
Making the case for enhanced oil recovery
The Casper-based Enhanced Oil Recovery Institute offered up recommendations this month for how the state could help Wyoming's leading industry as the economic downturn and unprecedented drop in oil prices wreak havoc on Wyoming oil and gas production.
Director Steven Carpenter urged the governor in an April 14 letter to consider "immediate, outside-the-box survival" actions to increase support for oil and gas operators with a foothold in Wyoming. The proposed recommendations range from amending idle well-bonding rules to creating incentives for stranded oil recovery during low price environments.
In the accompanying report published Friday, the research institute noted how the historically low price for oil likely means less horizontal drilling will take place in Wyoming's unconventional reservoirs "for the foreseeable future." Operators employ methods like hydraulically fractured horizontal wells in unconventional reservoirs where hydrocarbons reside in deep, low-permeability rock formations. Applying horizontal drilling and hydraulic fracturing techniques to unconventional reservoirs can be pricey, and become unrealistic if the price per barrel of oil falls too low.
Oil prices have cratered in recent weeks amidst a global price war and the spread of the coronavirus. West Texas Intermediate, the primary benchmark for oil in the U.S., hit rock bottom Monday when it fell below zero dollars per barrel. Many U.S. shale operators have been forced to shut in productive wells and lay off workers. The downturn in oil also throws Wyoming's own budget, which relies heavily on mineral extraction for revenue, into crisis.
The researchers asked that state regulators look toward supporting the recovery of stranded oil from conventional reserves to make up for the loss of revenue flowing into the state, in part by eliminating the idle well bond policy.
"Conventional reservoirs make up over 90 percent of the oil fields in Wyoming and are capable of being economic at much lower oil prices than unconventional ones," the report stated. The institute estimates about 1 billion barrels of stranded oil could be recovered, if the state amends some regulations. 
"Without new wells to offset the rapid production declines characteristic of these wells, tax revenues from unconventional reservoirs will decrease substantially," the report continued.   
In order to support enhanced oil recovery activity across Wyoming, the institute recommends amendments to the state's idle well bond policies, which become a financial burden to operators and discourage continued activity at a well, the authors assert. If a well is considered "idle," an operator is required to pay into an idle well bond ($10 per foot of well bore). The bond fund protects the state from footing cleanup and reclamation costs of wells down the road.
The institute takes issue with multiple idle well policies overseen by the Wyoming Oil and Gas Conservation Commission, including idle well bonding rules.
A spokeswoman for the Wyoming Oil and Gas Conservation Commission said they were reviewing the letter and had yet to issue a formal response. The commission has temporarily postponed commission hearings and is not proposing any rule changes.
"These options provide survivability options and can greatly assist the Wyoming oil industry," authors of the report reasoned. "The net result of enacting these suggested options would be a more appealing environment for oil and gas operators to initiate improvements to production and provide an increase in recoverable reserves. Wyoming jobs will be preserved and tax revenue to the state can be maintained or improved during these unprecedented low oil price and COVID-19 driven times."
Pete Obermueller, president of the Petroleum Association of Wyoming, said he doesn't agree with every policy solution proposed by the institute's researchers. However, he did welcome a discussion about idle well bond costs for operators, which he sees as a potential disincentive to restarting activity in the Equality State once an economic recovery kicks into full gear.
"Wyoming's idle well bonding policy is a very important one, and one that had been on my radar long before the pandemic was even a possibility (and) I think policy makers should have that discussion," Obermueller said. "It's important to spur investment in Wyoming and when we pivot to a recovery," he added.
Meanwhile, other proponents of the idle well bonds expressed alarm at the Enhanced Oil Recovery Institute's suggestions Wednesday.
"The Wyoming Oil and Gas Conservation Commission already has a very reasonable (idle well bonding) policy," said Jill Morrison, executive director of the Powder River Basin Resource Council, a group representing landowners. "Plus, they just waived the conservation tax. Eliminating idle well bonding would be a very bad policy ... Reducing idle well bonding in this environment will make the WOGCC responsible for covering the cost of plugging more wells. There are still thousands of orphan wells on the existing list to be plugged and reclaimed."
The group has long fought for the commission to require full bonding for the cost of plugging a well before an operator can receive a permit to drill. 
Last week's news roundup
About 300 workers were laid off last week at three Powder River Basin coal mines, adding to a string of bad news for Wyoming's already struggling coal industry as it responds to deep cuts in demand exacerbated by the COVID-19 pandemic.
Peabody Energy announced it laid off 170 workers at the nation's largest producing coal mine, North Antelope Rochelle near Wright.
Coal firm Navajo Transitional Energy Company also announced 130 layoffs at its Antelope and Spring Creek mines in the Powder River Basin on the same day. Seventy-three miners were laid off at Spring Creek Mine, which sits in southern Montana and employs workers from northern Wyoming. Another 57 workers at the Antelope Mine in Wyoming were let go.
Though some wind energy projects have contended with supply-chain disruptions during the pandemic, most projects, including PacifiCorp's TB Flats wind farm in Wyoming, continue to move ahead (via InsideClimate News).
The U.S. Department of Energy released a report Thursday calling for the creation of a domestic uranium reserve, a move that could resurrect parts of Wyoming's ailing uranium mining industry. Read what that could mean for Wyoming here.
West Texas Intermediate (WTI) $16.50, Brent (ICE) $21.33
Henry Hub $1.85, Wyoming Pool $1.53, Opal $1.55
U.S 465 (-64), Wyoming 6 (-0)
"I don't think anyone is prepared for the kinds of losses we have seen periodically over the past couple of years. This one is particularly painful because it is driven so much by a complete downward trend in the global economy."
— Gov. Mark Gordon, in response to the wave of layoffs at three Powder River Basin coal mines Thursday.
Concerned about COVID-19?
Sign up now to get the most recent coronavirus headlines and other important local and national news sent to your email inbox daily.