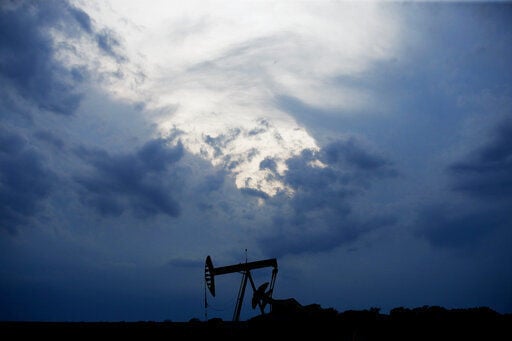 Welcome to the Star-Tribune's Energy Journal, a play-by-play of the past week in Wyoming's wild world of energy. I'm your energy and natural resources reporter, Camille Erickson. Sign up to receive the newsletter in your inbox each week here.
Employees at EOG Resources pool funds to support food pantries stretched thin by pandemic
When the COVID-19 pandemic started sweeping through the U.S., energy company EOG Resources and its employees decided to mobilize.
In just a matter of months, the team pulled together $822,000 to distribute to food banks and pantries across the region, including some serving residents in Wyoming.
Food of the Rockies received over $101,000 in the employee and company's donations. They also raised $6,750 for Wyoming Food Bank of the Rockies.
"This generous donation will allow us to provide much-needed food for children, senior citizens and the most vulnerable as the COVID-19 situation continues to create uncertainty in our communities," said Tony Woodell, director of Wyoming Food Bank of the Rockies. "We thank EOG Resources for their ongoing partnership, especially during this difficult period."
The firm also joined forces with Wyoming First Lady Jennie Gordon. She leads the Hunger Initiative, a program working to eliminate food insecurity among children in the state. 
"Childhood hunger is a problem that can be solved, but we can't do it alone," Wyoming First Lady Jennie Gordon said in a statement. "By gaining valuable partners like EOG Resources we can provide more meals for children throughout Wyoming, especially during this crucial period of need."
Food banks providing resources to residents in Texas, Oklahoma, New Mexico and beyond also received some of the funds.
EOG Resources was the leading producer of oil in the state of Wyoming in 2019. It has continued to be the number one producer of oil in terms of volume statewide this year, according to data from the Wyoming Oil and Gas Conservation Commission.
"During uncertain times such as these, we rely on our employee culture to help our business stay resilient, consistently innovate, and find ways to give back to our communities in meaningful ways," Bill Thomas, the energy company's CEO, said in a statement. 
Wyoming once again threw its support behind a proposed joint venture involving two of the state's leading coal operators last week. In an amicus curiae brief filed in the U.S. District Court for the Eastern District of Missouri, state attorneys opposed the Federal Trade Commission's recent move to block the merger of coal firms Peabody Energy Corp. and Arch Resources Inc.
The dream of exporting Wyoming coal to one of the world's leading importers to the commodity was dashed last week when Japan's Minister of Economy, Trade and Industry, Hiroshi Kajiyama, said the country would consider phasing out 100 of its older coal-fired power plant units by 2030. The news comes as the country races to meet emission standards set by the Paris climate accord within the coming decade.
The Powder River Basin Resource Council will host its fourth and final webinar in its series on funding Wyoming's economic transition. The free webinar will take place at 10 a.m. on July 21 and registration is required. The speakers will be Ben Alexander, senior program advisor with the Resources  Legacy Fund, Chris Markuson, director of Colorado and State Economic Transition Policy for the BlueGreen Alliance, and Cindy Winland, senior fellow for the Just Transition Fund. Register here.  
Wyoming is expected to bid on 5 million combined acres of land soon after the State Loan and Investment Board authorized the treasurer's office Monday to make a play on the Occidental Petroleum property.
The U.S. Department of Energy announced it will allow firms to export liquefied natural gas to international markets from the proposed Jordan Cove terminal on the southern coast of Oregon. The move brings natural gas producers in landlocked states like Wyoming closer to tapping into demand for the commodity overseas, proponents said.
The Wyoming Oil and Gas Conservation Commission plans to hold its monthly hearing at 9 a.m. Tuesday but will be taking precautions to limit the spread of the COVID-19 pandemic. The hearing, which typically takes place at 2211 King Blvd. in Casper, will be livestreamed on YouTube. Commissioners and individuals participating directly in the hearings will be allowed to attend in person. But all attendees must maintain social distancing and no more than 30 people will be permitted in the room at one time, according to Supervisor Mark Watson. Additional details, and any changes to these plans, will be posted soon on the commission's website.
The Wyoming Energy Authority, the state's newest agency, will oversee the distribution of competitive federal grant funds to improve energy efficiency in buildings across the Equality State. The State Energy Program provides several grant opportunities for local municipalities, schools and businesses hoping to conduct energy audits or retrofit their facilities to lessen utility costs and energy consumption. Applications are due Aug. 28.
A U.S. appeals court said that a federal judge was right to restore protections for about 700 grizzly bears in the Yellowstone region of the Rocky Mountains, after federal officials sought to turn over management of the animals to states that would have allowed them to be hunted (via Associated Press).
West Texas Intermediate (WTI) $40.90, Brent (ICE) $43.29
Henry Hub $1.79, Wyoming Pool $1.63, Opal $1.65
U.S 258 (-5), Wyoming 1 (-0)
Quote of the week
"(Navajo Transitional Energy Company) in particular is the third largest coal company in the nation. That doesn't seem like a small business. ... These (coal) companies were struggling prior to COVID-19. Certainly COVID-19 has exacerbated the coal industry's troubles, but those started long before the pandemic and it seems to be taking advantage of a program that was designed for somebody else."
—Shannon Anderson, staff attorney with the landowner organization, Powder River Basin Resource Council
Concerned about COVID-19?
Sign up now to get the most recent coronavirus headlines and other important local and national news sent to your email inbox daily.