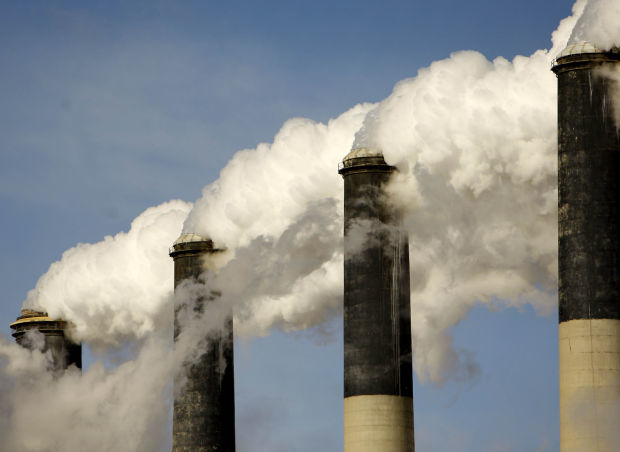 Welcome to the Star-Tribune's Energy Journal, a play-by-play of the past week in Wyoming's wild world of energy. I'm your energy and natural resources reporter, Camille Erickson. Sign up to receive the newsletter in your inbox each week here.
Concentrations of air pollutant drop around Wyoming's epicenter for coal production during COVID-19 pandemic
Logan Mitchell, assistant research professor in the Department of Atmospheric Sciences, found that air pollutants dramatically fell along Utah's Wasatch Front throughout late March, when compared to the same period last year. That's in part due to the public health measures enacted during the COVID-19 pandemic. For one, traffic congestion has been nearly cut in half in some areas of the region he studied. 
Mitchell used monitoring stations installed by Utah's Department of Environmental Quality to track concentrations of air pollutants, including nitrogen oxide, nitrogen dioxide, sulfur dioxide, ozone, carbon dioxide and particulate matter, between March 15-31. The results from his analysis could provide some crucial lessons for Wyoming — the country's leading coal producer. 
Across the country, scientists have identified how a slowdown in emissions from traffic, power plants, petrochemical activity and other sources have led to cleaner air. The COVID-19 pandemic has relegated large portions of the public to their homes, and forced factories to slow or close. Both electricity and fuel demand nationwide have plummeted, too.
Cleaner air comes with a suite of benefits for residents. Breathing in too much particulate matter and pollutants, like nitrogen oxides, can have severe respiratory consequences for humans, compromising lung function and causing coughs, asthma attacks or inflamed airways.
But the relief of clean air may be temporary. 
"(The research) shows how fast the air quality improves after a reduction in emissions and suggests that as the economy starts to recover and emissions ramp up, we're going to see our air quality get worse again," Mitchell said.
Wyoming's pollution woes
Most regions of Wyoming do not boast high population densities or high motor vehicle congestion for that matter. But that doesn't mean pollution isn't still a problem.
Mitchell also created a virtual map using satellite data to capture the concentrations of nitrogen dioxide across the country. The map compares the concentration of the gaseous pollutant between March 15-31 to the same period in 2019. Higher concentrations are indicated by the color red.
The results show marked improvements in air quality in certain regions of Wyoming this March, most notably around Rock Springs and Wright, two of the state's largest coal-producing regions. Just outside Wright sit some of the largest coal mines in the country. Concentrations of nitrogen dioxide appear to have dropped between the second half of March 2019 and March 2020 around these towns, according to Mitchell's map.
That's because it's not just cars and trucks that coughs up these air pollutants. Coal facilities do, too. Sulfur dioxide and nitrogen dioxide generated during coal mining and burning can produce a nefarious orange haze around the area.
Wyoming and its neighbor Utah generated 28 percent less megawatts on average throughout March 2020, when compared to the year prior, according to the Energy Information Administration data analyzed by the Sierra Club. 
However, it may be too soon to discern how much the pandemic has driven these fluctuation in air quality, and other forces likely need to be considered. An investigation by National Public Radio found the pandemic's indirect influence on air pollution levels varied across the country, and their analysis found several factors at play.
For one, the state's coal mines and coal-fired power plants haven't been operating at the levels they once did, due to declines in demand that began long before the pandemic hit the U.S. Weather could also have a role in shaping the levels of thermal generation. The data is preliminary, and more research is needed before any firmer conclusions can be made.
But to Connie Wilbert, director of the Wyoming Sierra Club chapter, the message from Mitchell's research is clear. 
"Pollutants are major contributors to a number of very serious human illnesses: asthma, bronchitis and other respiratory illnesses that are really devastating to many, many people," she said. "And we know that nitrogen oxide contributes and exacerbates those diseases. It's a huge pollutant that is (emitted) when burning coal." The respite from polluted air quality could be an impetus to start making a controlled transition away from coal, she said. 
A tough road ahead
Ultimately, for Wyoming, weathering the structural declines whipping through coal country will be painful. The state's economy has been intricately tied to coal for decades. Already the loss of mineral taxes has left the state scrambling to find other sources of revenue.
What's more, the state's largest utility, Rocky Mountain Power, announced in October it would gradually retire two-thirds of its coal fleet by 2030, including many units in Wyoming. In other words, more layoffs will come.
Last year, Rocky Mountain Power also proposed steps it would take to comply with regional haze rules at its Jim Bridger coal-fired power plant in southern Wyoming and avoid installing cost-prohibitive pollution controls. According to Rocky Mountain Power, a proposed reduction in electricity output would avoid the costly installation of pollution control technology on two units at the Jim Bridger plant, thereby saving customers about $280 million. The proposed limits will go into effect at the beginning of 2022.
But to organizations like the Sierra Club, reducing electricity output at the facility makes the power it does produce more expensive, a cost ratepayers often pick up down the road. 
To Wilbert, of the Sierra Club, these lessons from the pandemic go far beyond Wyoming's borders.  
"Most of the coal that we mine actually goes out of state and it goes to much more populated areas," she noted. "Many coal-fire power plants are built in communities that have the least ability to resist them, and that are the most impacted by them — that is, communities that have little resources to protect themselves."
She continued: "We cannot keep turning a blind eye, of how our actions here are affecting some of the poorest and most vulnerable communities across this country."
Correction: A previous version of this article misstated when changes would be implemented at the Jim Bridger coal-fired power plant. Rocky Mountain Power's proposed limits on regional haze will go into effect on January 1, 2022. This story has also been updated to include additional details about Rocky Mountain Power's 2019 application related to regional haze compliance. 
Coal firm Navajo Transitional Energy Company announced Thursday it will furlough 93 hourly workers and lay off eight salaried employees at its Antelope coal mine near Wright in response to the economic downturn caused by the COVID-19 pandemic. 
Wyoming's unemployment rate more than doubled to 9.2 percent in April, as an energy downturn and measures put in place to limit the spread of the coronavirus led to major job losses.
For nearly a decade, coal technology firm Ramaco Carbon has fought to revive mining at a site just outside Sheridan to feed its future research facilities. The Department of Environmental Quality's director holds the authority to approve or reject the permit application for Ramaco Carbon's dream coal mine. But before rendering a decision, state regulators hosted an informal conference online on the matter this month, inviting both the company and public to speak.
The price for a barrel of oil rose over $30 last week, a welcomed reprieve for oil and gas operators stuck in the midst of an energy crisis fueled by the COVID-19 pandemic. But the tough market conditions that have forced Wyoming oil and gas producers to shut in wells and lay off workers in droves since March appear far from resolved.
The Bureau of Land Management will temporarily extend tax reductions to ailing oil and gas companies operating on federal land, in light of the COVID-19 pandemic. The relief will lower rates for mineral royalty payments if an operator demonstrates it has endured economic hardship caused by the virus and receives approval.
One of Wyoming's most prolific natural gas producers, Ultra Petroleum Corp., filed for Chapter 11 bankruptcy this month in Texas following months of financial instability. As a top energy producer and taxpayer in Wyoming, the firm's insolvency places the energy-dependent state's traditional revenue streams in further jeopardy.
The Bureau of Land Management distributed millions of dollars in retroactive rent bills to several wind and solar companies with renewable energy projects on public lands (via Reuters).
Meanwhile, the Bureau of Land Management's public comment period for its draft environmental impact statement related to a revised sage grouse management plan closed Friday.
Many conservation groups contend the contested sage grouse plan weakens 2015 protections for the bird. Last year, the BLM introduced amendments to the 2015 protections, but a U.S. District Court judge issued an injunction to block the rollout of the changes due to violations of the National Environmental Policy Act, or NEPA. Advocates for strong sage grouse protections say the latest management plan still fails to address the court's concerns or adequately protect the habitats critical to the survival of sage grouse. Sage grouse numbers in Wyoming have declined by an estimated 40 percent in recent years.
Hundreds of environmental groups, including several from Wyoming, have teamed up to call on Congress to direct $25 billion in federal aid to conservation projects nationwide to help the country recover from the COVID-19 pandemic. Directing economic stimulus funds to the restoration of public land, watersheds, wildlife corridors and more would have significant returns for vulnerable local economies and natural resources.
The band of conservationists proposed a series of projects aimed at reviving the nation's critical natural resources and creating on-the-ground work for thousands of Americans, especially in low-wealth communities hurt by the economic slowdown. The plan would funnel resources toward the protection of public lands, such as reclaiming orphaned well pads, rebuilding decaying rangeland infrastructure or constructing highway overpasses to protect migratory herds, among other job-generating projects.
West Texas Intermediate (WTI) $33.92, Brent (ICE) $36.06
Henry Hub $1.69, Wyoming Pool $1.50, Opal $1.51
U.S 318 (-21), Wyoming 2 (-2)
"A comprehensive approach to supporting workers and businesses, guided by Congress, is more appropriate than agencies granting favors to individual industries. Those minerals belong to the American taxpayers and royalty payments are an important pillar of Wyoming's economy. It's not appropriate for the (Bureau of Land Management) to give away oil and gas for nearly free." 
— Alan Rogers, communications director at the Wyoming Outdoor Council, in response to the BLM extending royalty relief to oil and gas operators 
The Rocky Mountain Power Bridger proposal eliminates the need for installation of SCR on Jim Bridger Units 1 and 2, which saves our customers upwards of $280M.
Concerned about COVID-19?
Sign up now to get the most recent coronavirus headlines and other important local and national news sent to your email inbox daily.