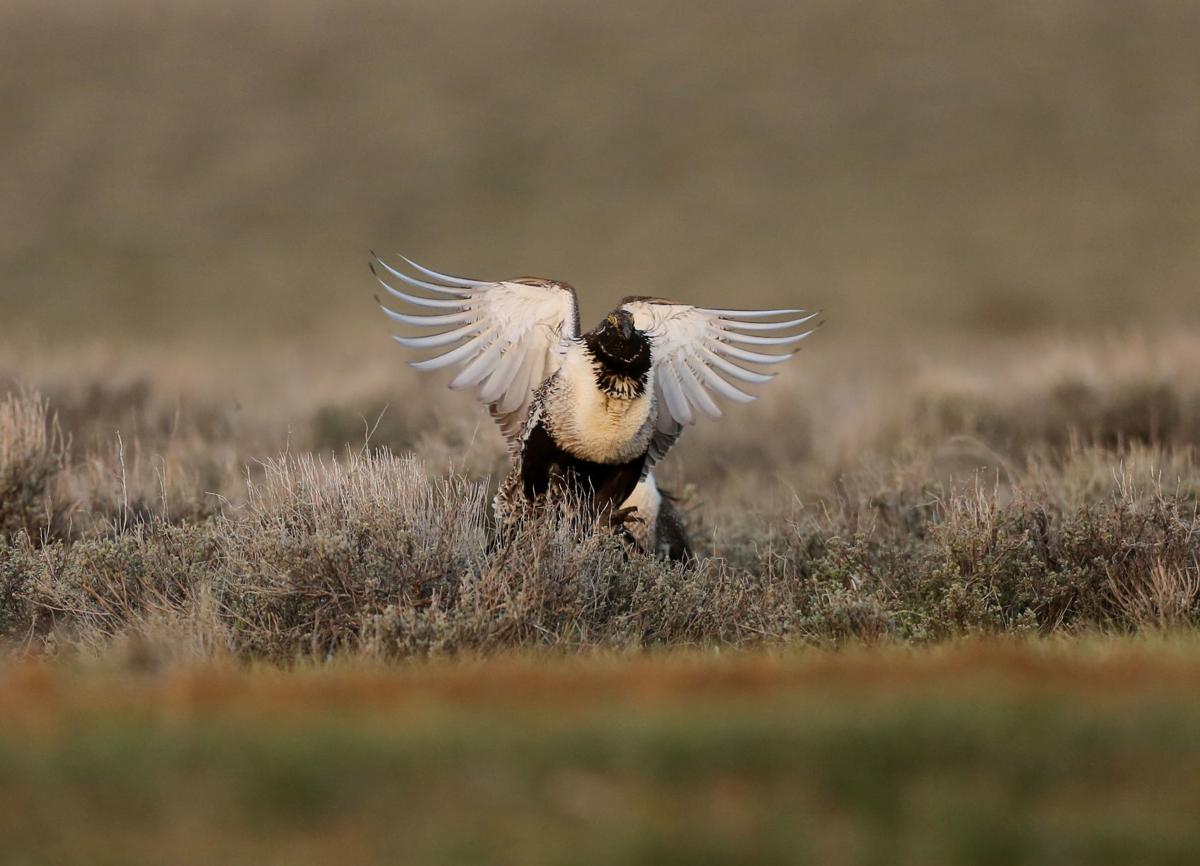 Welcome to the Star-Tribune's Energy Journal, a play-by-play of the past week in Wyoming's wild world of energy. I'm your energy and natural resources reporter, Camille Erickson. Sign up to receive the newsletter in your inbox each week here.
Sage grouse mitigation program rules advance
The Wyoming Legislature passed a bill this year that gives the state statutory authority to uphold its compensatory mitigation program, which works to offset some of the human-caused damage to greater sage grouse. While the state already oversees a compensatory mitigation program, Wyoming regulators technically do so without the statutory authority. The Greater Sage-Grouse Compensatory Mitigation Act has formally established it. 
Compensatory mitigation requires developers to offset disruption to sage grouse core areas by supporting the preservation of the bird's habitat in other ways. The state encourages developers to avoid or minimize the impact of activity on land leased in core sage grouse habitat. If that's not possible, developers may be required to offset negative impacts in core areas, like loss of habitat or disruption, by participating in the compensatory mitigation program. 
"It's more procedural," Dan Heilig, senior conservation advocate at Wyoming Outdoor Council, said of the new law. "I almost think of this as a housekeeping matter to put into place a formal system that's been in existence, but to codify it into law."
"But I think people are looking forward to having the dust settle and having a system in place," he added.
The Board of Land Commissioners will oversee the compensatory mitigation credit system and institute rules. The Office of Lands and Investments has drafted proposed rules and they are now open to public comment until 5 p.m. on July 28, according to a agency notice Wednesday. A copy of the proposed rules can be located online at rules.wyo.gov. The public comment period opened on June 12.
Individuals interested in commenting can submit proposed amendments by mail at Office of State Lands and Investments, 122 West 25th St., Herschler Building 1st Floor West, Cheyenne, WY 82002. Comments will also be accepted if emailed to jason.crowder@wyo.gov. If at least 25 individuals or an association requests a public meeting by July 25, a forum will be held to discuss the rules, according to the agency.
Gov. Mark Gordon submitted a reply brief last week to the U.S. Supreme Court, reasserting Washington state unlawfully regulated interstate commerce when it denied necessary water quality certifications to the company proposing to build the Millennium Bulk Terminal in Longview, Washington. The state violated the Dormant Commerce Clause and Foreign Commerce Closure of the U.S. Constitution, Wyoming and Montana maintain.
The U.S. Department of Energy awarded a $1.62 million grant to the University of Wyoming School of Energy Resources, Campbell County and the city of Gillette to work with National Energy Technology Laboratory to advance rare earth element extraction from coal ash.
Wyoming Department of Environmental Quality has been working to restore the continent's oldest known mine, estimated to be over 13,000 years old.
The Wyoming Game and Fish Commission gave preliminary approval to extend $548,000 for sage grouse conservation projects. The state's eight sage grouse local working groups can submit proposals to the commission and any approved projects could launch as early as July 1.
West Texas Intermediate (WTI) $38.72, Brent (ICE) $41.05
Henry Hub $1.50, Wyoming Pool $1.43, Opal $1.46
Quote of the week
"We got involved because it was just a way to give back. Pilots like to fly, and you're always looking for a good reason to fly, and I can't think of a better reason to fly."
Concerned about COVID-19?
Sign up now to get the most recent coronavirus headlines and other important local and national news sent to your email inbox daily.