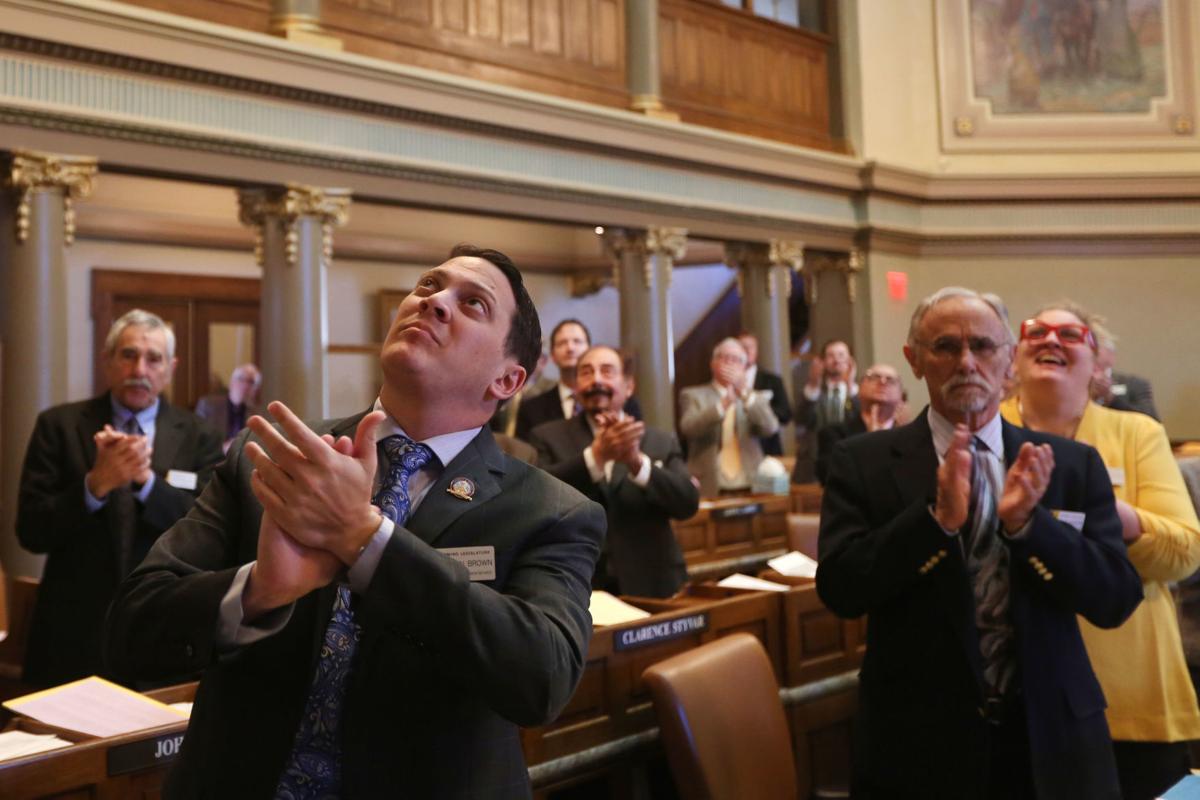 Welcome to the Star-Tribune's Energy Journal, a play-by-play of the past week in Wyoming's wild world of energy. I'm your energy and natural resources reporter, Camille Erickson. Sign up for the newsletter here.
Top 10 energy bills to keep an eye on
House Bill 14 proposes to revise the terms under which permitted oil operators can negotiate with non-leasing mineral owners within a drilling spacing unit, or an area designated for development. The bill passed both chambers and has been signed by both the House speaker and Senate president.
House Bill 132 would add an anti-retaliation requirement to protect employees who choose to file a wage claim in Wyoming. The bill came in response to coal operator Blackjewel's bankruptcy last summer. But some labor law experts don't think it's enough. The legislation passed the House and is in the Senate.
House Bill 200 would allow utilities to recover another expense category from ratepayers: the construction of carbon capture equipment on coal facilities. Gov. Mark Gordon has backed this bill. It passed the House and received several amendments in the Senate's Revenue Committee before being moved along to the Senate. 
House Bill 159 would require energy firms to pay ad valorem taxes, or their mineral production taxes to counties, monthly instead of every 18 months. Lawmakers believe requiring more regular payments would prevent more delinquencies and painful budget shortfalls. Legislators seemed to reach a compromise last week to provide flexibility to industry while also placing strict enough guidelines to make sure counties are paid, Nick Reynolds reports. The Senate takes up the bill for consideration this week.
Senate File 85 could give give some relief to uranium operators through reduced severance taxes. Uranium production nationwide has nose-dived to a 70-year low as nuclear power companies turn to cheaper international markets. The bill passed the Senate and is now onto the House.
Senate File 21 builds on a 2019 law requiring utilities to try to sell coal-fired power plants before retiring. This bill would open up transmission lines and customers to new purchasers of otherwise retired coal-fired power plants. Both chambers reached concurrence on the bill, moving it along to Gordon's desk for consideration.
House Bill 74 would allow small, modular nuclear facilities producing less than 300 megawatts to replace energy that had been produced by coal- or gas-powered facilities. The bill passed the House and is being considered by the Senate.
Senate File 44 would boost public input opportunities before mining permits are issued by requiring an informal conference with Wyoming Department of Environmental Quality. Both chambers reached concurrence on the bill.
House Bill 129 would allow wind turbine blades (which can't be recycled) to be disposed at coal mines. But some analysts asked what the potential reclamation consequences could be. The bill passed the House and is now being considered by the Senate.
Peabody Energy laid off 50 temporary workers at its largest mine, North Antelope Rochelle, last week due in part to declining production.
In an effort to address the mountain of mineral production tax delinquencies faced by counties, Wyoming lawmakers have advanced House Bill 159, requiring firms to pay ad valorem taxes on a monthly basis. But the bill didn't make it this far without without extensive discussion and amendments along the way.
The Wyoming Department of Environmental Quality informed coal tech firm Ramaco Carbon its application to revive mining at a site near Sheridan is technically complete. The application is now open to public review. 
An owner of Montana's Colstrip Power Plant announced it could save customers from higher rates by retiring Colstrip Units 3 and 4 by 2025.
A federal court decision to vacate several public land sales for oil and gas development delivered a resounding win to conservation groups fighting to protect Wyoming's iconic sage grouse, but brewed significant uncertainty for the state's energy sector.
Energy company Meritage Midstream Services announced Thursday the completion of a new natural gas processing plant capable of processing 200 million cubic feet per day in Converse County.
The Enhanced Oil Recovery Institute in Casper is looking for Wyoming oil and gas operators willing to participate in a new study on paraffin problems. The institute is searching for 15 qualifying wells in order to conduct its Microbial Treatment Field Test Study. 
The state's largest utility, Rocky Mountain Power, filed a rate request with Wyoming Public Service Commission last week. The utility asked for permission to decrease electric rates for industrial customers by 0.8 percent but increase rates for the average residential customer by about $3.69 per month. 
The overall 1.1 percent rate hike proposed by Rocky Mountain Power would generate $7.1 million to support new wind energy projects and transmission lines, among other investments in Wyoming as part of its Energy Vision 2020 — a renewable energy initiative launched in 2017.
West Texas Intermediate (WTI) $45.90, Brent (ICE) $49.99
Henry Hub $1.82, Wyoming Pool $1.53, Opal $1.54
U.S 793 (+3), Wyoming 21 (-2)
"Within the Powder River Basin, a layoff of 50 workers is uncommon, though not unheard of. Employment levels haven't changed in a way that reflects declining coal production levels yet."
— University of Wyoming economist Rob Godby, in response to Peabody Energy's decision to lay off 50 mine workers.
Be the first to know
Get local news delivered to your inbox!