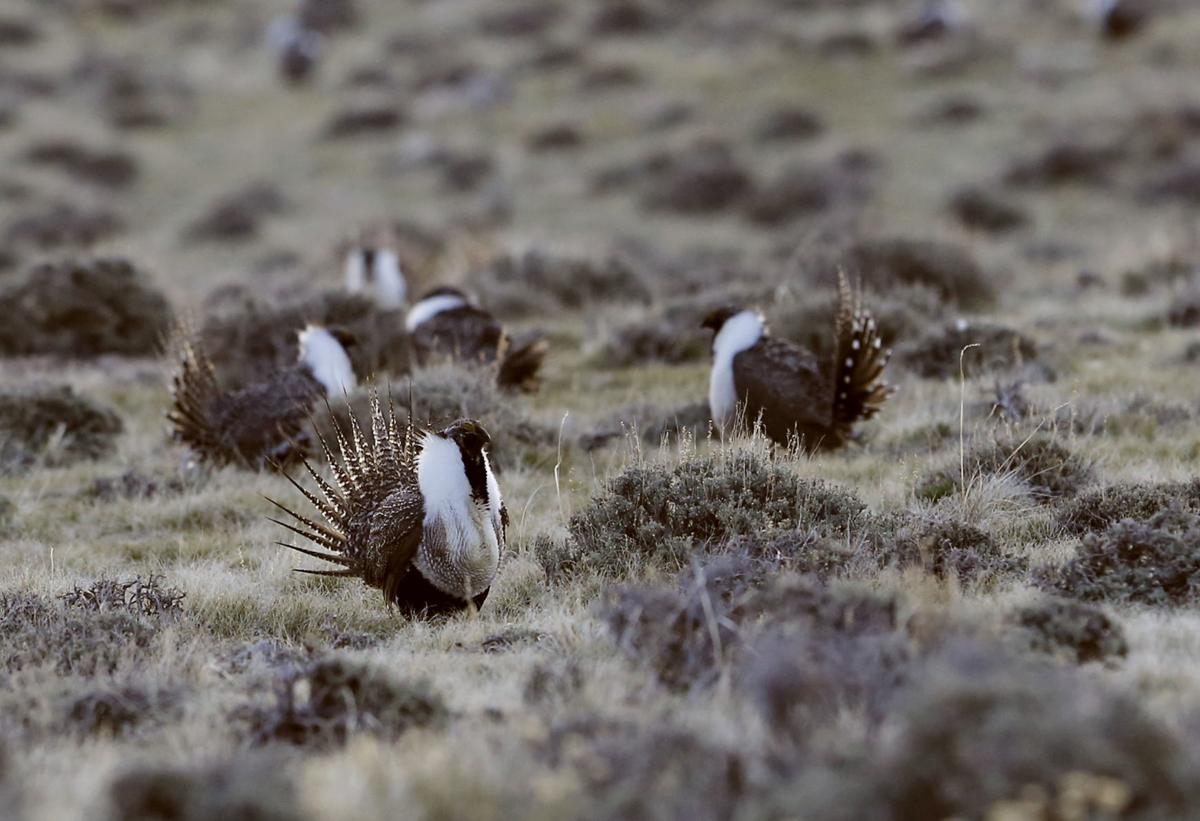 Welcome to the Star-Tribune's Energy Journal, a play-by-play of the past week in Wyoming's wild world of energy. I'm your energy and natural resources reporter, Camille Erickson. Sign up for the newsletter here.
Wyoming conservation group wants to stop 'rampant' oil and gas leasing
A new report, published by the Wyoming Outdoor Council Thursday, concludes the acceleration of oil and gas leasing on public land throughout the Equality State has endangered critical wildlife, recreation access and cultural landmarks. On the interactive platform, the conservation group maps out the ways it sees the federal leasing program harming the state's environment, wildlife and public. 
In response, the Petroleum Association of Wyoming strongly objected to the report, outlining the extensive regulatory mandates oil and gas operators across the state strive to follow and the significant economic contributions the industry makes to the state.
In recent years, thousands of acres of public land have been scooped up by energy companies, often for as little as $2 an acre, the Outdoor Council's report contends. And in the eye's of the conservation group, the Bureau of Land Management's practice of leasing public land for development each quarter has not been delivering sufficient returns for Wyoming taxpayers. Instead, critical habitat and outdoor activities like hunting and fishing have been severely compromised, they say. Oil and gas companies hold the leases to public land for a decade (with the ability to renew) and can develop the minerals during that time if they so choose. 
During each quarterly lease sale, the federal government offers a selection of nominated parcels for leasing to energy companies. Too often, the selected acres interrupt mule deer migration corridors or crucial winter ranges, the Outdoor Council reports. The Bureau of Land Management currently has 10.7 million acres of Wyoming land leased to oil and gas firms, an area five times the size of Yellowstone National Park, according to the report.
"For the price of a cup of coffee, oil and gas companies are purchasing the right to develop within migration corridors, on top of National Historic Trails, and in other vulnerable areas, with little economic return for taxpayers," the report states.
According to the Outdoor Council's analysis, the passing of land and minerals from the federal government to companies has been out of control. Statewide lease sales have attracted opposition from several conservation groups across the West. Some think the Trump administration's "energy dominance strategy" has sparked a competitive race to lease thousands of acres of public minerals falling within sensitive habitats, like those of sage grouse and mule deer. 
"All of us in Wyoming are tied to our public lands in one way or another," said John Rader, a Wyoming Outdoor Council conservation advocate. "Hunting and fishing, outdoor recreation, ranching and just enjoying the peace and solitude of our wide-open spaces are an important part of life here. Of course, jobs and revenue from development on federal land are part of that puzzle, too. That's all the more reason we shouldn't be giving public land away for pennies on the dollar."
Wyoming is home to the world's largest sage grouse population, too. For years, public officials have struggled to walk a fine line between preserving the imperiled bird's limited sagebrush habitat and not infringing on the state's economic backbone — mineral industries. Amid the state's ongoing debate, the number of sage grouse has continued to decline.
Though state agencies have taken steps to mitigate the risks of development, like developing minerals in vital habitat, the Outdoor Council says the mitigation standards are not always enforced and have likely accelerated the decline of at-risk wildlife and habitat. Tens of thousands of leased acres fall within critical sage grouse habitat, according to the report.
As a result, the group advocates for what they call a more "balanced management of public lands that respects multiple use."
Oil and gas: 'We strongly object'
But the Petroleum Association of Wyoming leveled an impassioned response to the group's report, calling conservation advocates' negative characterization of the industry, "woefully short on facts but long on sensationalism." 
The association noted the oil and gas industry has been one of the "most heavily regulated industries in the world. And Wyoming operators are subject to myriad federal, state and local rules to protect land, water, air and wildlife. 
"The truth is the BLM does not offer federal mineral leasing indiscriminately," said Ryan McConnaughey, communications director for the Petroleum Association. "Acres are nominated for lease by operators because they believe there is development potential. Operators pay an initial lease price and then a yearly rental fee on acres not being produced, generating significant revenue on wide-open spaces still open to other uses that themselves generate little to no revenue at all."
Increased leasing also does not mean increased surface disturbance or loss of land access for the public, according to the association. "Actual surface disturbance in Wyoming is a tiny fraction of the land area, and only those lands close to active drilling and even closer to completed wells are closed to public access," McConnaughey said. "That is the picture of multiple-use."
Wyoming produces more energy on public land than almost any other state in the country, according to the BLM. About 48 percent of land in the state is considered federal land, owned by taxpayers.
The state receives about half of the funds made through federal lease sales. Last year, the sales brought $117 million back into the Equality State's coffers. A portion of royalties paid by companies for extracted minerals also flows back to the state. Oil and natural gas catalyzed more than $5 billion in economic activity and paid nearly $1.4 billion in taxes a year, according to the Petroleum Association.
Furthermore, the group representing Wyoming's oil and gas operators said the state's leadership in striking a balance between protecting sage grouse and fueling the state's main economic engine, energy, was not one to overlook.
Last year, Gov. Mark Gordon issued an executive order that both maintains and clarifies existing protections for the imperiled bird across Wyoming. The order upholds existing conservation strategies first instituted in 2015 but also adds new data collection requirements and outlines guidelines for reclamation of disturbed sage grouse habitat.
"Wyoming's sage grouse strategy has been extraordinarily successful incentivizing development outside of core areas and that roads and subdivisions are much more damaging to large game wildlife corridors than careful natural gas development," McConnaughey told the Star-Tribune.
"Our members strive to be good neighbors with communities and the natural landscape while delivering the energy that heats our homes and fuels our lives," he added.
BNSF Railway will laid off 130 Wyoming workers in preparation of closing its Donkey Creek maintenance facility near Rozet and its Guernsey facility in June and July, respectively. 
It's no secret that the coal industry was already sinking, showing symptoms of structural decline. Utilities have shied away from coal in favor of cheaper natural gas and renewable energy sources. The EIA predicts more losses will arrive on coal companies' doorsteps in the coming months. It forecasts the country will produce 22 percent less coal in 2020 compared to last year.
A round-up on what the latest losses in coal mean for Wyoming is here.
Renewable energy's contribution to the nation's electricity supply has been steadily climbing since the pandemic swept through the U.S. and slowed demand for power. Most wind projects slated for development in Wyoming this year are still moving forward.
West Texas Intermediate (WTI) $23.55, Brent (ICE) $29.46
Henry Hub $1.83, Wyoming Pool $1.65, Opal $1.69
U.S 374 (-34), Wyoming 4 (-0)
"I think whenever we're talking about statistics and data, or the number of cases, there is something really impersonal about that. When you think about losing a family member and an important person in your community, there's no question in my mind that we can't forget that these are human beings."