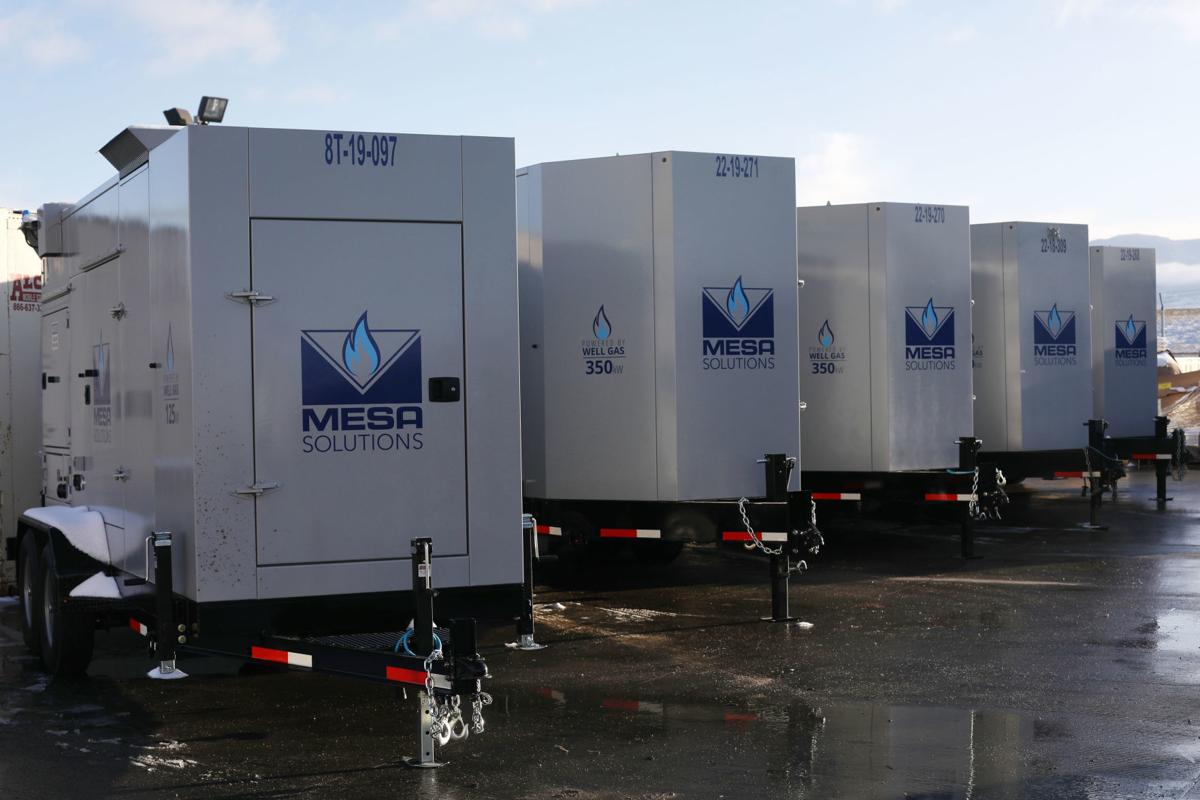 Welcome to the Star-Tribune's Energy Journal, a play-by-play of the past week in Wyoming's wild world of energy. I'm your energy and natural resources reporter, Camille Erickson. Sign up for the newsletter here.
Casper-based Mesa Natural Gas Solutions contributed natural gas generators and Crusoe Energy Systems provided computing modules to help power research led by Folding@Home Consortium, launched by Stanford University. The various simulation processes that test out possible vaccines and therapies to fight the virus require significant amounts of electricity.
Scientists have tapped into Crusoe's computational systems powered by Mesa's natural gas generators in order to continue researching the virus remotely and conduct protein-folding simulation projects, according to the companies. 
"We jumped at the opportunity to fully support this effort to research this terrible virus that has paralyzed our country and the world," said Scott Gromer, president and CEO of Mesa, which was founded in 2014 by former U.S. military members. "Mesa has in the past, and will always focus our company's resources to where they are needed most in society, whether that is emergency response after natural disasters or helping our partners search for a cure to COVID-19."
It's not just the coronavirus the two companies have been battling. They have also been working on flaring mitigation systems. An estimated 4.9 trillion standard cubic feet of flaring, or burning of natural gas, occurs around the world each year.
Mesa and Crusoe both assist oil and gas operators in mitigating flaring and making use of the abundant, inexpensive natural gas on-site. Instead of using costly diesel to power remote oil and gas fields, Mesa engineered natural gas generators to fuel everything from pumping units to large micro-grids. In turn, Crusoe can transfer the electricity from the generators to servers on a well site for computing tasks at a small but mighty data processing center. Using satellite internet, the company digitally transfers the output product.
"Mesa's boldness and support for Crusoe persists today as evidenced by their very generous contribution to the fight against COVID-19," Cully Cavness, president and co-founder of Crusoe Energy Systems, said in a statement. "Crusoe and Mesa are aligned as mission-oriented companies working to improve the environmental performance of the energy industry, and today we are also aligned in our goal to convert our industry's energy into the search for a cure."
Find out more about the innovations happening in Wyoming's leading industry with the Energy Journal 2020, published in Sunday's Star-Tribune. 
Oil and gas developers placed bids on nearly 72,000 acres of public land in Wyoming during this year's first quarterly lease sale Tuesday, raising about $3.4 million, nearly 69 percent less than the previous quarter, according to the Bureau of Land Management. 
A new material called perovskite has taken the field of solar energy by storm in recent years and holds commercial promise. University of Wyoming chemistry professor Bruce Parkinson called research into perovskite solar cells "the hottest thing in photovoltaics."
When it comes to the mammoth machines transforming wind into electricity, technological advancements have exploded in the past half-century, arguably revolutionizing the electricity grid. Learn about the latest technological advancements and remaining challenges here.
A University of Wyoming scientist has led the charge to develop new ways to monitor reclaimed land. His solution involves cameras and drones.
West Texas Intermediate (WTI) $22.60, Brent (ICE) $26.34
Henry Hub $1.65, Wyoming Pool $1.34, Opal $0.36
U.S 728 (-44), Wyoming 19 (-1)
"We're in a strange, unprecedented time right now, and of course from our side of things, we just want to make sure our mines keep open and operating."  
— Travis Deti, executive director of the Wyoming Mining Association
Concerned about COVID-19?
Sign up now to get the most recent coronavirus headlines and other important local and national news sent to your email inbox daily.