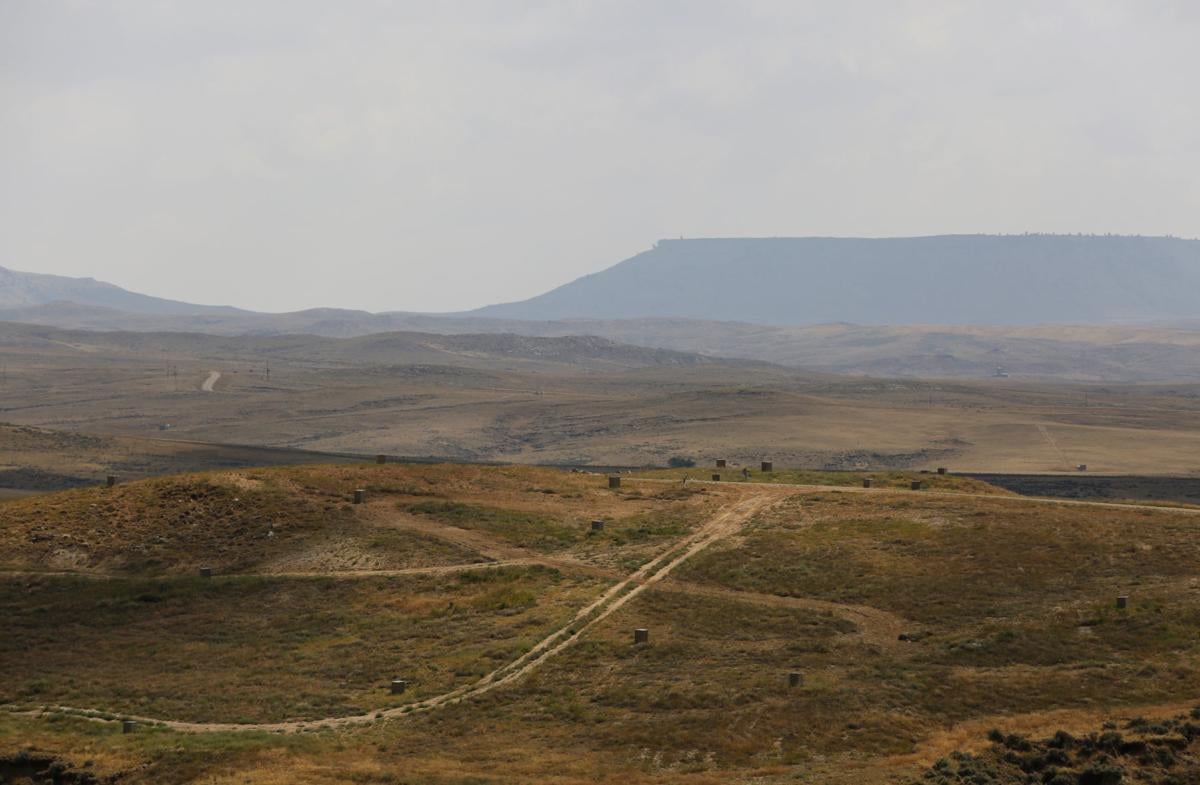 Welcome to the Star-Tribune's Energy Journal, a play-by-play of the past week in Wyoming's wild world of energy. I'm your energy and natural resources reporter, Camille Erickson. Sign up to receive the newsletter in your inbox each week here.
New data could help geologists better understand minerals in Wyoming
Wyoming State Geological Survey has reanalyzed stream-sediment samples from half a century ago to expand scientists' understanding of Wyoming's rich mineral offerings.
Starting in 1973, the federal government gathered thousands of stream-sediment samples to explore potential uranium reserves across the country. The National Uranium Resource Evaluation program, launched by the U.S. Atomic Energy Commission, conducted some geochemical studies of these samples as part of their search for uranium and a slew of other elements. Stream-sediment samples are composed of fragments from bedrock that have been deposited into a nearby drainage. 
But the analysis was somewhat limited, largely due to technology constraints.
Now, Wyoming's geologists have unearthed the over 18,424 samples collected in Wyoming from the Geological Survey's National Geochemical Sample Archive for a more sophisticated study. 
"As the United States searches for domestic sources of critical and strategic minerals, Wyoming has an opportunity to explore for and potentially develop new resources," Erin Campbell, state geologist and director of the Geological Survey, said in a statement.
In 2019, Wyoming's Legislature appropriated $10,000 for this additional research in an effort to expand its grasp of the economic potential of critical elements across Wyoming.
"Funding from the state legislature has allowed us to further advance our interpretation of the distribution of those elements and minerals across the state," Campbell stated.
The team selected 159 samples of the tens of thousands to deeply analyze for elements, like uranium, titanium, vanadium and more.
"The samples were reanalyzed using modern techniques performed at a single laboratory, allowing for standardized results that can be compared across the dataset," David Lucke, manager of technical analysis and the Geological Survey's data division, said in a statement.
The data could be used by the mineral industry and geologists to advance geological exploration and conduct more focused sampling, the report concludes.
The scientists used their findings to build out the geochemical dataset and make an interactive map of the mineral resources throughout the state. The public can access the map online. A free report is also available for viewing here.
Just over one year ago, two of the largest coal mines in the nation ground to a halt when the owner abruptly filed for bankruptcy and failed to secure interim funding. Hundreds of Wyoming workers were sent home indefinitely. The Eagle Butte and Belle Ayr mines in the Powder River Basin have since come back online under new ownership. But the turbulent bankruptcy case involving coal firm Blackjewel continues and appears far from fully winding down. Several outstanding issues — from fraud allegations to a lingering dispute over shovels and unhappy creditors — have prevented the debtors from formally exiting Chapter 11 bankruptcy. 
Last week, about 80 organizations from across the country announced the launch of the National Economic Transition platform, an initiative focused on supporting economic transitions in states and tribes dependent on coal for jobs, revenue and other critical services. The plan's specifics, and the details on what it could mean for Wyoming, have yet to be ironed out. It will also require widespread buy-in from the state's coal miners, many of whom still hope coal economies will recover. But the organizers behind the bold proposal emphasized the need to defer to people most directly impacted by the sweeping economic changes before rolling out new projects.
The U.S. Government Accountability Office recently published its research into federal minerals on public lands across the country, including in Wyoming. The report is available here.
The State Loan and Investment Board will host a public web conference at 10:30 a.m. Monday to discuss the possible purchase of property held by Occidental Petroleum Company. The livestream can be accessed at lands.wyo.gov. Registration is required for those wishing to contribute a public comment. More information is available at lands.wyo.gov. 

Wyoming's governor announced he will likely pitch the state's initial bid for 5 million acres of land in southern Wyoming owned by Occidental Petroleum this month, The Star-Tribune's Nick Reynolds reports.
Major shale producer Chesapeake Energy filed for bankruptcy in an effort to restructure and shed $7 billion of debt. Pending court approval, the Oklahoma City-based firm said it had secured $925 million in debtor-in-possession financing, or interim funding, to keep operations chugging along during bankruptcy proceedings, including in Wyoming. Chesapeake's net debt load is approximately $8.62 billion. Read about Chesapeake's history in Wyoming here.
Sandra Loza, 28, initially moved to Wyoming with her family, so her father could work in the state's energy industries. She is one of about 660 immigrants who arrived in the U.S. as children. They received certain protections in 2012 when the Obama administration introduced DACA, an immigration policy giving some undocumented immigrants who arrived in the U.S. as children the opportunity to legally work and study in the country without being deported. Last month, the Supreme Court ruled against the Trump administration's attempt to rescind the policy and make about 650,000 young people, including hundreds of residents in Wyoming, vulnerable to deportation. Here is her story.
Energy companies Carbon Creek Energy LLC and Powder River Midstream LLC have reached an agreement with Campbell County to pay $1.8 million of the $8.5 million in unpaid property taxes it has owed the county since 2016, according to reporting by County 17.
The Wyoming Oil and Gas Conservation Commission plans to hold its monthly hearing at 9 a.m. July 14 but will be taking precautions to limit the spread of the COVID-19 pandemic. The hearing, which typically takes place at 2211 King Blvd. in Casper, will be livestreamed on YouTube. Commissioners and individuals participating directly in the hearings will be allowed to attend in person. But all attendees must maintain social distancing and no more than 30 people will be permitted in the room at one time, according to Supervisor Mark Watson. Additional details, and any changes to these plans, will be posted soon on the commission's website.
Non-fossil fuel sources made up one-fifth of the all the energy consumed in the U.S. last year, according to calculations published by the Energy Information Administration. Of the approximately 100 quadrillion British thermal units consumed by Americans last year, 20% came from sources other than fossil fuels, like renewable and nuclear energy. Meanwhile, coal consumption nationwide fell by 15% in 2019.
The Office of Lands and Investments has drafted proposed rules for the state's sage grouse mitigation credit system and they are now open to public comment until 5 p.m. July 28, according to an agency notice Wednesday. A copy of the proposed rules can be located online at rules.wyo.gov. The public comment period opened on June 12.
West Texas Intermediate (WTI) $39.82, Brent (ICE) $42.03
Henry Hub $1.58, Wyoming Pool $1.29, Opal $1.33
Baker Hughes rig count (as of June 26):
U.S 265 (-1), Wyoming 0 (-1)
Quote of the week
"I don't think I've been made whole. I don't feel whole because I don't think (former CEO) Jeff Hoops has been held accountable, or the people who worked with him have not been held accountable."
— Lynne Huskinson, former coal miner of nearly four decades, reflecting on the bankruptcy of her former employer Blackjewel
Concerned about COVID-19?
Sign up now to get the most recent coronavirus headlines and other important local and national news sent to your email inbox daily.