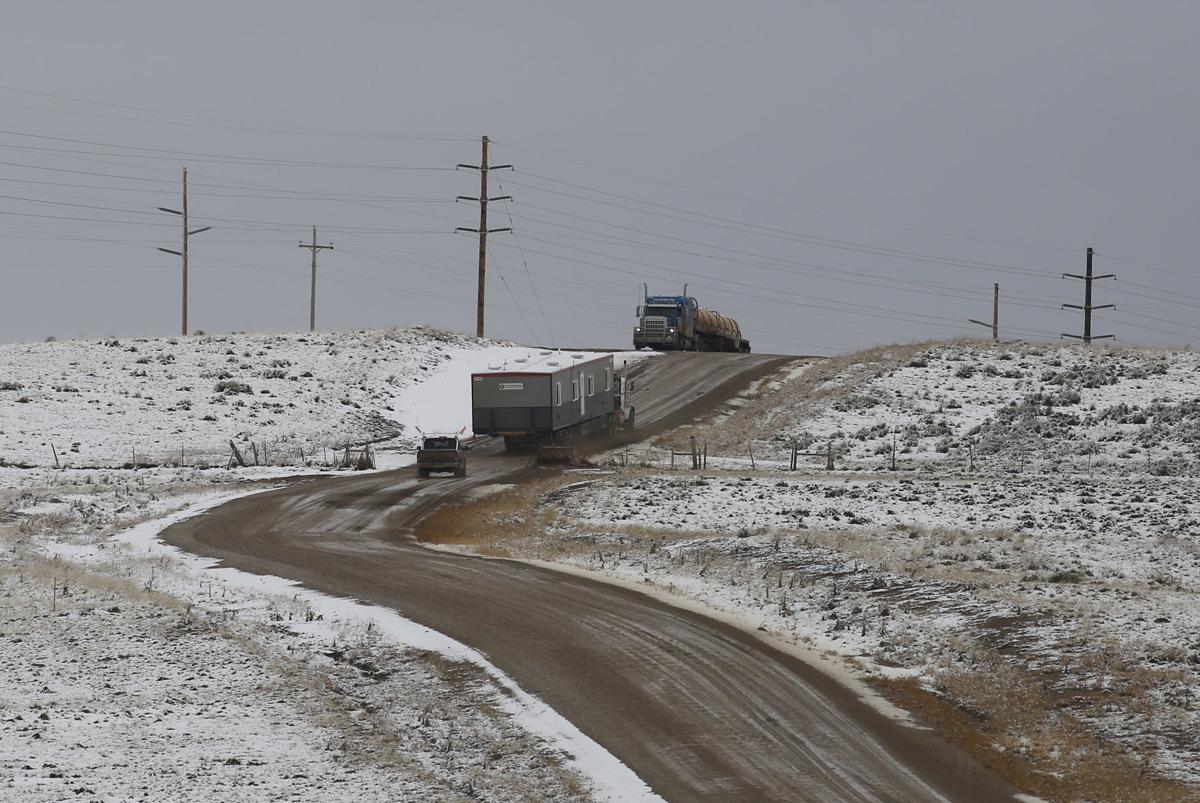 Welcome to the Star-Tribune's Energy Journal, a play-by-play of the past week in Wyoming's wild world of energy. I'm your energy and natural resources reporter, Camille Erickson. Sign up for the newsletter here.
In March, I will be publishing the 2020 Energy Journal, a special section all about technology and innovations in Wyoming's energy industry. Have ideas on who or what should be featured? Please reach out at camille.erickson@trib.com or 307-266-0592. Thank you for your support!
Leveling the playing field for mineral owners
One bill up for debate during this year's legislative session could change the game for those in Wyoming's oil and gas business.
House Bill 14 proposes to revise the terms under which permitted oil operators negotiate with non-leasing mineral owners within a drilling spacing unit, or an area designated for development.
Proponents of the draft bill hope it provides more protection for unleased mineral owners, without stunting oil and gas leasing. Mineral owners often make a deal and lease their minerals to operators who then help extract the oil from the ground.
Multiple operators, landowners, mineral owners or the federal government often have a stake in a single drilling spacing unit. The myriad interests circling around one drilling unit can make things complicated, fast. 
The Legislature's Minerals, Business and Economic Development Committee advanced legislation in November in an effort to expand the options unleased mineral owners have when negotiating with permitted operators. 
The bill was heard again in committee on Friday. Members voted unanimously to advance the bill. 
At its core, the bill amends the state's approach to "forced pooling," a statute that helps propel drilling activity even if a mineral owner within a shared drilling spacing unit doesn't consent to drilling under an operator's proposed terms. It enables multiple working interests in a single drilling unit to pool their funds to cover costs associated with drilling.
Under current law, if an unleased mineral owner in a drilling unit does not consent to a lease offered by a permitted operator, drilling can still commence. But the non-consenting mineral owner must absorb a penalty — 300 percent of the costs and expenses incurred during drilling and completing a well. Meanwhile, the primary operator will take on the mineral owner's share of production costs.
But if the new bill becomes law, a mineral owner will have more choices. 
If an owner elects not to participate in drilling under an operator's suggested terms, he or she would be penalized at a reduced amount — 200 percent of production costs on the first well, and 150 percent on subsequent wells. What's more, the mineral owner will reap 16 percent of the mineral royalty interest during the time the owner is paying the risk penalty.  
If wells happen to be productive, formally non-consenting mineral owners can change their minds and start participating in drilling activity, too. At that point, they effectively become working interest owners and chip in their share of the costs, but also enjoy all the revenue generated from their designated tract in a drilling spacing unit.
Conversely, a non-consenting mineral owner could also simply continue accepting that 16 percent royalty interest. 
Ultimately, the new bill offers the unleased mineral owner more options.
"Under current law, it's up to that unleased mineral owner to work out a system themselves to get paid for their minerals," explained Pete Obermueller, president of the Petroleum Association of Wyoming. "This bill just adds some statutory protection for those people."
The proposed bill comes on the heels of a new rule, instituted by Wyoming's Oil and Gas Conservation Commission to curb the record influx of oil and gas drilling applications. 
"The whole goal here is to get Wyoming as many wells drilled in Wyoming and to generate as much revenue for the state," said Howard Cooper, president of Three Crown Petroleum LLC.
You have free articles remaining.
Coal firm Navajo Transitional Energy Company reached an agreement with Wyoming to waive its sovereign immunity last week. The waiver allows state regulators to enforce environmental and mining laws at two coal mines and brings the company one step closer to becoming the official owner and operator of the pair of mines.
About one-fifth of coal shipped during during three quarters last year went to coal-fired power plants set to retire by 2025 or sooner (via S&P Global Market Intelligence).
According to a statewide poll conducted in January, 86 percent of Wyoming residents approve of oil and gas development, with 77 percent strongly approving of it, the Petroleum Association of Wyoming announced Friday.
Oil production from federally managed lands and waters topped a record 1 billion barrels last year, U.S. officials told The Associated Press, as shorter permitting times and technological advances helped drive new development.
A Canadian company's request to conduct exploratory drilling at 35 sites along the Beartooth Front near Nye, Montana, for the next seven summers has been conditionally approved pending acquisition of a reclamation bond, Brett French at the Billings Gazette reports.
A bill that would have penalized utility companies for using renewable energy sources to supply electricity to ratepayers failed to advance in Wyoming's Legislature.
As utility companies look to replace aging wind turbines, the machines' blades are being buried in stacks at a handful of landfills around the country, including in Casper. The blades have swept Casper into a national discussion around renewable energy, waste and environmental responsibility.
When it comes to the energy preferences of Americans, there's significant consensus, even across political parties, a new study led by a University of Wyoming professor concluded.
The U.S. Department of Energy asked for $150 million in its fiscal year 2021 budget request to build a uranium reserve fund and boost domestic demand for the mineral.
In last year's third quarter, only about 32,211 pounds of uranium concentrate was produced at four mines in Wyoming. That's a 94 percent decline since the same quarter in 2016, according to the Energy Information Administration.
Gov. Mark Gordon released an executive order to conserve the state's extensive migration corridors Thursday afternoon during a signing ceremony at the Wyoming State Capitol. The new order aims to preserve the critical routes used by Wyoming's migrating big game herds while also protecting the state's energy economy.
West Texas Intermediate (WTI) $51.42, Brent (ICE) $56.34
Henry Hub $1.89, Wyoming Pool $1.66, Opal $1.73
U.S 790 (-0), Wyoming 22 (-1)
"We don't want to jump the gun and designate hundreds and hundreds of areas. That's why I said 'a handful of (migration) routes.' We don't want a land grab — this is absolutely not a spaghetti map. Part of this process was to say that spaghetti map was spooking a lot of landowners, members of industry. … We needed a place to start, based on the science, that would identify these routes."
Be the first to know
Get local news delivered to your inbox!