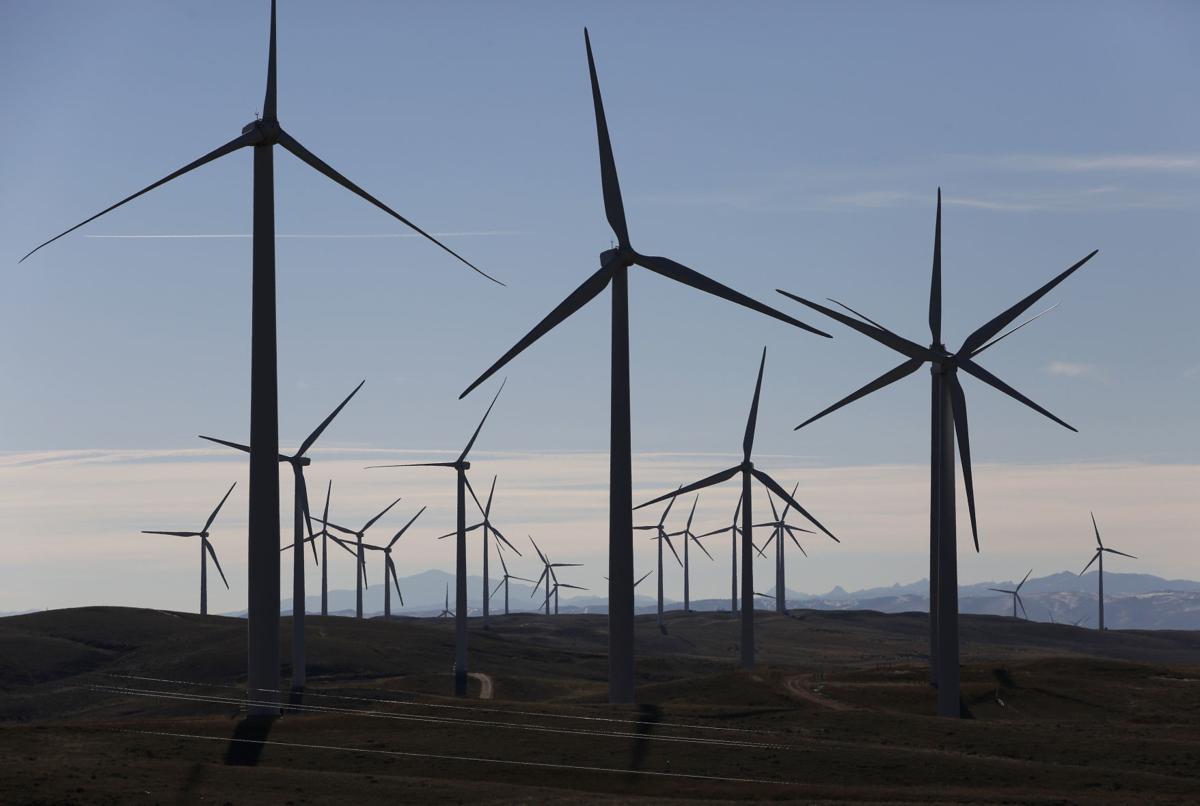 Welcome to the Star-Tribune's Energy Journal, a play-by-play of the past week in Wyoming's wild world of energy. I'm your energy and natural resources reporter, Camille Erickson. Sign up for the newsletter here.
State's largest utility responds to COVID-19 outbreak with donation and suspension of penalties 
Rocky Mountain Power announced Friday it will dedicate $311,500 to organizations supporting communities during the coronavirus outbreak. The Rocky Mountain Power Foundation has committed to donating the funds to the Wyoming Rescue Mission, Glenrock Boys & Girls Club and the Wyoming Hunger Initiative, among other organizations in the Rocky Mountain region. 
"Food banks and other critical community organizations serving those in need are under tremendous strain," said Sharon Fain, Rocky Mountain Power vice president for Wyoming. "The Rocky Mountain Power Foundation is committed to supporting these vital community organizations that depend on contributions to provide much-needed services."
Rocky Mountain Power will also not penalize businesses or residents if they are unable to keep up with utility payments during the COVID-19 outbreak. 
Unemployment claims surge, with many in energy
The state received 4,652 new claims for unemployment insurance for the week beginning March 23, the latest numbers showing the devastating toll the economic downturn has had on Wyoming workers. The numbers represent a 25 percent increase from the week before that when 3,743 new claims came in. That's in addition to the 6,010 applications the department is still continuing to process from previous weeks. 
In oil and gas extraction and mining sectors, 297 workers filed for unemployment the week of March 23, up 56 percent from the week before when 190 workers in the energy industries filed for benefits. 
Oil and gas companies receive some tax relief, but operators wonder if it's enough
The Wyoming Oil and Gas Conservation Commission announced Tuesday it will not require producers to pay the state conservation tax for the next six months in response to depressed market conditions. But several operators said the relief won't amount to much given current price environments. 
The commission's decision comes on the heels of Gov. Mark Gordon signing into law a bill providing reductions in state mineral taxes amid difficult price environments. The tax reduction would kick in for only new wells if the 12-month rolling average of oil prices falls below $50 per barrel. For natural gas, the 12-month rolling average would need to be less than $2.95 per thousand cubic feet. In these scenarios, the state's mineral production tax — know as a severance tax — would be reduced by 2 percent under the new act. The governor's chief energy advisor Randall Luthi called it "the least we could do at the worst of times."
Oil operators will not be able to reap the benefits of the relief until the act goes into effect July 1. Eligible operators would see 2 percent chipped off their severance tax rate for the first six months of production, and 1 percent for the six months after that for any new wells drilled in low oil price environments. Ultimately, the relief only applies to the new well for one year. 
Oil prices still in the gutter
The coronavirus and a global price war have wreaked havoc on oil markets, as a glut in supply along with cratering demand have caused prices to spiral to lows not seen in decades. West Texas Intermediate, a U.S. benchmark for oil, inched just over $20 a barrel last week, with Wyoming realized prices for sweet crude going for roughly half that amount. Prices rallied slightly Thursday, rising to nearly $25 a barrel, as hints of a deal between Saudi Arabia and Russia over production limits emerged. But in the meantime, several Wyoming operators have been left with little choice but to shut in wells, reduce workforces and reckon with debt.
Wyoming mineral industries urge governor to deem their work 'essential' in event of shelter order
Meanwhile, Wyoming's mineral industries have asked Gov. Gordon to consider mining and drilling operations "essential" activities in anticipation of further potential business restrictions during the coronavirus pandemic. The Petroleum Association of Wyoming, along with the Wyoming Mining Association, urged the governor in March to formally declare coal, uranium, and oil and gas operations critical to the state's economy and extend limited regulatory relief, according to letters provided to the Star-Tribune.
Still, some companies have taken matters into their own hands, and where possible, implemented their own stay-at-home orders, including McMurry Companies, though CEO and President Timm Smith notes that wouldn't necessarily work for employees overseeing ongoing oil and gas field operations. 
McMurry Companies will also donate $25,000 to five nonprofits to support communities impacted by the coronavirus, Sally Ann Shurmur reports. Smith said the nonprofits chosen by the management group are United Way of Natrona County, Natrona County Meals on Wheels, Wyoming Food Bank of the Rockies, Wyoming Rescue Mission and the Wyoming Medical Center Foundation.
Montana state regulators approve expansion of Spring Creek Mine 
More innovations sweeping through Wyoming's energy industry
In an effort to mitigate flaring, a start-up called Crusoe Energy Systems uses excess natural gas at oil and gas sites, converts it to electricity, and transfers the power to servers on the well site for computing tasks at a small but mighty data processing center. Learn how they do it here.
And in more news on flaring, University of Wyoming professors have received a provisional patent on their concept known as FlareNitro. To lesson operators' reliance on flaring, the scientists propose converting the produced natural gas on site to liquid for easier transport to pipeline infrastructure.
Find out more about the innovations happening in Wyoming's leading industry by visiting the Star-Tribune's 2020 Energy Journal.
West Texas Intermediate (WTI) $25.32, Brent (ICE) $29.94
Henry Hub $1.48, Wyoming Pool $1.40, Opal $1.41
U.S 664 (-64), Wyoming 14 (-5)
"The coronavirus is the very definition of the black swan event that no one saw coming," said Cary Brus, former CEO and President of McMurry Companies. "But you couple that with the immediate and devastating downturn in oil and gas prices and destruction of demand. Normally, when prices fall or collapse so precipitously, you get a rebound, say, in tourism. People can afford to drive more, so they take longer trips and other sectors of the economy rebound. Here, we've seen prices collapse and nobody is being able to take advantage of $1.75 gasoline prices at the pump, because we're all staying home."
Concerned about COVID-19?
Sign up now to get the most recent coronavirus headlines and other important local and national news sent to your email inbox daily.