RAWLINS — A fire on Pedro Mountain east of Pathfinder Reservoir has spread to around 1,500 acres, leading the Carbon County Sheriff's Office to issue a mandatory evacuation along Pedro Mountain Ranch Road.
High temperatures and gusty winds in the afternoon increased the fire, which began burning Saturday, from its size of 500 acres in the morning.
According to a BLM news release, the fire was caused naturally.
The fire was 0 percent contained as of Sunday morning. Located 40 miles north of Rawlins, it burned actively Saturday with high temperatures and low relative humidity. A Red Flag Warning was in effect Sunday, indicating conditions that can lead to increased fire activity.
It's impossible to predict when the next wildfire will ignite, experts say. But ultimately, in the 1,000-year life cycle of a forest, it's inevitable. Given that reality, they say, it's best to begin preparing now. 
You have free articles remaining.
The Natrona County Sheriff's Office may close Pathfinder on Monday due to the fire, according to a post on the Natrona County Fire District's Facebook page. The reservoir could also serve as a water source for fighting the blaze.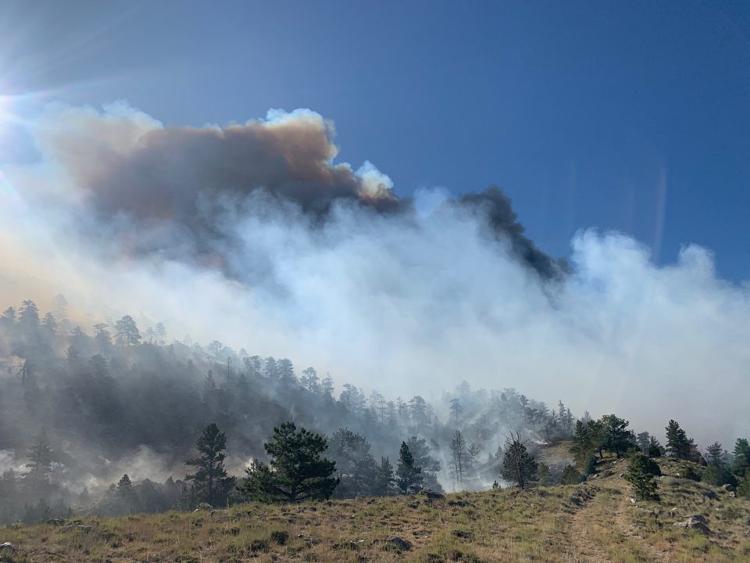 Authorities advised people who might be visiting the reservoir to begin packing up their belongings.
The Bureau of Land Management, Wyoming State Forestry Division and county and local organizations are attempting to contain the fire, using engines and air resources including two Single Engine Air Tankers, a Blackhawk helicopter and Very Large Air Tanker.
An additional team was expected to arrive Sunday.