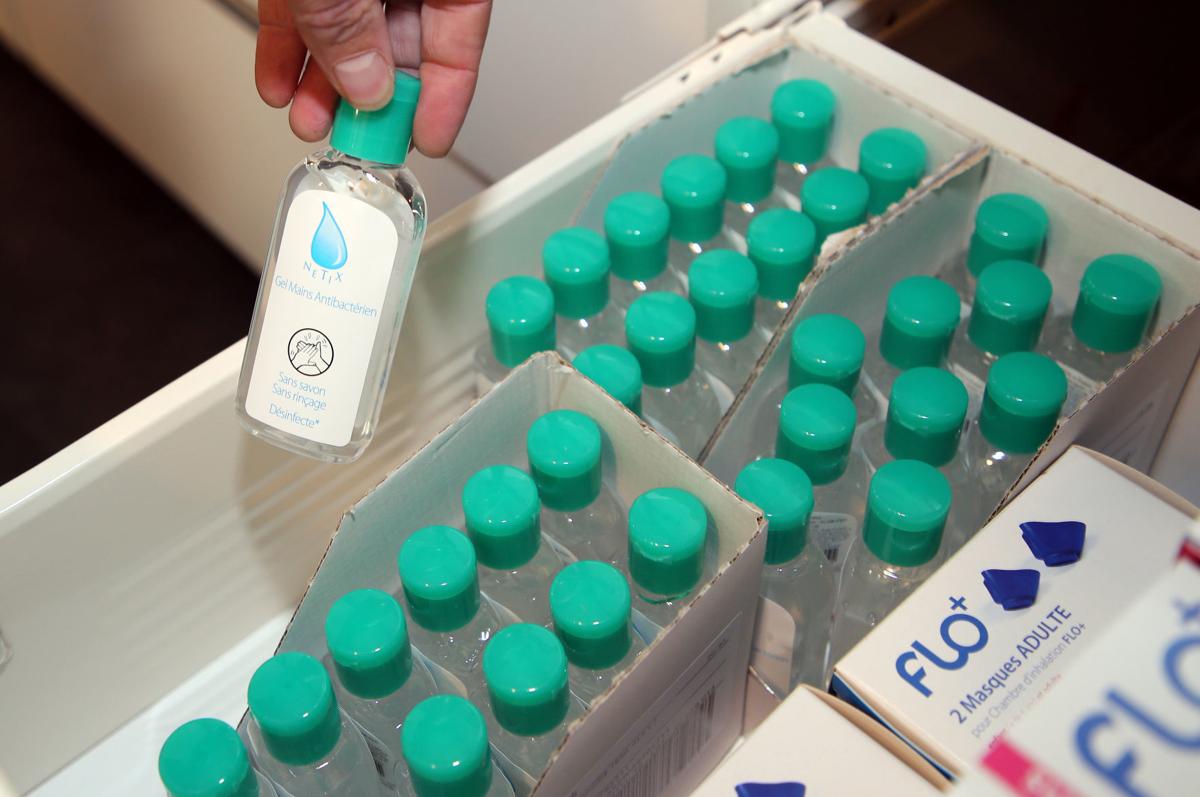 Wyoming health officials confirmed Wednesday evening the first known case of coronavirus in Wyoming, hours after Colorado's number of patients spiked and health officials in Casper urged calm.
The first Wyoming patient identified with the virus is a woman from Sheridan County with some recent domestic travel history, according to the state Department of Health.
"WDH is following up to learn more details about the person's exposure risk and to identify and communicate with anyone who may have been in close contact with the patient," the Department of Health wrote in an announcement. "Known contacts will be monitored for symptoms and tested if needed. As is currently standard, the test result is considered to be a 'presumptive positive' and the Centers for Disease Control and Prevention (CDC) will conduct further testing for confirmation."
Health Department spokeswoman Kim Deti largely declined to provide any additional details late Wednesday evening and said that the department was still conducting followups. She said that the results from the test came back "late, late" Wednesday afternoon.
It's unclear where the patient is being treated.
The respiratory illness continues its march across the United States and the world. As of Wednesday, there are more than 1,000 confirmed cases in the U.S., with at least 37 related deaths. Worldwide, there have been more than 120,000 cases and 4,300 deaths. In response to the wave of cases, President Donald Trump announced Wednesday night that travel to Europe, where the virus has spread significantly in some areas, will be suspended effective Friday.
Even with the state's first confirmed case, the risk of transmission for most Wyomingites is low, Dr. Alexia Harrist, the state health officer and state epidemiologist, noted in the announcement. Officials have said Wyoming's rural nature and isolation from the big population centers exposed to international travel contribute to the low risk.
"We expected to identify a case in Wyoming at some point because the reach of the disease is clearly growing," she said. "Travelers to certain affected locations and close contacts of ill people are still overall at the highest risk of becoming ill."
State preparations
Health officials in Casper and elsewhere in Wyoming have said for days that it is likely a matter of time before there was a case here. By Wednesday afternoon, at least 11 Wyomingites had tested negative for the disease.
Those officials have maintained that the state is prepared. Deti previously said the state had "hundreds" of test kits available, which she characterized as enough. The University of Wyoming has already taken steps to prepare campus to move online, if necessary.
In a statement Wednesday night, just before the state confirmed the first case, the university wrote that "the spring semester will resume as scheduled after spring break." Should that change, the university said, campus will be updated by March 23.
"Faculty, staff and students are encouraged to re-evaluate spring break plans so as to avoid potential exposure to the virus or to limit the likelihood of exposing older people, and those of any age who have compromised immune systems," the university's acting president, Neil Theobald, said in a statement. "In addition, students are advised to take with them any materials they might need to resume instruction in an online format. The university is developing contingency plans for online-only teaching, should that be necessary."
In a statement included in the Health Department's announcement, Gov. Mark Gordon said the state was prepared for this first case.
"Our state has been planning for this situation for weeks and we will continue our coordinated efforts to address this threat," he wrote. "I pledge to work closely with our state agencies, federal partners and local officials to ensure we are implementing all the necessary steps to protect public health."
Nearly all of Wyoming's neighbors confirmed cases in the days before the Equality State verified its first infection. Colorado declared a state of emergency earlier this week as cases rapidly appeared in Denver and Aspen. At one point Wednesday, the Denver Post reported first five and then 10 new cases within the span of five minutes.
Montana reported its first case Wednesday, as well, albeit in a patient in Maryland. Utah and Nebraska had both previously confirmed infections.
The novel coronavirus, or COVID-19, is a respiratory illness, symptoms of which include fever, cough and shortness of breath. It comes from the broader family of coronaviruses, which causes illnesses like SARS and the common cold.
Officials at Wyoming's two largest hospitals — Wyoming Medical Center and Cheyenne Regional Medical Center — say they are prepared to handle any cases that crop up in the Equality State.
Medical response
Health officials have asked Wyomingites to refrain from seeking COVID-19 testing unless they meet one of two criteria: They've traveled to a COVID-19 hot spot, or they've interacted with someone who has the disease. Those who meet one or both should then call their health care provider, rather than going to the emergency room. The state is capable of processing tests here in Wyoming, rather than sending them to the Centers for Disease Control and Prevention in Atlanta.
While much is still unknown about the disease, it is apparent that it's most dangerous for the elderly. Dr. Mark Dowell, an infectious disease physician in Casper, previously said that the average age of Americans who've died of the disease is 80.
Should cases present in Casper, officials have said the early patients will be treated in special rooms at Wyoming Medical Center in an attempt to stop or slow the spread. But should cases become more common, physicians here plan to treat COVID-19 like the flu: More serious cases will require hospitalization in single rooms, while patients with more mild symptoms should self-isolate in their homes for two weeks.
By Wednesday evening, the National Basketball Association abruptly announced it was suspending its season after a player tested positive right before a game was set to tip off. Actor Tom Hanks and his wife confirmed that both had COVID-19 after traveling to Australia. The NCAA announced that there would be virtually no fans in attendance at its national championship tournament set to start later this month.
Concerned about COVID-19?
Sign up now to get the most recent coronavirus headlines and other important local and national news sent to your email inbox daily.