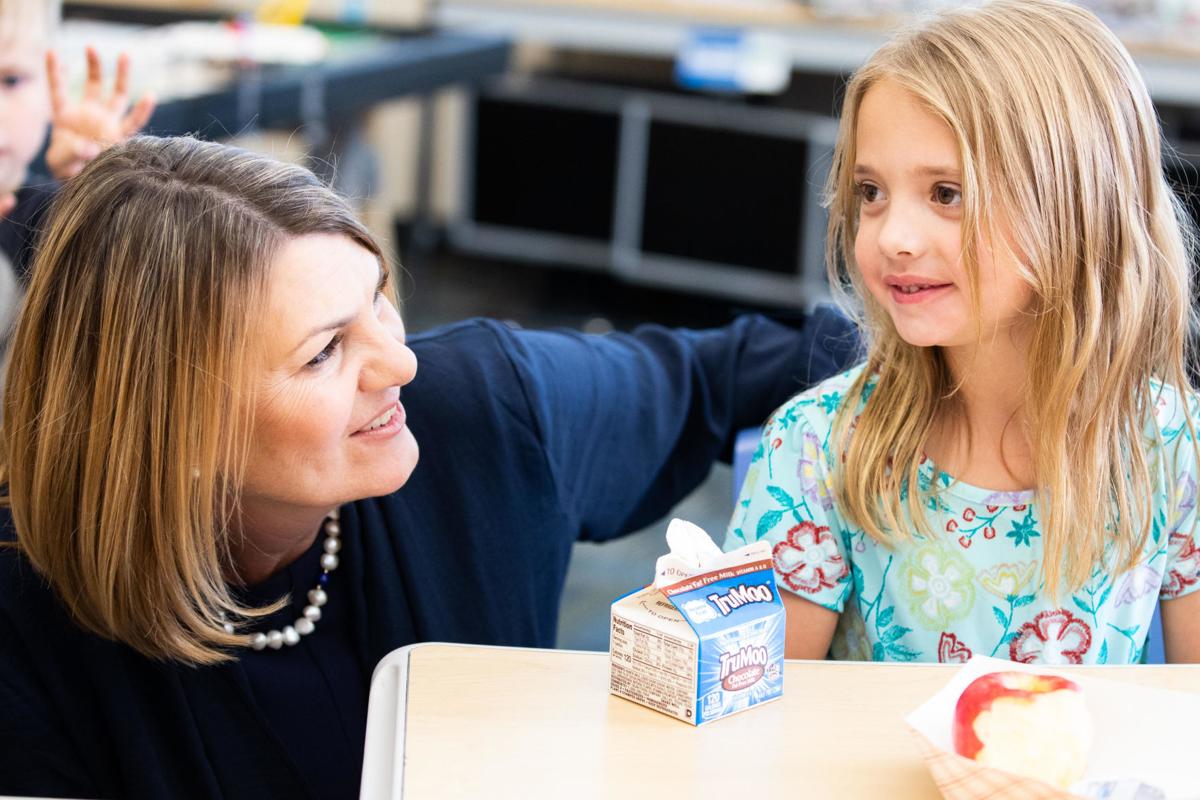 Growing up as one of 10 children in a military family, Wyoming first lady Jennie Gordon had a crowded but comfortable upbringing, even with her father often away from home as an active service member.
It was an experience far removed from that of her parents. In the years following World War II, Gordon's mother had immigrated to the United States from Austria, sharing with her future husband an "abject poverty" that would come to inform the values of both themselves and their children.
"When we were kids, they always told us to be grateful for what we have," Gordon said. "To never waste anything and to always share with others."
It was an ethic that persisted long after Gordon had graduated from school, begun her career and, later down the road, crisscrossed the state with her husband, Gov. Mark Gordon, on the campaign trail, where she met people experiencing something she was taught to empathize with her entire life: hunger.
"As Mark and I traveled around campaigning, we'd go into all of these different communities and I would ask about what the needs were there, and all over the state I kept hearing about all these programs to feed hungry kids," she said. "There are Friday food bags, there's free little pantries, and there are the food banks. So it was a really easy decision when people asked what my initiative was going to be: I thought, 'I just want to work on feeding kids in Wyoming.'"
Hunger in Wyoming
While high wages from well-paying industries like oil, gas and coal have kept Wyoming's rate of childhood poverty below national averages, the National Center for Children in Poverty has determined that roughly one in three children in Wyoming live in low-income households — a still-too-high amount for a nation where the average sits at 41 percent. And in those households, the risk of going hungry is starkly higher.
Today, roughly one in six children in Wyoming doesn't have enough to eat, a statistic that dozens of organizations across the state are working to address. The problem behind fixing the problem, Gordon said, is that too many of them are working alone or have difficulty communicating what they were about — leaving the conversation around childhood hunger somewhat incomplete.
The important work of food pantries often takes place out of the spotlight and — in a state where, during the boom, practically anyone could find a job — realistic conversations about hunger and poverty may not have taken place in many places around the state.
"I think sometimes people aren't on the same page and think that people should take care of their own kids," Gordon said. "But every family wants to be able to do that. Sometimes people forget that they're not as fortunate as we are."
In the nine months following inauguration day, Gordon traveled the state to build her understanding of the issue and find out exactly how her new office could be leveraged to help battle hunger. In October, Gordon announced the launch of the Wyoming Hunger Initiative, a state-scale effort intended to pull together the scattered food pantries, soup kitchens and after-school meal programs in a focused effort to feed the state.
The aim of the Wyoming Hunger Initiative is a simple one: Lots of organizations around the state recognize that hunger is a problem and are trying to resolve it where the issue is most urgent — in their own communities. The issue, Gordon said, is that the problem has not been discussed holistically. Wyoming is one of the few states in the country without a food policy council, meaning that the dozens of organizations around the state fighting against hunger have no mechanism to leverage their numbers for grants or other types of federal funding.
"I didn't want to try and reinvent the wheel here," Gordon said. "Because there are already people doing all these great things."
Traveling the state and hearing people's stories firsthand has been a focus of Gordon's. Earlier this year, her office traveled to Weston County for a series of town halls focused on poverty in places like Newcastle and Osage. The first lady will often personally travel to food banks, where she can meet with the people of Wyoming at their level, allowing them to share their own experiences.
That aspect of her work, she said, has helped immensely in forming her own perspectives on the problem. On a recent visit to Sheridan, Gordon met a woman at one of the area's Friday Food Bank events who, despite working 60 hours a week between three part-time jobs to support three children, made it to the event.
"I think it just really dispelled the myth a lot of people have that people who were recipients maybe are not working, or they're lazy," Gordon said. "It just really opened my eyes that there are so many different reasons why people are in this in the positions they are. And there's so many ways that we can help them. One size doesn't fit all."
"It's those individual stories that ... really touched my heart and made me realize that we really need to let people know the problem exists," she added. "And I think as a state, we do solve our own problems. And so I think there's an opportunity for people to band together and look at this issue and maybe find solutions."
The program
But building any program from scratch can be a challenge, particularly when trying to coordinate dozens of diverse organizations that may not have had a professional relationship in the past.
So while Gordon traveled the state getting to know the organizers doing the work on the ground, she also made time to travel the country, seeking others who had done similar work in their own states.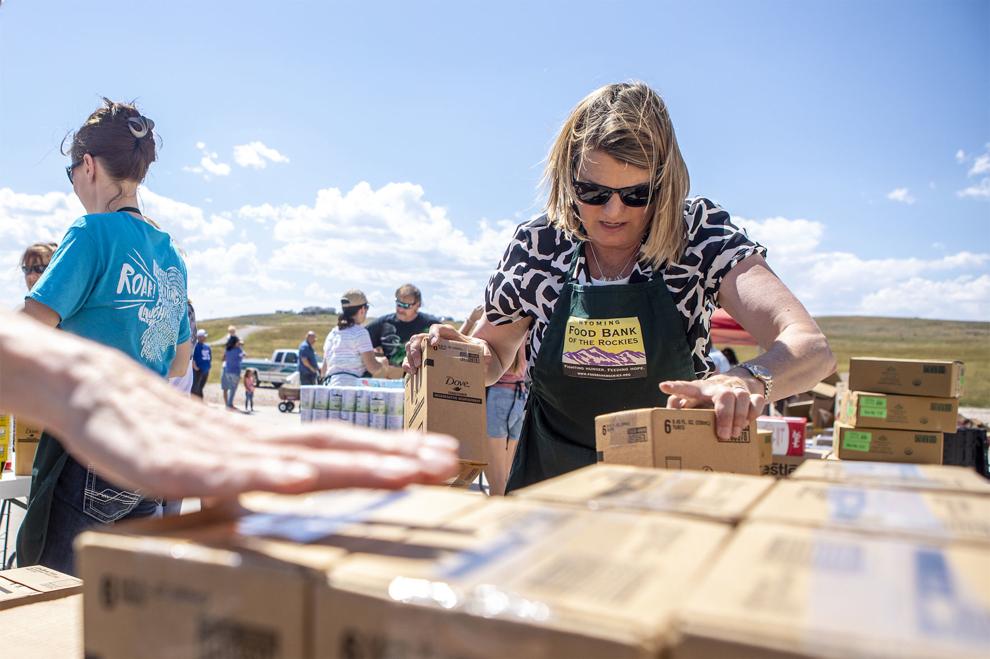 She began with Montana and the first lady there, Lisa Bullock, who has been working on a similar initiative in her own state. In June, Gordon traveled to New Orleans to attend the second-ever School Breakfast Leadership Institute, an event designed to bring experts and decision-makers from across the country to a single place to develop the school breakfast programs in their state.
In building out her own program, Gordon has kept a close relationship with educators, who often boast the closest relationships to families and are able to track the problem at its roots. A little more than one-third of children in Wyoming qualify for free or reduced lunch at their schools, according to data provided by the Wyoming Hunger Initiative. However, just one-third of those students actually take advantage — a "breakfast gap" that leaves Wyoming's children prone to lowered performance and decreased focus throughout the school day.
But while the free and reduced lunch program — along with a number of the other programs funded by the U.S. Department of Agriculture — is a critical part of feeding Wyoming's children throughout the school day, it also provides something else: a window into the extent of childhood hunger outside the classroom.
"The nutrition programs that we offer — especially for the schools — are really important for these students," said Mia Donley, a nutrition consultant for the Wyoming Department of Education. "Because for some of these students, these are some of the only meals they might receive in a day."
The issue is that Wyoming's current rate of participation in school breakfast programs is extremely low, ranking 48th in the nation, according to Nutrition Programs State Director Tamra Jackson. To help solve the problem, schools have been working hard to expand their breakfast programs, such as offering free breakfast to all students in a school, rather than only those who qualify, to break the stigma that comes with receiving discounted meals. Working with the first lady's office, the Wyoming Department of Education is also looking to expand its Breakfast After the Bell and its Breakfast in the Classroom Program, which offers flexibility for students who may be bused in from remote corners of their districts to eat lunch in the first 10 minutes of their class schedules, for example.
Both, if used right, have shown to be successful, with the state's breakfast programs helping to boost participation numbers anywhere between 40 percent to 80 percent in some districts.
"It's just making breakfast a seamless part of the day," Donley said. "Some schools in Wyoming already do this very well. For instance, Campbell County has been doing it for 14 years now. And we've seen that it has a huge impact on classrooms and schools and students."
The state has made an effort to feed its students even when school is out of session — an effort that has helped pull the issue of hunger in every community into the spotlight.
"I think that it's definitely true when you go to meet the sponsors that have never done this Summer Food Service Program and you go to have that conversation with them," Jackson said. "It's interesting that a lot of them say, 'Well, we don't have an issue here in our community — we don't have kids that are hungry.' But when you actually show them the statistics and that there are children in their community that need these programs and are struggling in their homes … I think people just have an idea that that number would be smaller and that we don't really have an issue here. But, you know, there's hungry kids everywhere."
Though all of these programs have been in place for a long time — decades, in some instances — the first lady's involvement has led the Department of Education to put a tighter focus on increasing participation, focusing first and foremost on awareness and breaking the social barriers tied to receiving a free or reduced lunch. In the next few years, Gordon has set a goal of increasing participation in the free and reduced lunch program by 9,000 children while, outside of the classroom, helping to spur conversations and awareness about what hunger actually looks like in Wyoming: that no community is immune and that options are out there.
But, as Wyoming Hunger Initiative website NoHungerWyo.org states on its policy page: "In order to solve a problem, it's important to understand the problem."
"I think people are starting to understand the problem," Gordon said. "The more they hear, the more they say, 'Oh, I didn't realize this.' We're still pretty early on, and we're just getting people to that to the place where they do know that it exists."