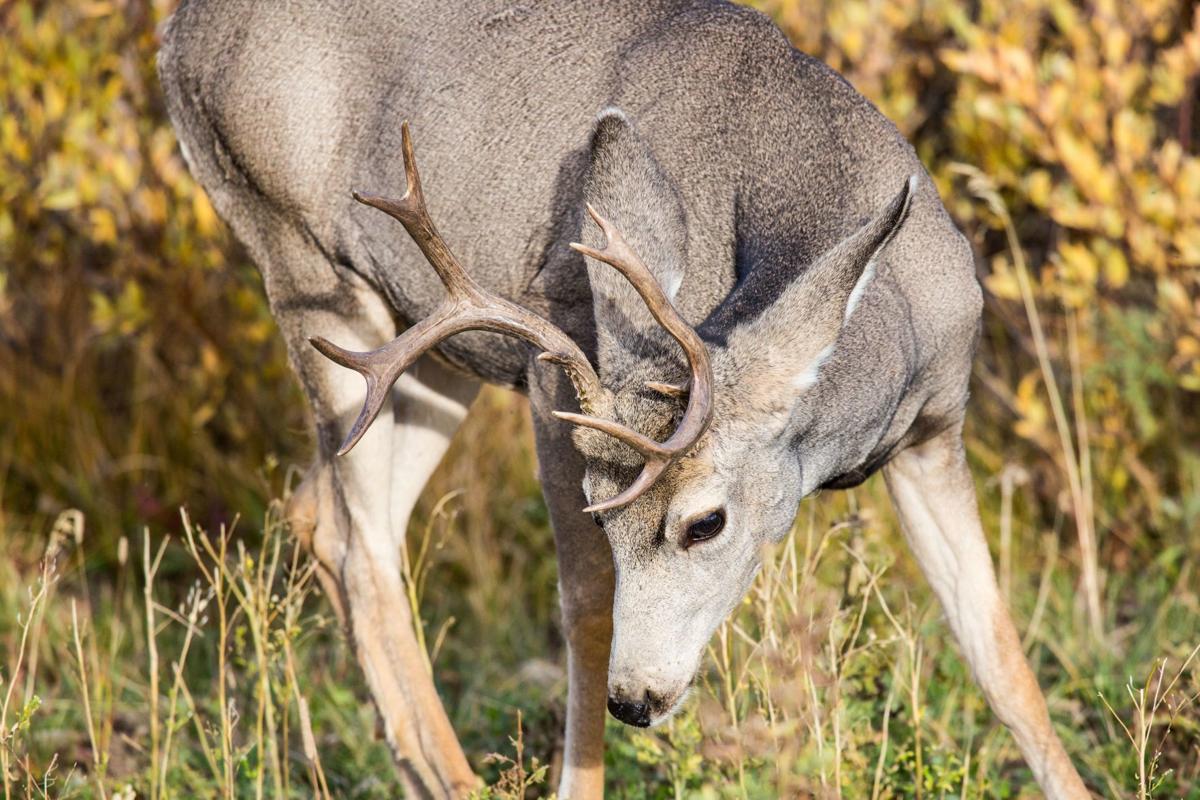 It's been more than a year since the Wyoming Game and Fish Department finalized its Chronic Wasting Disease (CWD) Management Plan. As the pathogen continues creeping westward, wildlife officials warn that mitigation will happen gradually, too.
"CWD is a very slow disease," said Hank Edwards, the agency's wildlife health laboratory supervisor. "When you try and do management, that management takes a long time before you see any results. It could be five years, it could be 10 years, it could be longer than that."
Discovered in 1967 in a captive mule deer, CWD was initially found in wild Colorado deer and elk in the early 1980s. It was first detected in Wyoming deer herds in 1985, and in elk the following year.
Since then, the disease has spread through Colorado and Wyoming, affecting deer, elk and moose, and has shown up in 23 other states. But its geographic expansion isn't the only worry. In areas where CWD has already been identified — which now make up roughly three-quarters of the state — more and more animals are becoming infected.
"Basically, it increases in prevalence every year," Edwards said. "Not that every area does; certainly, we have some areas that increase in prevalence faster than others. But generally, it is a slow increase in prevalence."
What to do now
CWD is an always-fatal prion disease that eats through animals' brains. It can spread not only through contact with infected bodily fluids, but from environmental contamination, which can persist for years.
According to Edwards, infected deer can live for up to three years; elk may survive for seven. Most don't show symptoms — which often include weight loss, drooping ears, excessive salivation and lack of coordination — until a few months before they die.
Though no human has been known to contract CWD, the CDC still recommends that hunters test deer and elk from areas with known transmission, and avoid consuming CWD-positive animals. Research on the subject has been mixed, Edwards said, with some studies finding high transmission risk, while others report little to none.
Because Game and Fish advises against eating infected meat, the late onset of physical symptoms can be frustrating for hunters who harvest seemingly healthy deer or elk, only to have the animal test positive for CWD, Edwards said.
With more parts of the state opening for deer hunting on Friday, Game and Fish has been actively reminding hunters of its CWD protocols.
Game and Fish requires those who kill deer in hunt areas 96 and 97, near the center of the state, to submit a sample for testing. And while officials recommend testing deer and elk from dozens of other hunt areas, anyone hunting the species in Wyoming can submit a sample for testing.
The agency posts negative results online, and notifies hunters by letter and email when an animal tests positive. If the positive animal is from an area where CWD hadn't already been found, Edwards calls the hunter personally.
"We want those submissions, in those areas where CWD has not been identified, because that's how we track the spread of the disease," Edwards said.
Nearly all of the deer and elk that Game and Fish test for CWD have been killed by hunters. A much smaller share are targeted by the agency for testing, or die in traffic accidents. Still, Edwards said, the vast majority of hunters don't submit samples.
"We really rely on the hunting public for our samples," he said. "I would have a hard time doing my job if it wasn't for hunters taking the time to submit a sample."
What comes next
Game and Fish has tracked the degenerative brain disease for decades, and its spread, though sluggish, has proven unrelenting.
"We've been in surveillance mode for over 20 years, and that hasn't gotten us anywhere but these herds of high prevalence now," said Martin Hicks, Laramie wildlife management coordinator for Game and Fish. "What we learned, at least in southeast Wyoming, is doing nothing does not work when it comes to CWD."
Researchers believe that Laramie's deer and elk herds — including the Laramie Mountain, South Converse and Goshen Rim mule deer herds and the Laramie Peak elk herd — were the first Wyoming herds to contract CWD.
The Laramie Mountain herd was also one of the first to be chosen for experimental management. Though its CWD prevalence of roughly 24% pales in comparison to Goshen Rim's 40%, the herd inhabits an area with a much higher share of public land, making oversight significantly easier.
"If it works there, my goal is to move it east into the Goshen Rim herd and try the same thing in that herd unit," Hicks said.
It could take years to see results, but if preliminary efforts are successful, Game and Fish will likely begin implementing CWD management strategies throughout the state.
The agency began developing its CWD plan in early 2019, but in the Laramie region, it'll be at least another year before any of the proposed strategies are implemented. That's because mitigation is intended to be a public process.
Hicks, then the agency's Wheatland wildlife biologist, held five public meetings on the plan this summer and convened a working group of 11 attendees, including landowners, sportsmen and concerned citizens. The working group will meet this winter to provide input on potential management options, such as reducing artificial feeding to prevent crowding, or adjusting hunting regulations to curtail high-risk populations.