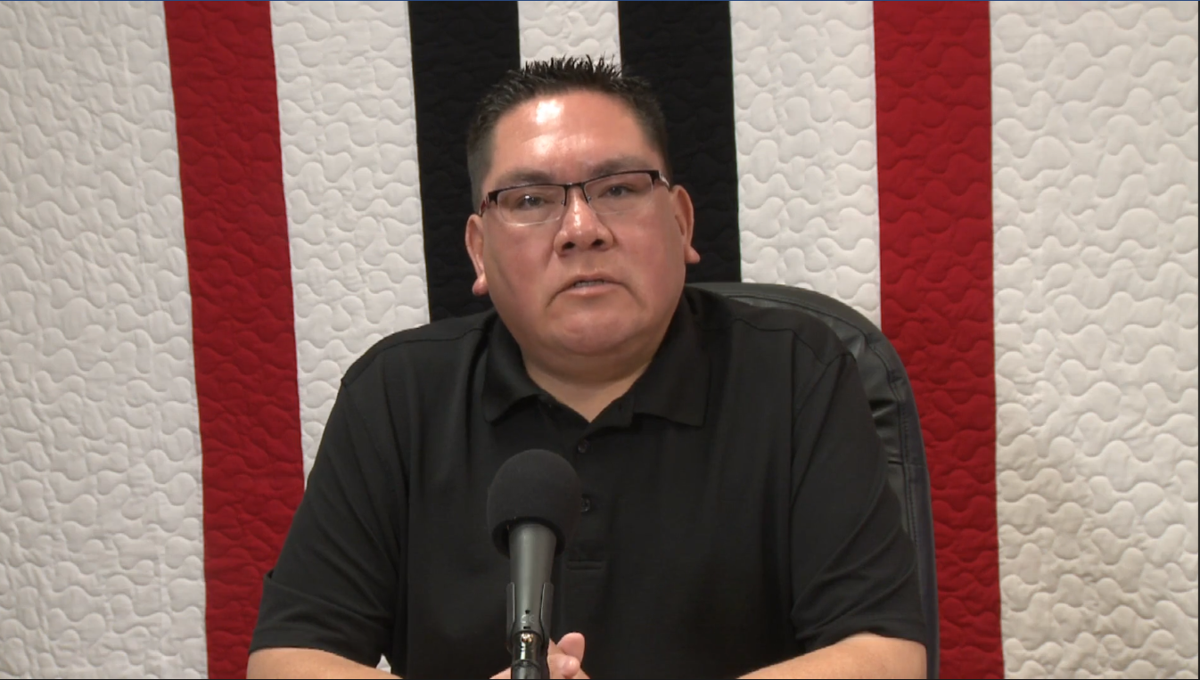 Four members of the Northern Arapaho Tribe with COVID-19, including three in the same family, died on Monday, Northern Arapaho Business Council Chairman Lee Spoonhunter confirmed Tuesday morning.
Two of the four people who died were elders, Spoonhunter said. A spokesman for the tribe on Tuesday afternoon said the other two victims were an adult man and woman. Two of the four victims had preexisting health conditions, though it is unclear which of the four had the problems.
The Wyoming Department of Health confirmed the deaths Tuesday afternoon. Three of the four died at Casper's Wyoming Medical Center, hospital spokeswoman Kristy Bleizeffer said. They had been transferred to the state's largest hospital "from outside of Natrona County in the last several weeks." Last week, a Natrona County physician said WMC had five people in its intensive care unit with the virus.
The fourth patient died at the SageWest hospital in Lander, SageWest spokeswoman Lindsey Anderson said Tuesday afternoon, offering the hospital's condolences.
Before Tuesday, there had only been two known deaths in Wyoming of coronavirus patients. An older Johnson County man with preexisting conditions and an older Laramie County man with no preexisting conditions have also died after being infected with COVID-19, the respiratory illness caused by the novel coronavirus.
Spoonhunter addressed the deaths via livestream later Tuesday morning. He said that all four of the tribal members who died had tested positive for COVID-19.
"These tribal members were our family members who were dearly loved," he said. "But because of the restriction put in place, we cannot mourn together as a family or tribe and give our people the traditional Arapaho protocols to help our people heal."
Fremont County currently has 51 confirmed cases and six probable cases of the coronavirus. At least 24 of its confirmed cases are on the Wind River Reservation.
Both tribes have implemented stay-at-home orders — the only governments in Wyoming to do so outside of Teton County. Leaders said the measure was necessary because many tribal members are more susceptible to the coronavirus because of living in crowded homes or preexisting health problems.
In his address, Spoonhunter asked for reservation youth to follow the stay-at-home order and practice social distancing measures to protect their families and other tribal citizens.
"Do not continue to be out in public places possibly exposing yourself and our loved ones to this deadly disease," he said. "Many of you continue to disregard the safety of our elders by not adhering to these measures and continue to put our elders, your parents and grandparents at risk. ... We realize how difficult it is to be at home and away from our friends, but we sternly ask you to respect our community by, for them, taking these precautionary measures."
While all tribal citizens are being affected by prevention efforts — whether that's cabin fever, restlessness or mental health concerns — continuing to follow the order and practice prevention efforts like hand-washing, social distancing and wearing a mask will limit case numbers and deaths, Spoonhunter said, as well as allowing the tribe to safely conduct ceremonies this summer.
"Your short-term sacrifices will allow us to hold our ceremonies as scheduled. As Arapaho people, we depend on our ceremonies to carry us through our times of need," he said. "Our story is a story of perseverance; please do your part and selflessly persevere as we protect our people. We will get through these dark and difficult times together, as we always have."
Wyoming's six reported coronavirus-related deaths are the fewest in the country. South Dakota has had eight, second fewest in the country according to the New York Times and state health departments.
In a Tuesday statement, Fremont County Commissioners acknowledged the deaths — the first in the county — and asked for residents "to be vigilant about following public health guidance and social distancing" to prevent spreading the virus.
"Please know that although we may not have known them personally, it still hurts to lose members of our small community," they said. "Please keep the family and friends in your prayers, and continue to work towards healing our extended family in these trying times."
As of Tuesday evening, testing had confirmed 322 cases in Wyoming. Health officials were aware of another 119 probable cases — instances where someone exhibited COVID-19 symptoms and was in close contact with people who been positively identified.
More than 250 people had recovered, according to the Wyoming Department of Health, between confirmed and probable patients.
To limit the virus' spread, Gov. Mark Gordon and State Health Officer Dr. Alexia Harrist have ordered the closure of schools and many businesses where people congregate. Those orders are set to expire at the end of the month. The governor says he will use data, not dates, to determine when the state should reopen.
Like the rest of the country, Wyoming's economy has been rocked by the business closures, resulting in a massive spike in unemployment claims.
Gordon on Facebook also offered condolences to the tribe and family of the deceased and commended the tribes for early and aggressive steps, as well as widespread testing to combat the virus. He added that he had been in contact with both tribes and would work with them as they and the state respond to the pandemic.
"These deaths highlight the insidious nature of the illness, as both the Northern Arapaho and Eastern Shoshone Tribes took advanced protective measures early on, including through an aggressive testing strategy," he wrote. "I continue to communicate regularly with Tribal leadership regarding both State and tribal strategies for handling the mounting challenges posed by COVID-19. ... We agreed that the Tribes and State must coordinate our response for the health of Wyoming citizens, as we are all in this together."
Concerned about COVID-19?
Sign up now to get the most recent coronavirus headlines and other important local and national news sent to your email inbox daily.