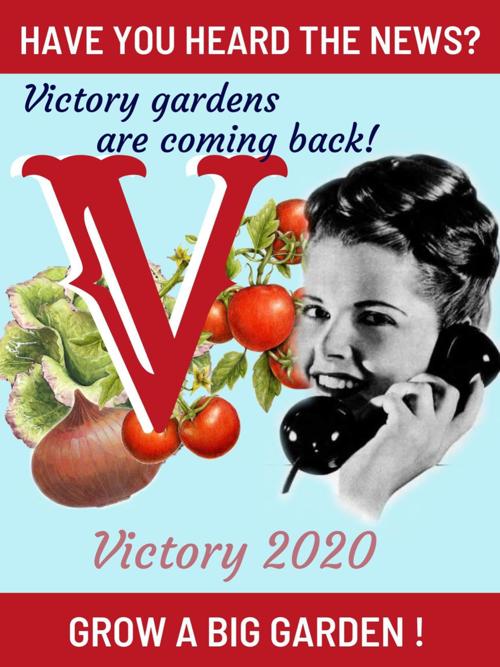 Expert gardeners and other educational groups in Fremont County are encouraging residents to mimic the old wartime "victory garden" effort to reduce food shortages and plant gardens, or expand them, to reduce uncertainties around food availability during the coronavirus pandemic.
During both world wars, the U.S. government encouraged citizens to plant vegetable gardens to assist with the war effort. While not engaged in a world war, organizers of the Fremont County "Victory Garden 2020" campaign say the concept should be explored as people deal with the novel coronavirus and its effects.
To encourage gardeners to expand their vegetable planting — or others to pick up the activity — organizers have started hosting free online classes, in addition to creating a Facebook page and website. Organizers say that not only can the gardens and their produce be a source of food during times of economic uncertainty, but planting and caring for the gardens also offer gardeners a chance to become more self-sufficient and be outside during a time when social distancing is encouraged.
"When things are bad … what's the first thing to think about? And that's about, 'Hey, how do I know I'm gonna feed my family, and my neighbors and people in need around me?'" said one of the campaign's leaders, Griff Sprout, owner of Sprouts Greenhouse outside Lander. "I think the importance of knowing that your food supply is going to be there is a pretty good importance."
Organizers say planting, caring for and harvesting a garden promotes a healthy diet, teaches gardeners and their families to be more self-sufficient, and allows people who might be cooped up inside while social distancing to be outside and active.
"We've consistently always encouraged this … so that they can grow their own food, that they're not dependent on the grocery store," said Chance Marshall, one of the initiative's organizers and a University of Wyoming Extension agriculture and horticulture educator for the northwest region of the state. "If we can encourage people to grow their own food and perhaps eat healthier and live a better lifestyle, this would be great timing-wise to do something like that."
Although the initiative originated in Fremont County, organizers said the campaign's reach has started spreading across Wyoming and the country. One of the participants of the online class has signed on from Pennsylvania, Marshall said.
And with spring still in its early phases, now's the perfect time to begin planning what to grow and expand, or start, beds and garden space, or learn how to preserve vegetables — all topics organizers say they are ready to help with.
Since it's so early in the spring, it's too early to tell how many people that have expressed interest in the campaign are planting new gardens or expanding existing ones, but Marshall and Sprout said they expect the movement to continue to expand statewide. About 100 people have been signing on to participate in the online classes so far, Marshall said.
The idea for modeling a campaign after the world war-era victory gardens came after the COVID-19 outbreak forced the Popo Agie Conservation District to cancel its annual Garden Expo this year in addition to UW Extension canceling this year's master gardener classes, he explained.
So after discussing what to do next, the organizers pivoted to encouraging victory gardens while getting other local gardening and agriculture groups to offer to help.
"We still wanted to interact with the community and provide something to look forward to, something positive," Marshall said. "And we just kind of hashed out the idea of doing this. … It worked in the past with the world wars … where people had to be more self-sufficient and people had to grow a big garden. And so we just thought we can really push that message here in Fremont County."
With more people placing an importance on shopping locally or buying locally harvested food or produce at places like farmers markets, the Victory Garden 2020 idea is one that Sprout said hopefully resonates with many, adding that the current circumstances could further illustrate the value of being self-sustaining, or getting food from local sources — something food and agriculture educators like him and Marshall have long advocated for.
"In general, people have bought into that theory. A lot of people are like, 'Yeah, that's a great idea,' as they run to the store and go grab their vegetables," he said. "That's an important thing that's been talked about for years without any major crisis going on. To me this kind of of puts a lot of feet to the fire."
Be the first to know
Get local news delivered to your inbox!