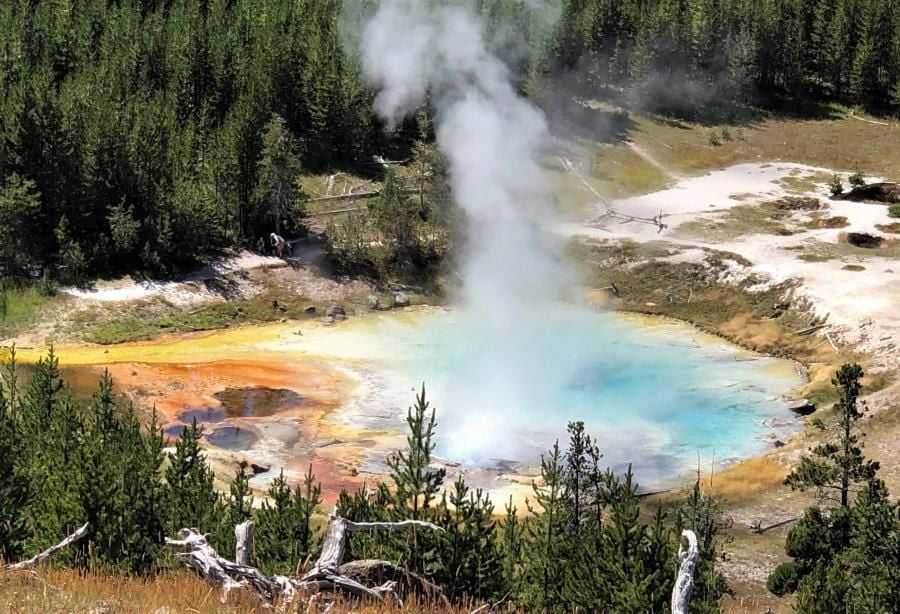 The Yellowstone Caldera quietly settled across its 1,500 square miles on Tuesday evening, uninterrupted by Yellowstone National Park visitors or the magnitude 6.5 earthquake near Challis, Idaho, that shook Boise residents to the southwest. Two weeks earlier, the Salt Lake City suburb of Magna, Utah, rattled with a magnitude 5.7 tremor that could be felt by southwest Wyoming residents.
Those two quakes, separated by 339 miles, are in relatively close proximity to the caldera, intimidatingly known to some as the Yellowstone Supervolcano. According to scientists who have spent their careers studying the area, those two recent noteworthy shakes were unrelated and have caused no threat to the Yellowstone Caldera.
"The Magna earthquakes in Utah were perhaps on the Wasatch Fault Line and perhaps near there and they are unrelated to what may happen in Yellowstone," Mark Milligan, geologist at the Utah Geographical Survey, said. "There's no relation there."
The Wasatch Fault, running on the west side of the Wasatch Mountains, extends 240 miles from central Utah into southern Idaho. While geologists like Milligan have identified several active points stretching into Idaho, Tuesday evening's activity outside Boise was not caused by movement on the Wasatch Fault nor from underlying activity at Yellowstone. If Yellowstone is impacted at all by these recent tremors, geologists are eager to watch for it in altered scheduling in geyser eruptions. After all, the 1983 magnitude 6.9 Idaho earthquake that sent aftershocks and triggered micro-earthquakes throughout Yellowstone disrupted the park's most famous geyser.
"That extended Old Faithful's time between eruptions," Michael Poland, scientist-in-charge at the Yellowstone Volcanic Observatory, shared. "All that boiling water has to find a new way out. It has to break down the new shallow conduits. I'd be curious to see after weeks of collecting data if there's changes to geyser behavior."
Poland cited multiple noteworthy earthquakes that shook the area throughout the past 50 years but never fundamentally threatened the Yellowstone Caldera. As he put it: "This is a good reminder that the Western United States is Earthquake Country."
As of 1 p.m. Wednesday, the University of Utah Seismograph Station had mapped a total of 980 tremors throughout Idaho, Utah and Wyoming since March 18. Most of those lay at least 7 kilometers beneath the surface and rattle with magnitudes of 3.4 or less, barely noticeable to the unknowing civilian. The latest readings showed nine registered earthquakes in Wyoming in the last two days, all of them occurring in the Yellowstone area.
"This is how the Western United States behaves," Poland said.
Simply put, the tectonic plates resting underneath that area are stretched, causing the various mountain ranges and valleys in the region. These plates, as Poland explained, stretched from the Sierra Nevada Mountains in central California to the Tetons. They aren't intrinsically related to one another. So despite close proximity in both geography and time lapse, not only are the recent Utah and Idaho earthquakes related, their activities don't impact the long-dormant activity in the Yellowstone Caldera.
The Yellowstone Volcano Observatory released its monthly report on Wednesday, declaring its current alert level "normal" and its aviation color code "green."
"These earthquakes are caused by tectonic extension of the region and are not related to Yellowstone, nor will they have a significant impact on the Yellowstone system," the report stated in part.
Poland did say that if the Yellowstone Caldera were to erupt it would be by lava flow rather than dramatic eruption. He shared findings that the last lava flow in Yellowstone occurred some 70,000 years ago. There have been small eruptions since, ranging from a few feet to a mile across, which happen an estimated every 1,000 years.
"That's what we consider a bigger issue," he said. "The big hazard on the human side is a strong earthquake just like what happened in Idaho in 1959. There was a 7.3 event that caused a landslide on the Madison River that killed several dozen people.
"Earthquakes are a great hazard and yesterday is a good reminder. Thankfully, it doesn't appear to cause injuries or fatalities."
Poland explained that even if Yellowstone National Park had been open to visitors, they would have been safe from any effects. While geologists continue to monitor the area for possible foreshocks leading to a magnitude 7.0 earthquake like what happened near Ridgegrass, California, last summer, the Yellowstone Caldera been left unshaken by these recent earthquakes — or the nearly 20 others throughout the region in the past 100 years.
"There have been thousands since the last time Yellowstone had any eruption of magnitude," Poland said. "It's an understandable question. We live in Earthquake Country but it's unlikely it'll change anything at Yellowstone in our lifetime."
Follow sports reporter Brady Oltmans on Twitter @BradyOltmans
Be the first to know
Get local news delivered to your inbox!