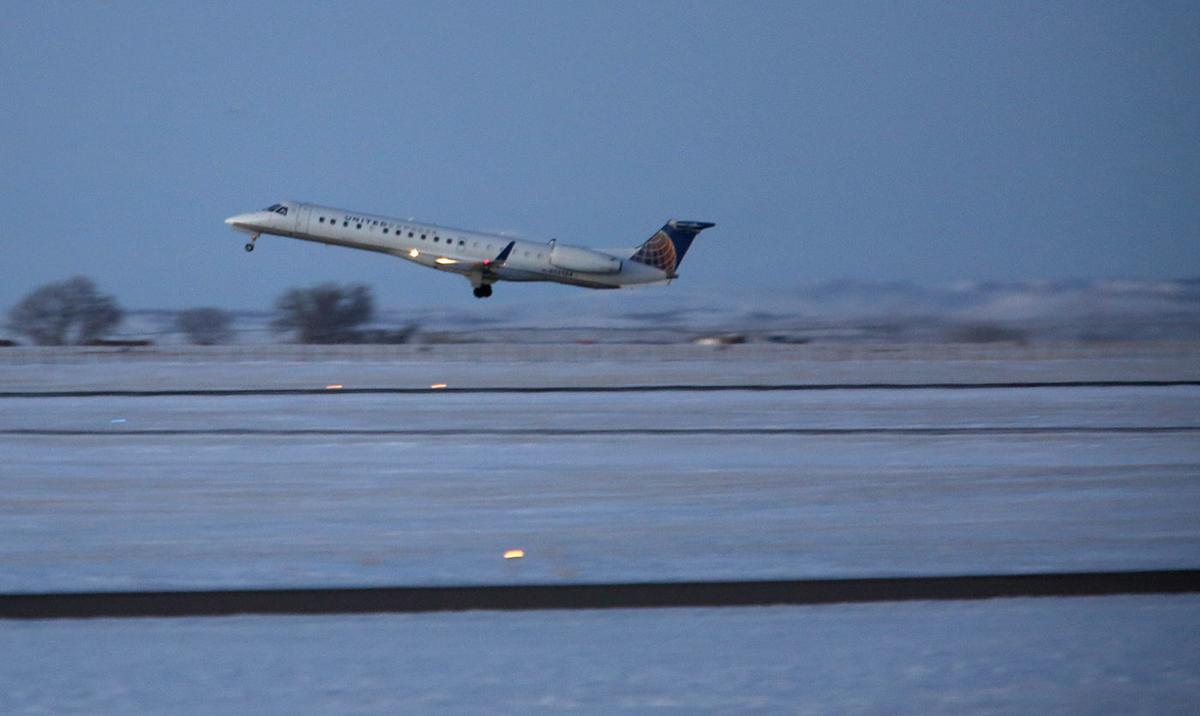 GILLETTE —In the early 2000s when Visionary Broadband was still a small company, CEO Brian Worthen would drive to Denver or Billings, Montana, to catch a flight.
Now having expanded the company into multiple states, flying out of Gillette is "huge," he said.
"It's not a good use of my time to drive five hours to hit the airline in Denver just to save a couple hundred bucks," he said.
With half of his employees working out of state, it's convenient having fast, reliable jet service at the Gillette-Campbell County Airport. Worthen estimated he's made 70 round-trips from Gillette to Denver in the past two years alone.
"We couldn't do our business without it right now," he said about the local flights.
About a year ago, Campbell County was in a good spot with its air service. It had three daily round-trip flights to Denver and passenger numbers at the airport were on a record-setting pace. Today, it's a more turbulent story.
There are two daily flights to Denver and in March, SkyWest Airlines plans to cut that to one flight on Saturdays.
While having local air service has been a boon for businesses like Visionary, keeping that at a high level in rural Wyoming can be as challenging as riding the economic booms and busts of oil and coal.
SkyWest flies in and out of Gillette at risk, which means it has no financial incentive to provide service to a smaller airport like Campbell County's. The county used to subsidize a flight to Salt Lake City, but that was pulled in favor of a third flight to Denver. It was a move that saved the county hundreds of thousands of dollars, but also left SkyWest with all the negotiating power.
Because it's flying at risk, the airline can choose to eliminate flights if they're not performing well or to focus on another market where it can make more money.
If Gillette wants to keep or add a flight, aside from writing a big check and guaranteeing minimum levels of profitability for the airline, the only thing the county can do is ask SkyWest nicely, said Commissioner Micky Shober.
Two years removed from busts in the oil and coal markets, Gillette's economy has rebounded some and is faring better than other Wyoming communities. While Campbell County deals with reduced jet service at its airport, Rock Springs, Riverton and Sheridan all are at risk of losing air service completely.
And unlike Gillette, each of those communities also receive about $900,000 from the state's Air Service Enhancement Program to help subsidize their air service. Next year, the program will have $1.4 million available, far from enough to continue air service in all three cities.
What the hubbub's about
Why a community would be willing to pay an airline to fly out of its airport is simple math, said Robert Godby, director and associate professor for the Department of Economics and Finance at the University of Wyoming College of Business.
Reliable air service from a rural community to a large hub, like Denver or Salt Lake, means much more to local businesses, he said. And for a place like Gillette, it can be the No. 1 factor in maintaining and growing the economy.
"There are four factors economic development has identified as important in a transition economy," he said, adding that's where Campbell County is as it attempts to diversify from its dependence on coal. "An economy that's rural or separated from large markets is very different from a small town that's a satellite to a larger town."
Accessing a large economic hub like Denver in about 90 minutes is crucial, Godby said. Other factors include:
Having a four-year higher learning institution that can draw outside students
Being near a national park, monument or other natural amenity
Having a community that's optimistic and willing to consider major changes to solve its problems
That Campbell County has jet service is one of the most important things it has going as it tries to reimagine the local economic base, he said. Gillette College has grown and is a nice asset, but it's not a four-year institution and doesn't have the power to be a national draw. And while Devils Tower and the Big Horns are close, they're not close enough.
"You need to have that reasonable travel," Godby said. "If you can't get there by car in an hour and a half, (air service) is determined to be really important. Air service from Gillette to Denver is less than that.
"What's really critical is you have access to that reasonable amount of time and it's not going to take you half a day and many flights to get there. In Gillette, that's a pretty common model."
With an early morning flight to Denver and late flight back to Gillette, Campbell County is set up to take advantage, Godby said. That's because someone can leave in the morning, get to Denver, do whatever business needs to be done and be back home that evening.
"Laramie has exactly the same thing, a late flight and an early flight," he said. "If you're using air service, it's more important that it's dependable (over how many flights there are). You also want jet service. Jets are more dependable and they're faster."
For many rural areas, that 90-minute access to a major hub often is the most important factor in attracting businesses and industries, he said.
"The research suggests that companies are willing to relocate and willing to look at rural communities more away from region centers if they can get to wherever they're going within one flight from a major hub airport," he said.
On the tarmac
It's that importance of air service that has inspired state lawmakers and officials to move establishing reliable air service to strategic areas around Wyoming out of the hangar and onto the tarmac.
Unstable and unpredictable air service is a killer for a rural state like Wyoming, said state Sen. Michael Von Flatern, R-Gillette, who sponsored a bill in the last legislative session that established a council to work on a capacity purchase agreement in which the state would contract with one airline to provide daily round-trip flights to Denver for the communities that chose to participate.
The bill was signed into law, and Von Flatern said requests for proposal have been sent out to at least six airlines that had expressed interest in being part of the program. The airlines have until Dec. 19 to respond.
The idea is that even if a community is too small to have air service itself, people can still have that 90 minute access to an airport that does. For example, Moorcroft or Buffalo can still easily get to Gillette to catch a flight to Denver.
The conditions of the state's request for proposals on its air service plan include three daily roundtrip flights between Gillette and Denver and at least two daily roundtrip flights for Riverton, Sheridan and Rock Springs. The airline would operate on a contract that lasts at least three years and it would charge an hourly rate.
The importance of having an airline under contract is that it can't eliminate flights whenever it wants, Von Flatern said. Although the capacity purchase agreement is between the state, airline and communities, the communities have the final say.
Shober said counties would benefit because "there's some teeth in the contract" that requires airlines to provide a consistent level of service. "If we pay (them) this kind of money, (they) have to give us some assurance they'll be reliable and on time."
Von Flatern said he hopes the air service capacity purchase agreement will get going in about a year. Until then, there is some bridge money to keep air service in Sheridan, Riverton and Rock Springs going for a little bit.
It's projected to cost $15 million over 10 years and the goal is for the program to break even after four or five years, Von Flatern said.
If that seems a steep price to pay, consider that the economic impact of air service in Wyoming is estimated at $1 billion a year, he said. Also, 20 percent of businesses in the state rely on having some level of available air service.
The Air Service Enhancement Program also can be flexible, Von Flatern said. The capacity purchase agreement does not prevent communities from trying to add other flights, so Gillette could use some money from the Air Service Enhancement Program to help subsidize a flight to another city.
At critical mass
While guaranteeing the airlines will realize a minimum return for their efforts isn't a new idea, doing it in a coordinated way at the statewide level is for Wyoming. Municipal airports have been doing minimum revenue guarantees for 14 years and "nothing's improved, air service is still unreliable," Von Flatern said.
Lorna Slattery, manager of Bursch Travel in Gillette, has been a travel agent for more than 30 years and said she has "a long list" of airlines that have come and gone at the Gillette-Campbell County Airport, from Frontier and Great Lakes to Republic and Pioneer.
"We still have people coming in weekly wanting Delta back," she said.
Examining and re-imagining Gillette's air service now is a good idea, Godby said. Even with an exodus of more than 2,000 people after mass coal layoffs in 2016, the city is still at a population of around 30,000, which makes it more attractive to national chain retailers.
It also means that while the city isn't nearly large enough to be a major hub of its own, it can be a mini-hub that attracts people from more rural outlying communities. And being able to hop on a plane here and be in Denver in less than an hour and a half is important.
"This is why (the state) is really working hard to get regional air service," Godby said. "Gillette in particular is a reasonable size. It's about 30,000 and attracting people to live there is less of a challenge. You can attract enough amenities and have a scale that's large enough for many people to not consider it a compromise to live in Gillette."
That base population also is important to the overall effort to attract new businesses and industry to Campbell County, Godby said.
"If you want to attract business to Gillette, especially if you're trying to transition away from traditional resource industries, you need to have a local population base to where people … won't think they're having to compromise their lifestyle.
"What's crucial to all of that is air service. The trip can't be too long, and the second stage of that is the air service has to be comfortable and dependable. Not having three flights a day is not that big a deal."
'We're spoiled'
Having an airport is "the same as having a good highway," Shober said.
"Nobody's going to locate to your community if they're going to have to drive a couple of hours to get there," Von Flatern said. "And as your business grows, it will rely on air service."
Shober said that years ago, Kennecott moved its corporate and sales offices and its 80 employees from Gillette because of unreliable air service.
"They never came back," he said.
The business model for Peregrine Leadership Institute is based on having reliable air service in and out of Gillette, said Olin Oedekoven, the company's president and CEO.
Whether he's flying to other countries or bringing business partners or clients in from Colorado, Switzerland or India, Peregrine relies on the local airport. It's flown in groups of officials from Nigeria and Mongolia to tour northeast Wyoming.
While many companies value a skilled workforce the most, Oedekoven said air service is even more important for him.
"We have employees all over the world. We'll find talent," he said. "But if we don't have reliable air service, that would definitely affect our business significantly."
In fact, Peregrine relocated this past summer from its former office on South Douglas Highway to a building on Highway 14-16 near the movie theater because it provides quicker access to the airport.
"If we totally lost our air service, we'd have to spend more money, drive to Casper or Rapid (City), which adds a level of logistics," Oedekoven said.
Slattery said the best part about air service now is that "the planes are getting bigger." She recalls a time when 19-passenger planes were common. Now SkyWest flies 75-seat jets out of Gillette.
Worthen said he enjoys not having to make the five-hour drive to Denver then wait a couple of more hours in the congested line to get through security at Denver International Airport.