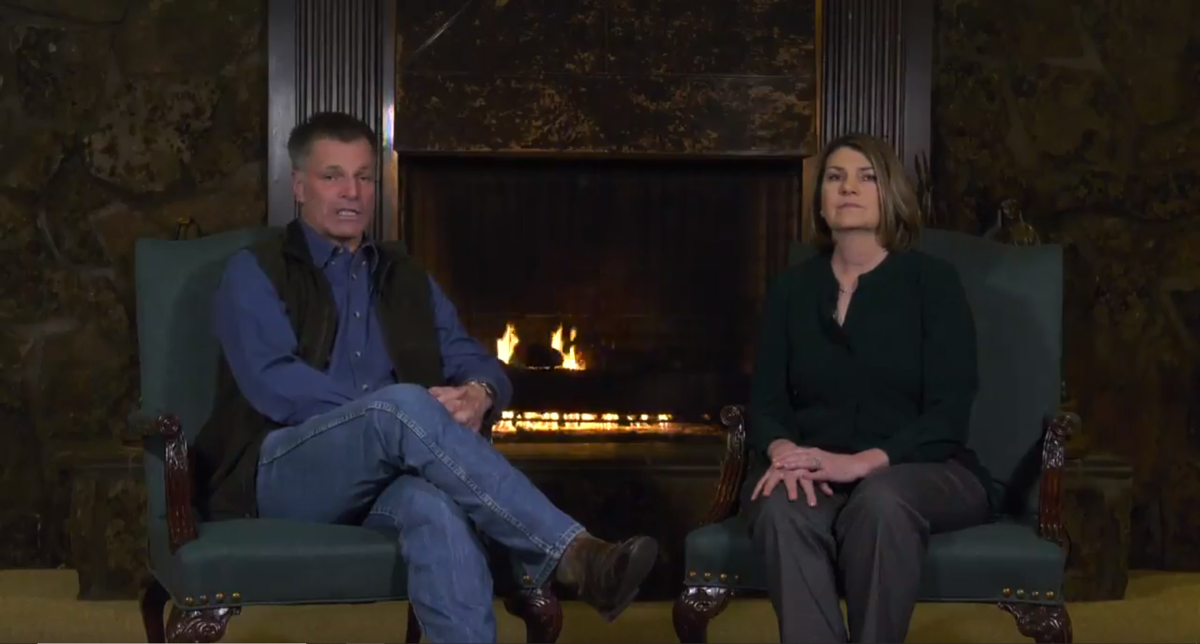 It's been a difficult several weeks for the people of Wyoming, Gov. Mark Gordon said Thursday night.
The stock market has fallen drastically, more than wiping out all of the gains made in more than three years of President Donald Trump's administration. Oil prices have declined precipitously and, as of Thursday afternoon, the state's service industry — including bars, restaurants, fitness centers and more — had been driven to a standstill, the result of a Gordon executive order closing them down until April 3.
It was a decision that the former small business owner described as "personally tough" for him to do. But it was a necessary one.
"You can tell, these are very difficult times," Gordon said in a "fireside chat" to Wyomingites broadcast on Facebook Live on Thursday night. "This is the first service sector recession we've seen."
In a roughly 15-minute address to the state, the governor — joined by first lady Jennie Gordon — offered reassurance to residents facing what could be one of the sharpest economic declines seen this generation. He talked about the need for immediate public action to stop the spread of COVID-19, a highly contagious and, in some cases, lethal disease that has spread to all corners of the planet since first appearing in China late last year.
He spoke to the need seen in other states, telling viewers of the call he received from South Dakota Gov. Kristi Noem early Wednesday morning, one of several calls to neighboring governors she had made in an effort to get more supplies to combat the virus. He also spoke of making ends meet, recalling his time as a single father raising young children and highlighting Jennie Gordon's efforts to ensure that school-age children without access to nutritious meals get the nourishment they need.
"Altogether, it really takes a village, and that village is here," Jennie Gordon said.
Finally, Gordon spoke to the need for unity in times of economic peril, hearkening back to his early days growing up in the small town of Kaycee and the ethic of cooperation residents of a small town can have when times get hard.
"That's the spirit I think will carry us through," he said.
In the meantime, the governor shared what his administration was currently doing to combat the fallout from the pandemic. He talked about his emergency declaration, which allowed for small businesses to apply for emergency loans from the Small Business Administration. He talked about his five task forces announced earlier in the week, intended to look at everything from the economic impacts of the virus to concerns within the health care system.
He even talked about a 50-governor call held Friday morning with President Donald Trump. It centered around obtaining medical supplies that, according to media reports, resulted in governors being told they were largely on their own.
However, while Gordon's address offered a message of reassurance and gratitude to those working the front lines of the virus — like health care professionals and police officers — it lacked the answers many were looking for. Throughout the governor's address, the comment section lit up demanding answers on everything from whether their rent payments would be suspended to what actions the state could take regarding service workers who, in a heartbeat, could soon be unemployed.
"People will not be able to work, and will not be getting the essential money to pay their bills," one commenter wrote. "What will you do to relieve this burden you have just put on Wyoming Workers!"
Concerned about COVID-19?
Sign up now to get the most recent coronavirus headlines and other important local and national news sent to your email inbox daily.