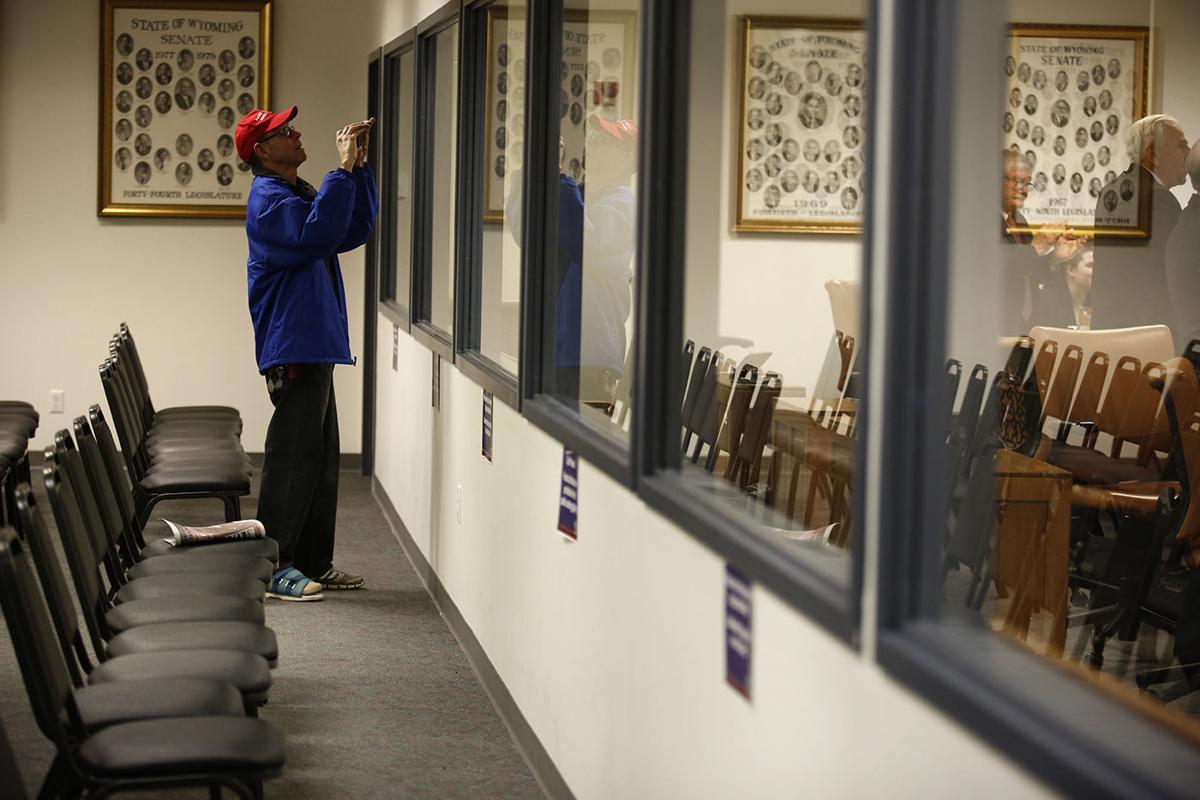 Wyoming's legislation seems ready to tackle a number of pragmatic bills meant to address the state's most pressing issues: balancing its revenues, lowering health care costs and sustainably funding education.
But it wouldn't be a general session without a number of polarizing and controversial bills popping up in the fray.
Wednesday saw a pretty substantial abortion-reporting bill enter the matrix, one that is much more significant in its reach than past iterations of the legislation. Where a previous piece of legislation only required age to be reported, the new bill would require the reporting of the woman's race, ethnicity and marital status.
On Thursday, a bill banning gun-free zones statewide also appeared in the matrix, this one with nearly 30 co-sponsors, including 13 members of the 30-member Senate.
Senate President Drew Perkins, R-Natrona County, said in a press conference Friday that the support the bill had received shows it was worth debating in the full Senate.
"I think when you have that many legislators sign on, I think it's a symbol that you have to send it to the floor and have that debate," he said. "It's easy to talk about the subject but it's in the delivery — it's what's in the bill that counts. It says 'ban gun-free zones' in the name of the bill, and that's fine; but how do you do that without trampling on private property rights? Are we going to do it in a way that allows 18-year-olds to go to school with a loaded firearm?"
"It's a passionate issue," he added, "and we'll see where it comes down."
Other bills, including an anti-discrimination bill currently floating around behind the scenes in the House, are also expected to rear their heads soon.
Gov. Matt Mead left office as nation's fifth-most popular governor: Wyoming's 32nd governor leaves office on top with a 60 percent approval rating and a 23 percent disapproval rating in the fourth quarter of 2018, according to polling data from the Morning Consult.
Last Monday was inauguration day, featuring all the pomp and circumstance that one could expect. Gov. Mark Gordon, after an early morning swearing-in ceremony, took a ceremonial oath of office in front of a massive crowd at the Cheyenne Civic Center, where he offered a sweeping and optimistic picture of his vision for Wyoming.
Wednesday was a big day, with Gordon giving the first State of the State Address of his administration. He touched on a number of themes, primarily focusing on balancing the state's ecological interests with continued energy development and expanding and growing the economy.
Following the speech, leadership for both the minority and majority held a press conference outlining their agendas for the upcoming session, as well as areas they felt they could work best with the new governor. Senate Minority Chris Rothfuss, while concurring with the GOP on numerous issues headed into the session, was the most ardent critic present, and said that the policies of both the majority and of the governor on policies like health care needed further definition.
Thursday was the day Gordon met with the press for his first news conference as governor. While broad-ranging, the governor hit a number of points on energy policy and education funding and named a number of appointments.
Perkins, who agreed that might be a good idea, said such an idea might take too long to satisfy the bill's supporters.
Bonus: Before the Senate gaveled in on Friday, a choir from the Jackson Hole Classical Academy — a private school backed by multimillionaire GOP financier and former gubernatorial candidate Foster Friess — sang a selection of tunes for the full Senate. Coincidentally, the school, which has financial backing from the Friess Family Foundation, has hired a lobbyist to support a bill that would override local zoning authority for that school's potential expansion. On Friday, Friess' group hosted a luncheon for lawmakers and GOP officials around his transparency efforts. Sec. of State Ed Buchanan was also reportedly in attendance.
Sen. John Barrasso & Sen. Mike Enzi co-sponsored the Constitutional Concealed Carry Reciprocity Act, which would allow individuals with concealed carry permits in their home state to exercise those rights in any other state with concealed carry laws, while abiding by that state's laws.
Rep. Liz Cheney signed on as a cosponsor for a bill to defund Planned Parenthood during the government shutdown and, after a Monday night address by President Donald Trump on border security, toured the TV circuit to call for Democrats to agree to fulfill the president's request for border wall funding.
A bonus: After Rep. Steve King, R-Iowa, questioned when the word "white supremacist" became an "insult," Cheney took to Twitter to denounce the use of what she called "abhorrent and racist" language.
Have any tips or suggestions to make this newsletter better? Let me know! Call me at 307-266-0634, email me at <&underline>nick.reynolds@trib.com</&underline> or follow me on Twitter, <&underline>@IAmNickReynolds</&underline>
Follow politics reporter Nick Reynolds on Twitter @IAmNickReynolds