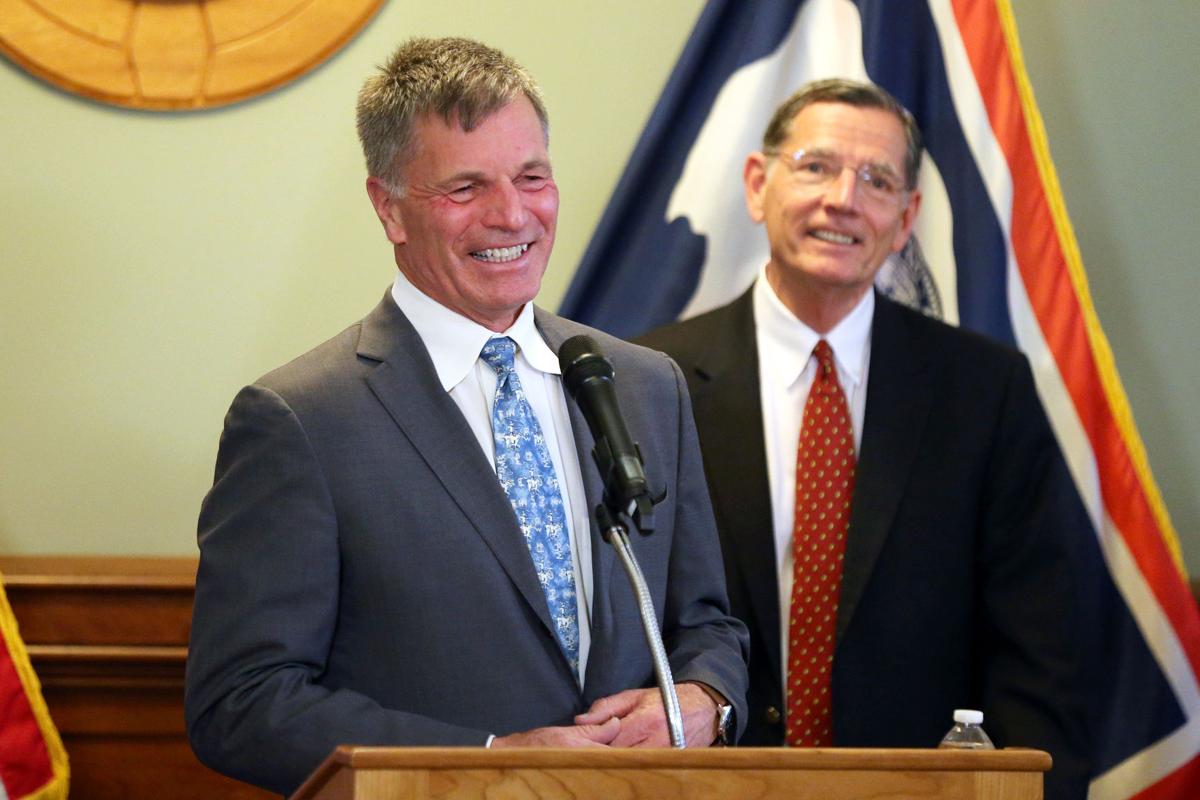 Gov. Mark Gordon has been making big news on hot-button federal issues over the last few weeks, earning him a varied track record when it comes to his relationship with the Biden administration.
When I asked Gordon's communications director what exactly this mismanagement was, he declined to provide a comment, but pointed me to Abbott and Doucey's letter.
"Securing our border with Mexico is the federal government's responsibility. But the Biden Administration has proven unwilling or unable to do the job. This failure to enforce federal immigration laws causes banns that spill over into every State," the letter read.
When I asked the White House why they chose Gordon, they sent the following in an email:
"Wyoming faces the same threats as other states, including the impact of extreme wildfires that threaten our homeland," a White House official told the Star-Tribune. "Additionally, [Gordon] represents the nation's leading energy exporting state and, in his role as Governor of Wyoming, works to protect critical national infrastructure."
This dichotomy will become ever more interesting once it becomes clear how Wyoming's effort to help at the southern border will be paid for. Right now, that hasn't been decided, but Gordon's office is confident the state will have the money to fund this venture, a spokesperson said Thursday. In nearby North and South Dakota, a large portion of the efforts were paid for with federal dollars (in addition to private donations in South Dakota.)
Gordon has a similarly contradictory track record when it comes to Wyoming's energy sector and the federal government.
Gordon, like most other statewide elected officials, has been outspoken in his criticism of the Biden administration's oil and gas federal lease moratorium. Gordon went as far as to sue the Biden administration over the president's decision, claiming it violates several federal laws.
On the flip side, the governor is working with the federal government on a different energy issue. Last month, he announced that the state would work with Bill Gates' TerraPower, the U.S. Department of Energy and Rocky Mountain Power on siting a nuclear reactor inside a coal-fired power plant.
One could make the argument that these decisions align because they all have Wyoming's best interest in mind. But Gordon's decision to assist at the border challenges that argument. Critics say Wyoming does not have that kind of expendable money (if the state ends up paying for it), is not a border state, nor is it home to a large population of undocumented immigrants.
None of this is to say that Gordon's relationship with the federal government has to be consistent, but it will be interesting to watch how public opinion on the competing decisions grow and change in the coming months.
With the 2022 election coming up, the moves Gordon is making on issues of importance to the right could benefit him, but will his pragmatic balancing act end up back firing? When Gordon is on the campaign trail, he will have a number of accomplishments he can cite, such as the nuclear plant. But his opponents will also have low hanging fruit to pick — that Gordon, the governor of the Trumpiest state, is too cozy with Biden.
It remains to be seen whether that will move the needle come next year's Republican primary.
Follow state politics reporter Victoria Eavis on Twitter @Victoria_Eavis