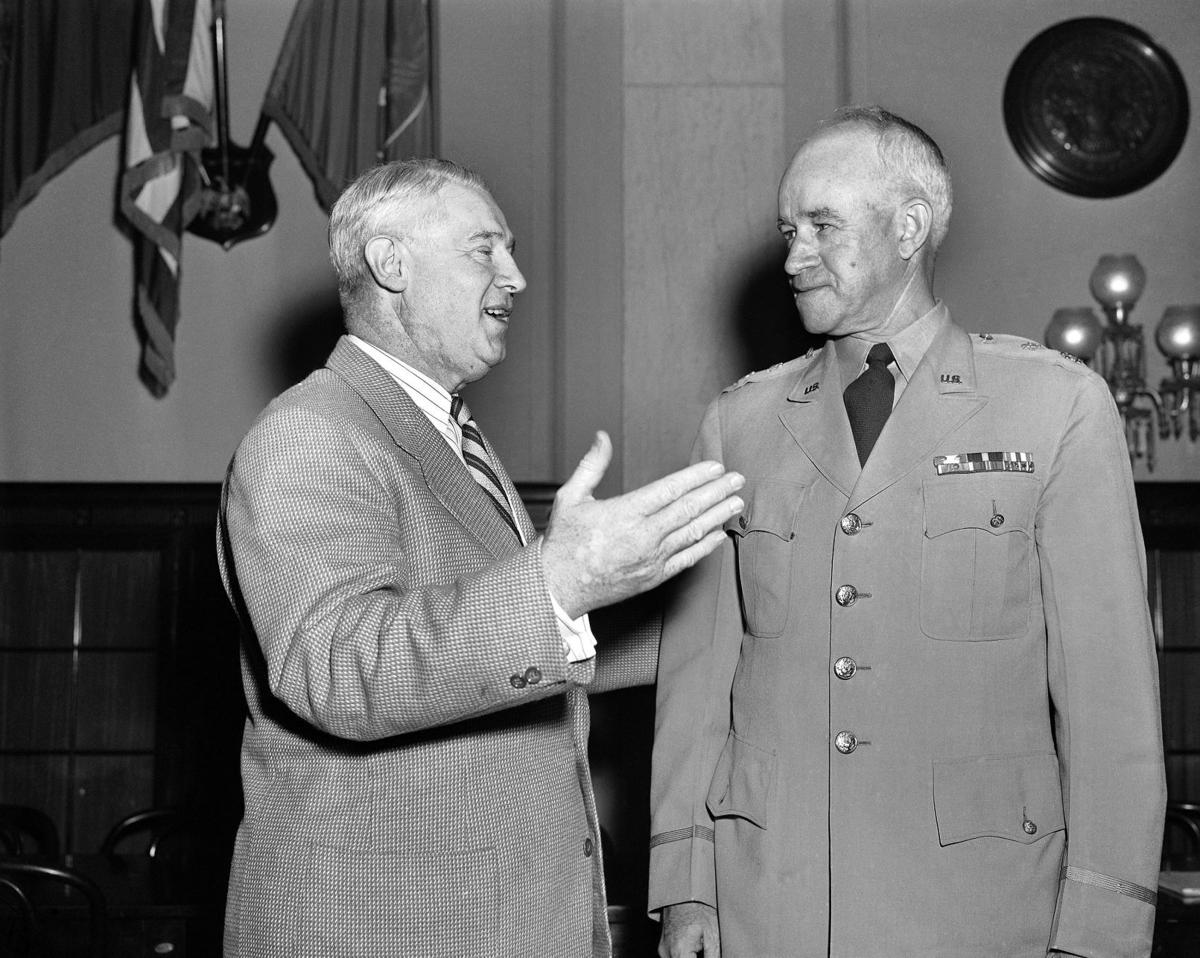 When Wyoming elected Lester Hunt to the U.S. Senate, the Lander resident was already one of the most popular figures ever to represent the Equality State.
A former semi-pro baseball player, dentist and later Wyoming's two-term Secretary of State, Hunt would go on to become the first-ever person to serve two consecutive terms as governor of Wyoming and, in 1948, rode that pedigree to an overwhelming victory over Republican incumbent Edward V. Robertson.
In Wyoming, his political legacy would be longstanding, defined primarily by the implementation of a retirement system for the state's teachers, a bitter showdown with Franklin Delano Roosevelt over control of Jackson Hole and a willingness to denounce deplorable living conditions for Japanese citizens interned in camps at Heart Mountain.
On the national stage, however, Hunt would come to be known for something else: his rivalry with infamous Republican Sen. Joe McCarthy that would, eventually, come to a close with Hunt's suicide in his Capitol Hill office.
Hunt lived next door to McCarthy throughout his time in Washington, and, while close to him in address, would become a diametric opposite of the Wisconsin senator throughout his one term in office. A Democrat and a seasoned politician, Hunt was a foil to McCarthy, acting as a common critic of McCarthy and his aggressive tactics throughout the "Red Scare" period of the late 1940s through the early '50s.
It was also a foolish challenge. Though McCarthy was swept into office the same year as Hunt, he would quickly leverage his way into becoming one of the most powerful men in the country, unwilling to yield to any challenge of the freshman Wyoming senator.
And in 1953, he found his opening: Hunt's son, Lester Jr., was arrested attempting to solicit a male detective in Lafayette Park. The news later made its way to the ears of Hunt's opponents — and McCarthy's Republican allies — in the Senate, who threatened to publicize the arrest with 25,000 flyers to Wyoming voters if Hunt didn't resign, a move that would have potentially swung the balance of power in Washington to the Republicans and to McCarthy.
Hunt initially refused. Months later, he shot himself in the head with a .22 caliber rifle.
For Larry Tye, a former Boston Globe journalist and now political biographer, the story of Lester Hunt was one that deserved to never be forgotten, standing as a defining example of how totalitarian impulses left unchecked in American politics can have real consequences. It is also a key story in his new book, "Demagogue: The Life and Long Shadow of Senator Joe McCarthy," in which the author explores the lives ruined — and lost — at the hands of McCarthy.
It's a story, Tye said, that remains relevant today.
"It teaches us that bullies can intimidate people and do intimidate people, and there are people today who are using Joe McCarthy's playbook in a way that scares me," he said. "We've got to understand that Joe McCarthy's story and the story of McCarthyism is not just the story of American history — it's a story of today."
The Week AheadFourth of July week. No state events planned.Have an event you'd like highlighted here? Email me with the date, time, and place!Wyoming PoliticsCiting lack of funding, Legislature will postpone study of UW's governance structure: The study was intended to investigate the secretive processes that led to the ouster of former president Laurie Nichols and the investigation of several top officials at the University. (via Trib.com
)


Governor preps bid for Occidental land, leaving Legislature out: Gordon's administration is preparing a July 1 bid to Occidental Petroleum for 1 million acres of land and 4 million mineral acres, using a process that won't require legislative approval. (via WyoFile
)


Wyoming Democrats tell candidate to drop out, calling his comments anti-Semitic, misogynistic: In tweets, James Kirk DeBrine questioned the faith of a Jewish opponent and appeared to suggest that a candidate with multiple children would not be able to competently serve in office. (via Trib.com)Around Wyoming
U.S. Justice Department 'actively monitoring' Wyo health orders: The U.S. attorney for the District of Wyoming has told health order critics he is monitoring state- and county-imposed restrictions to stop the COVID-19 pandemic but stopped short of saying he found any violations of the U.S. Constitution. (via WyoFile
)


NWCCD president: 'As much as I want to,' colleges just can't afford athletics programs: Lack of funding from state legislature and no special session led Wyoming community colleges to cut athletic programs late last week. (via The Gillette News-Record
)


Reopening Teton County schools could be pricey puzzle: Teton County School District No. 1 Superintendent Gillian Chapman told the district's board of trustees Wednesday night that a full reopening could cost $1.2 million. The problem is, beyond the eye-popping price tag, there are no easy answers to some of the most pressing operational questions. (via the Jackson Hole News & Guide)Eye On Washington
John Barrasso & Mike Enzi
both signed on to a letter calling for additional regulatory relief for the meat processing industry, writing in support of immediate actions to "promote a diversified food supply chain."


"Regulations must be streamlined to remove barriers impeding small and medium-sized meat processors," they wrote.
to support Israel's efforts to annex settlements in the contested West Bank despite condemnation by the international community, telling the Star-Tribune in a statement that "The UN has a long history of actions intended to isolate and delegitimize the state of Israel."


Have any tips or suggestions to make this newsletter better? Let me know! Call me at 307-266-0634, email me at nick.reynoldolds@trib.com">s@trib.com or follow me on Twitter, @IAmNickReynolds
Get Government & Politics updates in your inbox!
Stay up-to-date on the latest in local and national government and political topics with our newsletter.