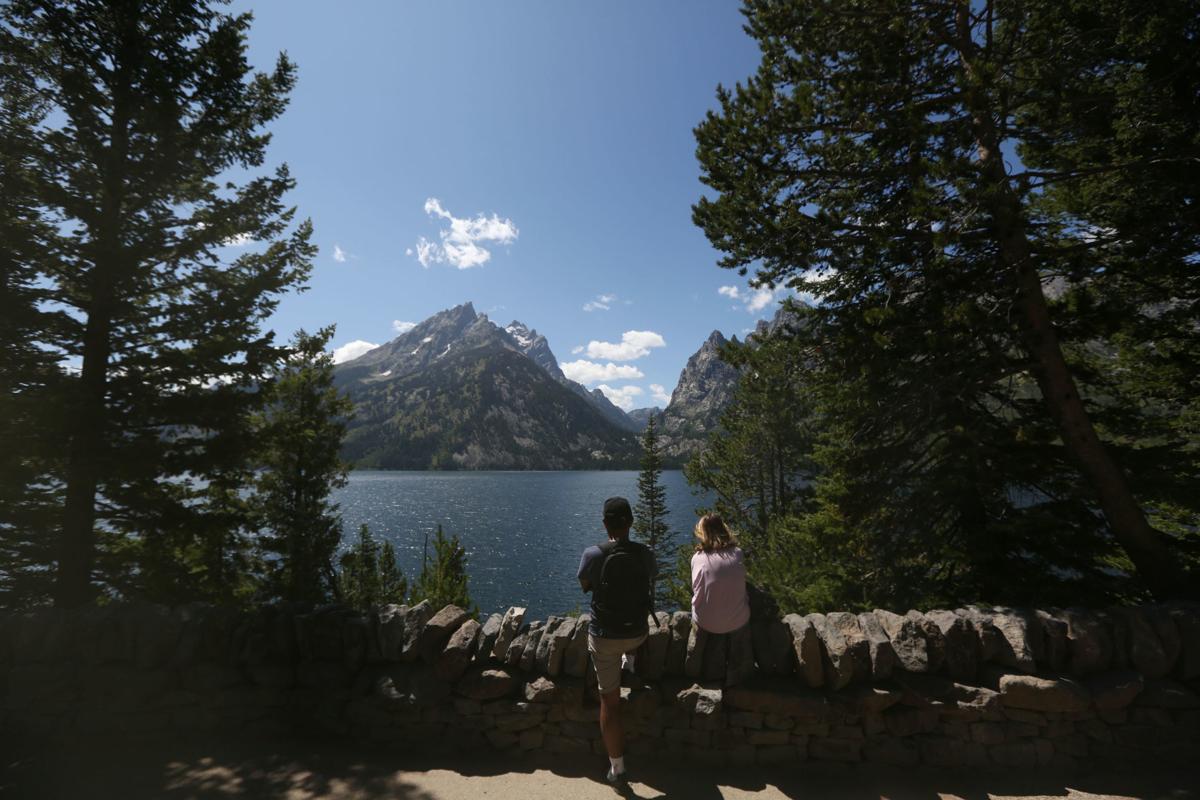 Wyoming native Rob Wallace is optimistic about America's national parks system.
A longtime fixture in the halls of Cheyenne and Washington D.C., the former park ranger now finds himself occupying one of the highest posts in the Department of the Interior, his finger on the pulse of everything from land deals and tribal affairs to the national parks that, for more than a century, have acted as the nation's backyard.
Back in Wyoming for site visits to Yellowstone and Grand Teton national parks and the National Elk Refuge over the weekend, Wallace – who has been in the post for nearly a year now – is well aware of the importance of those places, particularly for Wyoming. According to a report by the Department of the Interior released last week, the national park system helped generate approximately $42 billion to the nation's economy last year, a number that has only been growing over the past decade. It was set to go even further in 2020, presenting a rare bright spot for Wyoming as its traditional sources of revenue – coal, oil and gas – continued to slip, putting the state's finances in jeopardy.
Then, the COVID-19 pandemic hit, and the state couldn't count on Wyoming's one sure thing: its intrinsic beauty. Tourism numbers tanked and, even with new safeguards in place and two rounds of negative tests for all of Yellowstone's employees, visitation has fallen well short of expectations heading into the 2020 tourist season.
It's a damaging trend for the parks, which already faced a nearly $12 billion maintenance backlog and increasing scrutiny over its finances throughout the past several years. Congress, however, is close to a solution. Last week, the U.S. Senate overwhelmingly voted to advance the "Great American Outdoors Act," a sweeping piece of legislation to help pay for those projects while permanently covering the Land and Water Conservation Fund – a longtime thorn in the side of budget hawks in Washington wary of additional mandatory spending.
The bill's likely bipartisan success is a huge election year story for conservation groups, particularly as talks at the federal level to privatize many services in the park to save money – which can have any number of positive or negative consequences on user experience – have made little progress. Even lawmakers who have proven to be consistently hostile to conservation efforts, like President Donald Trump, Colorado Sen. Cory Gardner and Montana Republican Steve Daines, have come around to support the bill.
It could also mean a lot for the health of Wyoming's signature attractions, many of which still have significant tracts of privately owned lands within their borders that could be purchased using Land and Water Conservation Fund funding: According to a March report from the Coalition to Protect America's National Parks, 2.6 million acres of land within park borders are still privately owned across the entire system, including 924 acres within Grand Teton National Park.
"This is one of the few times in my professional experience where the President of the United States and the minority and majority leadership in Congress have aligned on a very consequential piece of legislation that I think will be generational if they're able to follow through on enactment," Wallace said in an interview with the Star-Tribune on Friday. "And so far it looks pretty good."
That's not to say the legislation didn't have its enemies, as 18 lawmakers – including both of Wyoming's senators – came out to oppose the bill on a procedural vote last week.
In a series of emails to the Star-Tribune, spokespeople for both senators said that neither lawmaker opposed the spirit of the bill, but rather the guts of it: namely, the lack of a clear answer on how to fund it in the long-term. Sen. Mike Enzi, who has long harped on the backlog, saw a proposed amendment to the bill to increase user fees to "responsibly" fund the backlog fail to get included. Meanwhile, Barrasso – who had similar concerns about the financial obligations in the bill – thought its legislative intent overstepped the role the federal government should play in conservation efforts.
"I support the Land and Water Conservation Fund (LWCF) and the many wonderful projects it supports in Wyoming," he said in a statement. "Over the years, the program funding shifted from being locally focused to being primarily Washington focused. Instead of returning the LWCF back to its original intent, the Great American Outdoors Act gives Washington more authority to buy private land in Wyoming. We can't afford to maintain the public lands we already own. It's irresponsible to add more to the mix."
While funding the LWCF could be an imperfect win for the National Parks System, in the long term, the Department of the Interior is still unsure of the future course of the parks and their gateway communities, particularly as visitation is expected to lag well into 2021 and beyond. However, the initial sugar rush from the permanent authorization of the LWCF could be just the jolt communities need to chart their recovery, Wallace said.
"There's gonna be a lot of staying power in what the national parks have to offer to the state and to the public at large," he said. "No matter what kind of economic cycles, the state is kind of working their way through those, those icons are always going to be a draw to people. And that's what's special about this Great American Outdoors Act. It's going to provide a baseline of funding to upkeep things and make them even more friendly. It's just going to be a very wise investment of funds to the benefit of the entire state of Wyoming."
The Week AheadNote: The author will be on a company-mandated furlough this week and will not be producing a newsletter for next Monday. I'll be back in the office on June 22!Monday:
None.


Broadband, Mental Health and Substance Abuse Task Forces to meet remotely.


None.


None.


None.


None.


Have an event you'd like highlighted here? Email me with the date, time, and place!Wyoming Politics
Northern Arapaho tribe's Grey Bull announces bid for U.S. Congress: If elected, she would become the first Native American from Wyoming to hold federal office. (via Trib.com
)


Supreme Court rules Wyomingites can change sex on birth certificate: The Supreme Court reversed a Laramie County District Court decision made by Judge Peter Froelicher that stated the court didn't have subject matter jurisdiction to change an individual's sex on her birth certificate. (via The Wyoming Tribune Eagle
)


Wyoming legislative leadership calls off June special session; future session possible: The Wyoming Legislature will not be meeting in a special session later this month as anticipated, legislative leadership wrote in a letter to members Thursday, potentially delaying several bills intended to offset the effects of the COVID-19 pandemic until later this summer or the fall. (via Trib.com)Around Wyoming
Educators discuss issue of hazing in Wyoming: The Wyoming Legislature will create a working group between lawmakers and educators around the state to create a uniformed definition and approach, develop education and create a reporting requirement related to hazing. (via The Sheridan Press
)


After illegal closed meeting, county tourism board to hold emergency meeting: The Converse County Tourism Board held an illegal meeting to discuss the state fair's advertising budget. After being called on it by the local paper, they were forced to throw out the results and start over. (via The Douglas Budget
)


First crops near Powell are planted: The first commercial hemp crop in the Powell Valley was planted this week by Dale Tenhulzen, CEO and president of MHF (Mother's Hemp Farms). Justin Loeffler, president of the Wyoming Hemp Association, said Tenhulzen's 137 acres is likely the largest hemp growing operation in the state. (via The Powell Tribune)Eye On Washington
John Barrasso signed on as a cosponsor to S.Res. 613
, a resolution calling for justice for George Floyd and opposing rising calls to defund the police. The defund the police movement – which comes from the larger dialogue around the profiling and killing of unarmed men and women of color in America – refers to shifting spending from law enforcement into social programming in underserved areas.


focused much of his efforts last week on reforming the LWCF, but also took pains to write Health and Human Services Secretary Azar about his concerns for the Strategic National Stockpile's ability to meet the demand for critical supplies in the wake of unprecedented health emergencies.


"Our experience over the last few months has shown that SNS inventories are not sufficient to meet the surge in demand for supplies needed by frontline providers, which is troubling given the possibility of a second wave of coronavirus infections this fall that could coincide with flu season and an 'above-normal' hurricane season," Enzi wrote.
introduced a bill allowing meatpacking plants inspected by state jurisdictions to sell meat in interstate commerce, a major win for ranching groups who argue they are disadvantaged by the current system of USDA-certified plants.


R-CALF USA – a hardline ranchers' group who praised the legislation Friday – said that state-inspected meatpackers have "long been discriminated against by the Federal Meat Inspection Act," which allows imported meat products produced in foreign plants an unfair advantage against domestically-produced meat.
Have any tips or suggestions to make this newsletter better? Let me know! Call me at 307-266-0634, email me at nick.reynoldolds@trib.com">s@trib.com or follow me on Twitter, @IAmNickReynolds
Get Government & Politics updates in your inbox!
Stay up-to-date on the latest in local and national government and political topics with our newsletter.