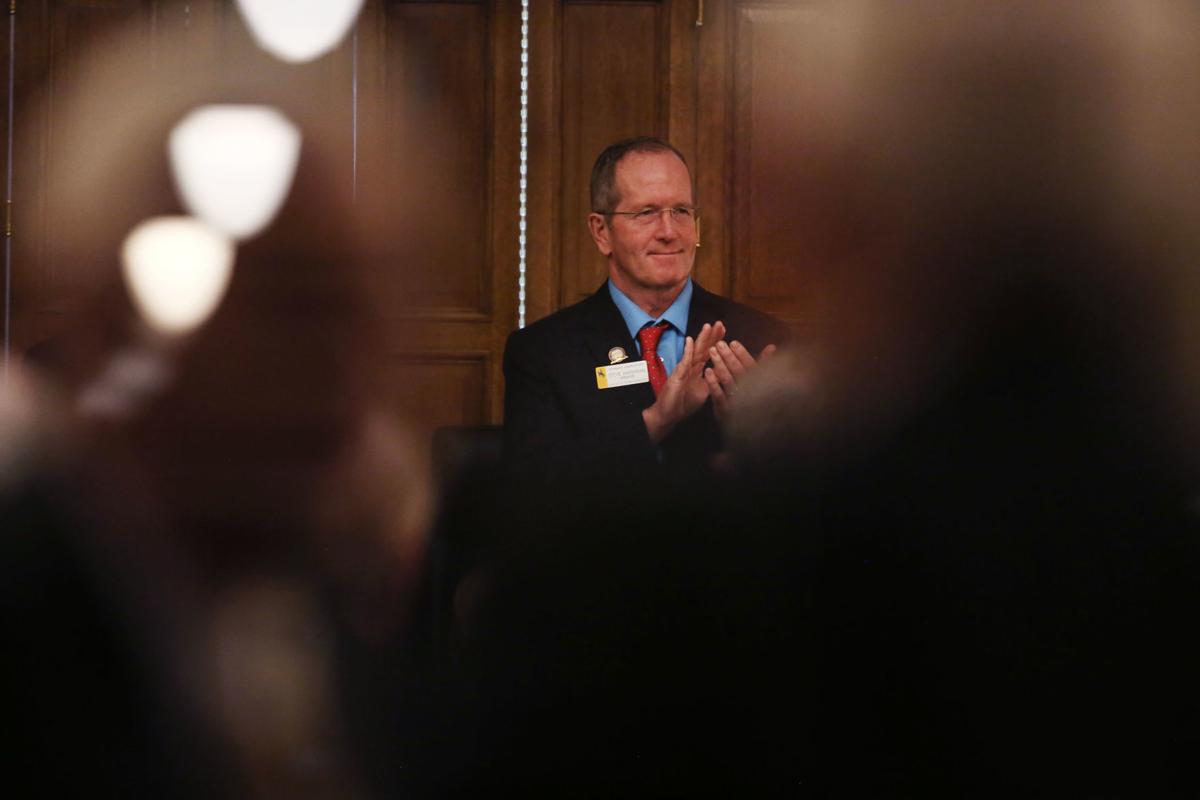 CHEYENNE – Until Steve Harshman came along, only one other person in Wyoming's history had ever served two consecutive terms as speaker of the Wyoming House of Representatives.
That man's name was Jerome S. Atherly of Worland. His tenure ended more than a century ago.
By design, tenures like Atherly's and now Harshman's, are designed to be a rarity. Fresh perspectives and fresh ideas have helped to keep the institution dynamic, willing to take on new challenges and encourage new blood to rise through the ranks. But Harshman's tenure as speaker, which began four years ago, came on the cusp of interesting times: one of the worst busts in the state's history, massive cuts to education and the charting of a new course for Wyoming that, when the Legislature adjourned Thursday, is still in the process of being written.
Next year, it is all but certain there will be a new face at the head of the room. It is also certain what issues the Legislature will be grappling with: shrinking revenues, a volatile extractives sector and a fiscal cliff projected to put the state hundreds of millions of dollars behind where it stands today. It is all but certain that spending will be cut and, as many lawmakers have come to realize, it is even more certain that those cuts likely will not be enough to keep pace with the needs of the state.
What is uncertain now is what will happen this autumn, when voters go to the polls and when Wyoming's citizen lawmakers take on the toughest conversation they may have in their political careers: the need for their constituents to start paying their fair share to keep the government operating.
Some, it seems, aren't ready to have that conversation. Already, nearly 20 long-term lawmakers between the House and Senate are rumored to be contemplating or have decided on retirement, according to several sources interviewed by the Star-Tribune, including top names like Minority Floor Leader Cathy Connolly, House Education Committee Chairman David Northrup and Senate Appropriations Committee member Wyatt Agar. Two top lawmakers – Sens. Hank Coe, R-Cody, and Eli Bebout, R-Riverton – having already announced their intentions to exit this week. Others, according to those sources, remain on the fence, waiting to see what candidates emerge who are willing to take their place.
It was a similar dynamic to one seen several years ago, when more than 20 lawmakers jumped ship at a time when the Legislature was in the midst of some of the deepest spending cuts in state history.
"It was the first year you started seeing some of the old-timers leave who weren't sure what was going on or what things were going to happen or who, frankly, did not want to make those tough decisions," said Rep. Landon Brown, R-Cheyenne, one of the lawmakers who was swept into office at that time. "And that was fine – I'm not blaming them or anything like that – but you're starting to see that again now.
"Nobody wants to be the guy to pass along a tax increase," he added.
The 2020 elections, however, will more than likely be a referendum on that very issue, as lawmakers eager to see themselves with few options left to get the state's finances back on track, particularly as old crises like coal bankruptcies and new ones – like the coronavirus outbreak and foreign price wars over oil – pose increasing challenges to the state's finances.
Incumbents concerned about finding a solution to that issue – particularly Republicans — now face a challenge in how to articulate the issue and its solutions to their constituents, or face likely defeat to candidates closely affiliated with party committees and organizations completely opposed to new taxes.
"The question I'm going to be looking at this election season is how well the people who do get out and vote, but don't get involved in party politics, will actually be involved in the conversation," said Gail Symons, the founder of public engagement group 307 Civics and the Frontier Republicans political action committee, said in an interview at the Capitol. "We can't cut our way through this – we're going to have to find a way to deal with the loss of revenues and have that tough conversation. What needs to be seen is how the strident 'no new taxes' folks will feel the pressure to have a broader conversation."
Those driving the conversation – like Gov. Mark Gordon – said in a press conference Friday afternoon he doesn't believe that the state is likely to change its notoriously frugal and thoughtful way of doing business. Nor – as he's said throughout his tenure – does he believe that raising taxes is a necessary step until all options have been weighed out.
However, those options, he acknowledged, are somewhat limited.
"The people of Wyoming need to understand that simply saying 'I want to cut somebody else's program' is not good enough," he said. "What the makeup of the Legislature is going forward is anybody's guess, and I will work with whoever the people of Wyoming elect to those positions."
Speaking to those challenged incumbents in his farewell address Thursday night, Harshman stressed that whatever their conscience is on finding new revenues, lawmakers make their decisions – and run their campaigns – with the state's best interest at heart.
"Always know this institution is bigger than any of our little campaign deals," said Harshman. "Because we'll all be one of these dead folks on the wall soon enough.
"So remember this," he added. "If you run again for the Legislature, make sure you're not running against the Legislature."
Get Government & Politics updates in your inbox!
Stay up-to-date on the latest in local and national government and political topics with our newsletter.