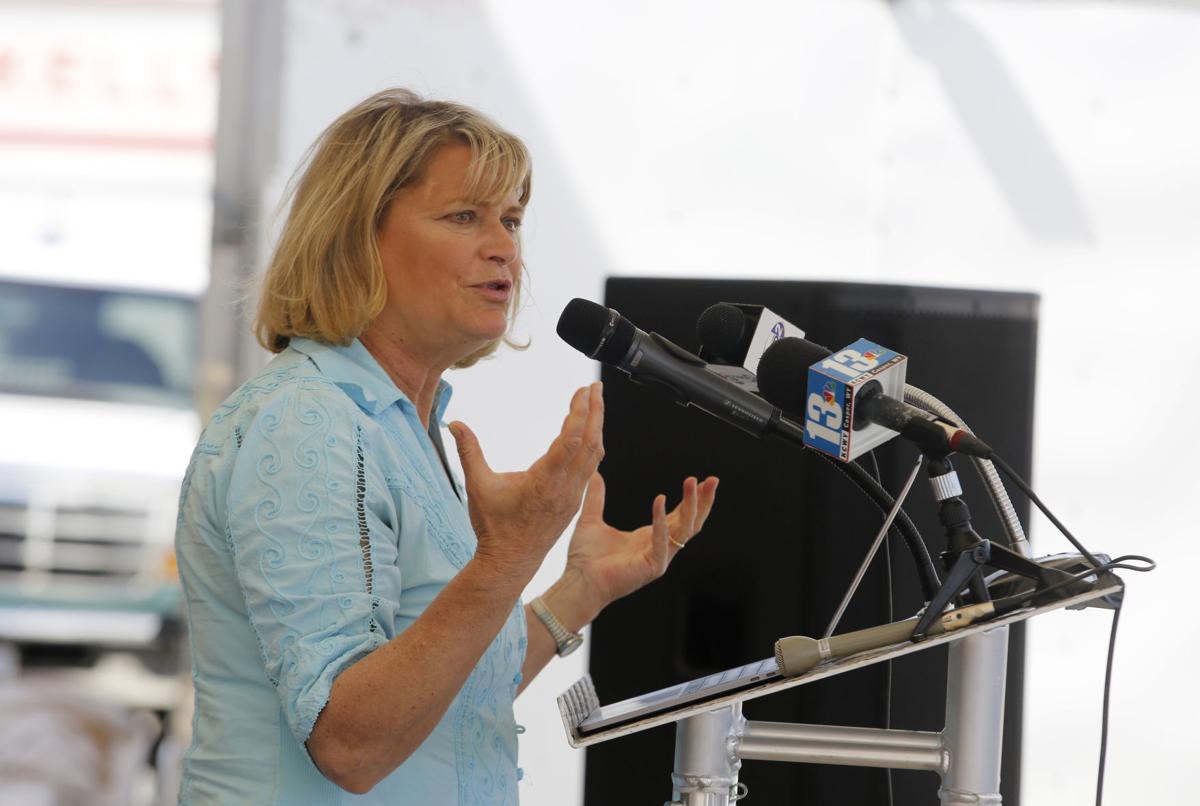 It caught more than a few people by surprise when U.S. Senate candidate and former Sheridan County Republican Party Chairman Bryan Miller defeated presumed frontrunner Cynthia Lummis, a former U.S. congresswoman and a hard-line conservative, by a double-digit margin in the Wyoming Republican Party's straw poll at its convention last week.
After all, Miller — a party insider and now the preferred candidate of the party establishment — has nowhere near the endorsements Lummis has, particularly the graces bestowed on her by Sen. John Barrasso and retiring Sen. Mike Enzi, the man she seeks to replace. Miller also lacks the financial backing his opponents have, with candidates like Lummis and Converse County Commissioner Robert Short far ahead of him in overall fundraising, according to the Federal Elections Commission.
So how is it that a man who lacks the traditional credentials of successful federal candidates from Wyoming becomes the choice of a majority of convention-goers?
In an interview with the Star-Tribune on Thursday, Miller chalked the win up to good old fashioned hustle — he said he'd visited events in 11 counties over the past week — and what he described as a growing desire for change in Wyoming Republican politics, something he said was reflected at the convention.
"One of my primary competitors has a whole lot of endorsements from people back in Washington," Miller said of Lummis. "Well, that's not going well for her. People don't like that. The endorsement that matters is the people of Wyoming. It really does.
"It's the state — the people here — that need to endorse you," he added. "You don't need to get endorsements from the rest of the world."
Others — particularly his opponents — are questioning the veracity of a poll that was not only conducted at the end of the convention (after many had left) but was also at a convention where attendance was notably smaller. On the Republican Party's Facebook post promoting the results, numerous commenters questioned the validity and rigor of the poll, equating it to "a train wreck" and a "total disgrace," while others pointed to the number of people who participated in it — primarily party loyalists — as proof that the results were skewed.
The fact that the final voter count was less than the initial body count at the convention was also of concern. Matt Micheli, the former chairman of the Wyoming Republican Party, told the Star-Tribune there were more than 1,000 people in attendance at the party's 2016 convention, compared to the fewer than 400 who attended a 2020 convention where attendance was already hampered by concerns around the COVID-19 pandemic.
"It was the smallest convention that I've been to," Micheli said. "I don't know if that's anybody's fault. That's just the reality. There were fewer people there than really any of the conventions that I've seen in the last decade."
The numbers seem to show it. While Miller dominated the poll, in all, just 126 people at the convention voted for him, giving Lummis 65 votes and most of the rest to Short.
For some observers, the state party's ensuing publication of the straw poll — the first such poll at the convention for a U.S. Senate race since 1996 and the only poll conducted over the weekend — on its Facebook page was seen as the state central committee putting their thumb on the scales to favor Miller, a hard-line partisan with direct involvement in crafting that platform. Micheli noted that in his time in party politics, the party often shied away from conducting straw polls for any candidate but president for fear of appearing biased toward any one candidate.
"Statutorily, a party has to be careful, because Wyoming statutes prohibit the party from giving support to any candidate in the primary, so it's statutorily forbidden for the party to pick one candidate in a primary and support that candidate," Micheli said. "And I think when you start doing a straw poll, you worry about that. And I think that was part of the reason not to do them before."
Already, critics of the poll see it as an effort by the party to reduce support for Lummis, whose support from large business groups like the U.S. Chamber of Commerce has hampered her support with some in party leadership despite her well-established, ultraconservative credentials, including well-documented opposition to policies like abortion access and gun control while establishing powerful conservative coalition groups like the House Freedom Caucus.
"Cynthia has never been a darling of the Republican Party establishment," her campaign manager, Kristin Walker, wrote in an emailed statement to the Star-Tribune. "She sticks close to the conservative and constitution/liberty leaning grassroots."
Then there's the question of whether the say of the party is truly representative of Wyoming's Republican voters.
The state central committee — after last weekend's convention — is now almost fully controlled by the most conservative activists residing in the state's most rural counties and arguably votes much differently from the Wyoming electorate writ large, which still consistently elects candidates who fall short of the party's gold standard of 80 percent adherence to the party platform. Already this year, the far-right elements of the state central committee have dominated their more moderate counterparts to the point where resistance coalitions within leadership no longer have the votes to impact party policy.
This was something Miller seemed to recognize. When asked whether the low turnout of the convention could potentially distort the amount of support he actually has, however, he pointed to well-attended young Republican events around the state and what he believes is a growing shift in the state's conservativism away from the more moderate elements that once reigned dominant in the state party.
"People are tired of the division," he said. "They're tired of the massive division that we have in Washington, D.C. and between the parties, and they're not going to put up with someone, internally within the party, trying to cause problems. And that's what was shown on Saturday when it went from that about 70/30 split within the Republican Party — which it's always been — to about 85/15. That is significant. That's what they ought to be looking at. They're complaining about an illegitimate convention, when there was nothing illegitimate about what happened."
There could be some validity to the theory. In some parts of the country, there seems to be a growing sense of momentum in the far-right wing of the party's politics. Thursday's interview happened nearly one week after the state party's uber conservative leadership had all but taken over the state party infrastructure and mere days after a number of established GOP incumbents were ousted in local and congressional primaries in rural districts around the country.
Last week in Colorado, a five-term GOP congressman was ousted by a gun-toting restaurant owner with a professed belief in fringe conspiracy beliefs while, nationally, established Republicans have regularly seen their political careers end at the hands of much more conservative candidates. In West Virginia this year, 10 sitting Republican legislators (including a former state House majority leader) lost their primaries, while states like Montana and Idaho have seen a similar trend in their own party.
Lummis is an interesting case. Despite her position as a former establishment pick, she boasts longstanding conservative credentials and an unflinching support for President Donald Trump's agenda that, to this point, has appeared infallible.
Whether the trends seen in other states will apply to Wyoming politics — and whether that could be a reasonable conclusion from the party's straw poll — likely won't be known until later this summer when the state's Republicans go to the polls.
Either then, or whenever a better poll comes out.
State Loan and Investments Board meets to discuss potential land purchase from Occidental Petroleum.


None.


Joint Subcommittee on Mental Health & Substance Use meets remotely.


Wyoming's Tomorrow working group meets remotely.


Joint Committee on Transportation, Highways & Military Affairs meets remotely.


None.


Have an event you'd like highlighted here? Email me with the date, time, and place!Wyoming Politics
Before surge in cases, Gordon had hoped to eliminate coronavirus restrictions: "I was very hopeful, up until about a week ago when we stated to see that rise, that we could have eliminated all of our orders," Gov. Mark Gordon said in a press conference last week. (via Trib.com
)


Local group counters blitz targeting Gillette mayor, council: As one group of passionate, outspoken people continue to blast Gillette elected officials in the wake of the resignation of former councilman Shay Lundvall after being found to have "liked" a number of offensive posts on social media, another is sticking up for the City Council and Mayor Louise Carter-King. (via the Gillette News-Record
)


As Wyoming nears a bid on Occidental-owned land, watchdogs still have questions: As Wyoming nears placing its first bid on five million combined acres of land in a deal that could potentially cost more than $1 billion in public funds, some are concerned about the lack of transparency involved in the deal. (via Trib.com
)


Doug Jones' media strategist join Wendt campaign: Nathan Wendt, Teton County's Democratic candidate for the U.S. Senate, has added local and national firepower to his campaign, setting the scene for his underdog run for national office. (via the Jackson Hole News & Guide)Around Wyoming
Sheriff dismissed fears about deputy saying citizen needs 'professional help': A controversial deputy's sister raised concerns the deputy was behind a fake Facebook account. The sheriff said she was "difficult to listen to." (via WyoFile
)


NWCCD board approves FY21 budget, eliminating athletic programs: While dozens of residents from three different counties asked board members to reconsider the decision to cut athletics from the Northern Wyoming Community College District budget, the board approved the cut — among others — unanimously Wednesday night as part of the district's fiscal year 2021 budget. (via The Sheridan Press
)


State releases initial guidance for fall reopening of K-12 schools: Lunch in classrooms, widespread hand sanitizer stations and face coverings are just a few of the features Wyoming students can expect to see if the state's schools return to in-person instruction this fall. (via Trib.com)Eye On Washington
that differed drastically from one he had helped architect in the Senate, calling it a "partisan road to nowhere" over provisions designed to cut fuel emissions and offset damage to infrastructure caused by climate change.


"Their partisan bill is going nowhere," Barrasso said on the floor. "It does seem the Democrats in the House are all about politics, and nothing about progress — the progress we need to make as a country. They are over there pushing socialism, and right here, we are pursuing solutions."
signed onto a major health care price transparency bill that would require hospitals and health insurers to post their discounted cash prices and secret negotiated rates online.


"Americans often leave their health care visits frustrated, not knowing what price to expect on the bill," Enzi said in a statement. "But for many procedures, if you can know the cost beforehand, you can choose the hospital that fits your needs. The Administration issued these no-nonsense health care price transparency rules. I am glad that our legislation would help cement them so patients can stay informed about the real cost of their treatment before they receive the care they need."
Liz Cheney spent most of her week in debates about the National Defense Authorization Act — a massive military spending bill — while handling the fallout
of a bombshell New York Times report that has raised questions over the president's knowledge of alleged Russian bounties on U.S. troops.


Have any tips or suggestions to make this newsletter better? Let me know! Call me at 307-266-0634, email me at nick.reynoldolds@trib.com">s@trib.com or follow me on Twitter, @IAmNickReynolds
Get Government & Politics updates in your inbox!
Stay up-to-date on the latest in local and national government and political topics with our newsletter.