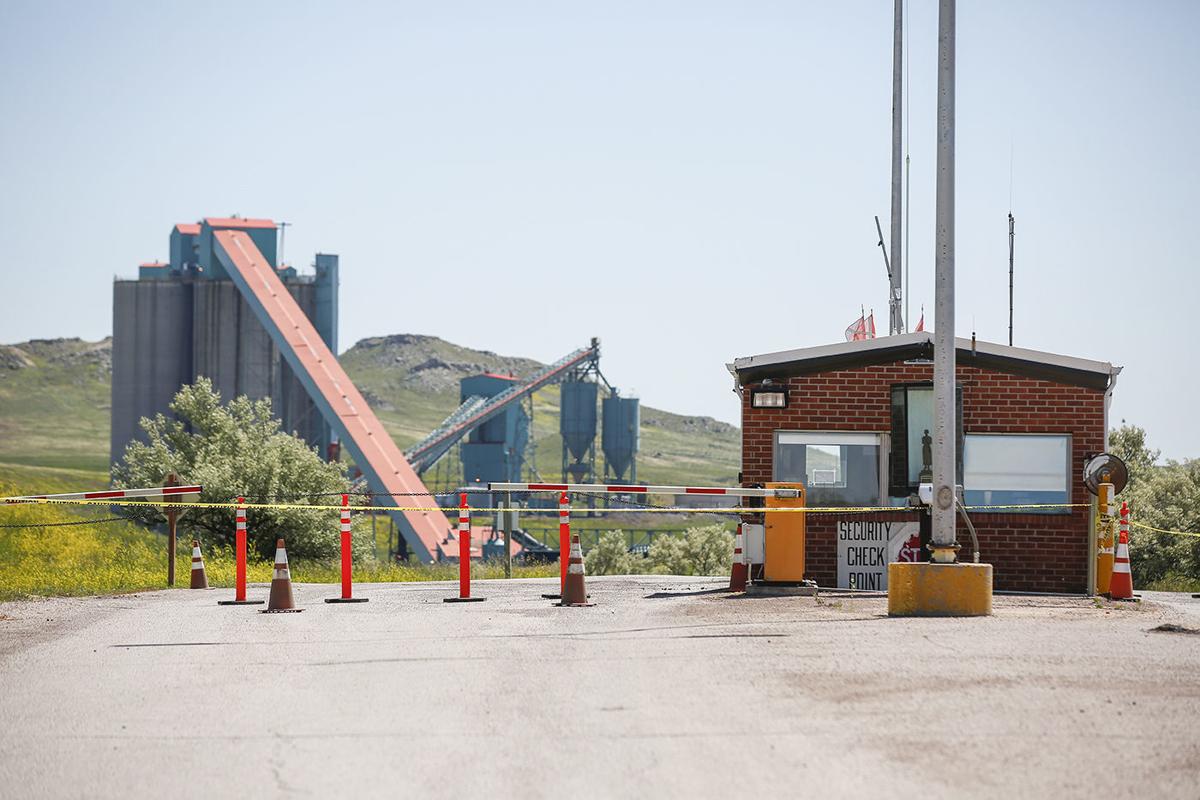 On Monday, members of the Wyoming Legislature's Joint Committee on Revenue will be meeting in Cheyenne to begin discussions on several failed options to raise revenues outside of the realm of coal, gas and oil – an exercise in futility that has played out in the three years since the state's last economic downturn.
The economic impacts of a coal mine closing in Wyoming – let alone two – are largely unknown. This week, the Revenue Committee is set to approve a method of revenue modeling that will make such observations possible, a task from Gov. Mark Gordon that is intended to provide a foundational platform for future, long-term, discussions of tax reform in Wyoming.
But two coal mines closing, even temporarily, tends to speed those discussions up a bit. Wyoming's reliance on only a few streams of income – in this case, mining – leaves the state open to vulnerabilities that might not immediately be apparent. One example can be found in bankruptcy filings filed by Blackjewel LLC this past week, where the company blamed a disruption in the railroad industry caused by flooding in the Midwest this spring for approximately $30 million in losses since this March – a trend corroborated in poor performance for the state's transportation and warehousing sector in numbers released by state economist Jim Robinson several weeks ago.
Predicting the impacts of similar trends on the state's revenues can prove challenging, said Department of Revenue Director Dan Noble. For instance, the tax rates for coal producers and the transportation and railroad sector are based on their performance from the previous year, not resetting until September, when the next year's tax collections begin. In a bad year, this creates the potential to amass multi-million dollar tax bills beyond a company's ability to pay.
Predicting those shortfalls – much less the economic impacts of a certain sector's poor performance – can be tricky business.
"There's not much we can do at this point other than see if receipts drop off from sales and use taxes in that specific area," said Noble. "Obviously if you're out of work, you're not going to be spending the same amount of money you were if you were fully employed. There may be some people leaving because of the closure – something we saw during the last round of layoffs in 2016. But it is something that will impact some revenue. Mining does drive a significant share of our economy, so [the mine closure] will drive some downturn."
"This meeting, I think, will really highlight the 'doom and gloom,'" said committee co-chairman Rep. Dan Zwonitzer, R-Cheyenne. "We don't have the answers, but the revenue picture is changing even more rapidly than we expected, even a year ago. We've been beating the drum on this for three years but, all of a sudden, there's a hole in the drum. Hopefully this time, the committee will actually do something and move some ideas forward."
"I think this is another wake-up call," he added. "I don't know how many more we'll need. Maybe we just need one more, and then we'll do something."
In the House of Representatives – where all revenue-generating bills are constitutionally bound to originate – Zwonitzer believes he has the sympathetic ears to get real revenue bills passed. What the legislation looks like, however, remains up for debate. Some, like Zwonitzer, think a failed corporate income tax that will be revisited this week is the easiest and least painful solution. Others have advocated for an approach that includes small tax increases on everyone, with pitches for legislation like a small food tax potentially making a return to the 2020 budget session as well.
One breakthrough may have come from the revenue committee's last meeting in Lander, where committee members discovered a workaround to the state's constitutional cap on mill levies – which limits the amount of money municipalities can tax themselves and for what purpose. Though the law restricts counties to 12 mill levies – and municipalities to 8, according to Wyoming Property Tax Administrator Brenda Arnold – committee members may have found a pathway that could allow greater taxing authority for municipal governments and leaving them less at the mercy of dramatic economic shifts in communities hundreds of miles away.
"I'm not sure what it will look like," Zwonitzer said. "But I'm optimistic we'll have a proposal in place to move forward on something, whether it's a property tax or a mill levy. I don't know if we can do a city sales tax, but we're looking into that – there's something."
More local independence could be a boon for these communities, particularly in the tough times. With the state's current tax structure, mills can only be used for specific purposes and to fund specific services that can only be approved by local governments. If those communities have already reached their limits, they could potentially run into other issues.
"There's definitely a list of uses that tax money can go toward," said Arnold. "Where the struggle begins is when the economy is lagging, that's the time when the public is in need of additional governmental services – not less – and typically in areas where those governmental entities are receiving less revenue. So it's a challenge in trying to figure out how to find an equilibrium there, because it's almost a double-whammy."
Even though the state does not yet know how badly two coal mines closing could hurt the state, one thing is certain – it definitely will one way or another, either in regards to lost revenues, an increased strain on social services from unemployed miners, or both.
"It's horrible to say this, but maybe there will be momentum from those two coal mine closures," said Zwonitzer.
"It's a pretty bleak picture," added Zwonitzer. "And it just got a lot bleaker. And I think it will be startling Monday afternoon when we present what the future looks like. Coal doesn't look like it's going to be on the way out by 2050 – it's looking like 2030. So… yeah, it's bad."
Monday: Joint Committee on Revenue meets in Cheyenne.
Tuesday: Joint Appropriations Committee meets in Cheyenne. Workplace and Safety Summit convenes in Cheyenne.
Wednesday: The Wyoming State Capital officially opens to the public after several years of renovations.
Have an event you'd like highlighted here? Email me with the date, time, and place!
It's been a busy week in Wyoming, with two of the state's largest coal mines ceasing production in Campbell County this past week. Flying under the radar, however, was the lifting of the curtain on the Wyoming Public Policy Center, a dark money, anti-gambling regulation lobbyist group I've reported on extensively over the past few weeks.
The organization, as it turned out, was funded by members of the Northern Arapaho tribe; however, all sides involved dispute who knew what, and when they knew about it.
Former court clerk appears in court for theft charges: Former Goshen County District Court Clerk Kathi Rickard appeared in court for the first time to begin the process of answering to six felony theft charges relating to her time as an elected official. (via The Torrington Telegram)
State could benefit from lumber mills, commissioners told: More lumber mills would help the Wyoming economy, U.S. Forest Service officials have told the Fremont County Commission. (via The Riverton Ranger)
In an interesting case out of Carbon County, the local county commission threatened to pull $30,000 in advertising expenses from the local newspaper, the Rawlins Times, after it reported on the commission potentially violating the state's public meetings law when it convened in executive session after an argument broke out over local street conditions.
Ray K. Erdu, the editor of the Rawlins Times, told the Star-Tribune in an email that two days following publication of the story, Erdu received a call from the Carbon County Attorney's office demanding the paper publish a retraction, a correction and an apology on the front page of the paper's June 22 edition.
The reporter, as it turned out, did make an error in his original report, writing that the county commission failed to vote to adjourn into executive session, though they actually did.
Though a correction was issued by the paper, Erdu was rankled by the county's demands.
"Had I not met these ridiculous, good-ol'-boy demands, Davis said the Commission would perhaps vote to switch the county's official newspaper to a different publication, thereby jeopardizing our legals publication with the county, which is about a $30,000 advertising account," Erdu wrote. "She also said the county would send out a retaliatory press release (a copy of which was obtained by the Star-Tribune), which was a desperate attempt to simultaneously discredit our original report while saving face.
"The release claimed we were carrying out 'irresponsible reporting' and that we based that specific report on 'reckless assumptions,' which is funny considering Bruce Moats (the state's de facto media law expert) backed the Times up on this," he added.
In response, the paper wrote a story about it. You can read that story here.
Good help hard to find: Finding help for the upcoming summer season in Buffalo, Wyoming, has proven difficult, whether the applicant is qualified or not: "We are having some extreme trouble hiring," said Erick Loden, owner and operator of Loden Construction. "Qualified went out the door a long time ago. We're not even finding warm bodies. If they can show up on time and pass a drug screening, I'll give them a shot." (via The Buffalo Bulletin)
Newcastle grapples with public records pointman: Newcastle – and Weston County – have more questions than they do answers on who should handle the administration of public records requests following the passage of a transparency law by the Wyoming Legislature this past winter. (via the Newcastle Newsletter-Journal)
City of Cody to operate under a deficit: Cody's leadership currently finds itself in a rift where more than $660,000 of its budget for next year will have to come from reserves. Lack of revenue is part of the problem, though its reserves are healthy at present. (via The Cody Enterprise)
It was a slow week in Washington due to the 4th of July holiday, with many members of Wyoming's delegation returning home and remaining under the radar.
Follow politics reporter Nick Reynolds on Twitter @IAmNickReynolds
Get Government & Politics updates in your inbox!
Stay up-to-date on the latest in local and national government and political topics with our newsletter.