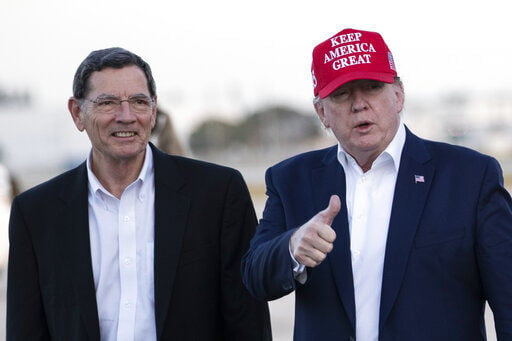 President Donald Trump — a week after the Associated Press called the election for President-elect Joe Biden — continues to challenge, without evidence, the results of the Nov. 3 election.
Throughout the week, numerous Republicans amplified the president's unfounded allegations of rampant voter fraud, which have been refuted by dozens of elected officials from around the country in both parties. Narratives of "dead people" casting ballots turned out to be false or misleading, and in some cases, those dead voters were actually found to be alive and well.
Ultimately, it went nowhere. As of Friday, all but a handful of Trump-friendly media organizations had already called the election for Biden, with many noting that even a recount of the results would almost certainly not yield Trump enough electoral votes for another term in office.
Dozens of Republican officials have begun telling the president to concede the election, with onetime FBI agent and former Republican chair of the House Intelligence Committee Mike Rogers urging the transition to begin, if only for national security's sake.
"Our adversaries aren't waiting for the transition to take place," he wrote on Twitter. "@JoeBiden should receive the President's Daily Brief (PDB) starting today. He needs to know what the latest threats are & begin to plan accordingly. This isn't about politics; this is about national security."
But in Wyoming — the state where Trump's popularity remains strongest — Wyoming's top Republicans did not budge.
As of Friday, Gov. Mark Gordon had yet to acknowledge the presidential-elect, echoing the president's rhetoric about counting every "legal vote" in a tweet of his own Wednesday night. The Wyoming Republican Party had taken to copying and pasting the president's fundraising emails — unfounded claims about voter fraud and all — on its social media pages.
In Washington, Wyoming's federal delegation has focused more on Republican victories in the House and the prospect of maintaining Republican control of the U.S. Senate in the Georgia runoffs this winter.
"The stakes could not be higher," Barrasso, who held a fundraiser for Georgia's Republican Senate candidates David Perdue and Kelly Loeffler last week, said on Fox News Thursday. "The future of America is on the line in Georgia."
Meanwhile, one of the president's most vocal advocates in Wyoming, Senator-elect Cynthia Lummis, maintained that Trump should continue his strategy of challenging the legitimacy of American elections to his advantage.
"Heavens no," she told a reporter for Good Morning America when asked Friday if the president should concede the election. "Even the canvassing boards have not even brought their results forward in many of the states where questions have been raised. This is a very important exercise in our nation, and we have to be confident in the integrity, security and validation of our voting system."
Most would agree, including — as Barrasso pointed out in his own statements — some Democrats.
"The core principle is that every legal ballot must be counted and no illegal ballots can be counted," Barrasso said in a statement. "President Trump is absolutely right to pursue all legal options available. Just remember, Hillary Clinton told Joe Biden just weeks ago he 'should not concede under any circumstances and to not give an inch.' So the process will continue until the Electoral College votes in December."
So what happens when Jan. 20 rolls around and, barring a shocking turn of events, President-elect Biden becomes president? For the Wyoming Republicans who have avoided acknowledging his victory so far, it will likely matter little. In the Senate, Lummis and Barrasso will already be looking to stall the Biden's agenda. And back home, they are unlikely to lose any support for sticking by Trump's side.
Get Government & Politics updates in your inbox!
Stay up-to-date on the latest in local and national government and political topics with our newsletter.