In 1995, American astronomer Clifford Stoll wrote an article for Newsweek about the internet.
In highly critical terms, Stoll – in a piece that has since become infamous – rebuked a future foreseen by the early dreamers and pioneers of the World Wide Web, ridiculing visions of "telecommuting workers, interactive libraries and multimedia classrooms" as well as a future where commerce and business "will shift from offices and malls to networks and modems."
In an ironic twist, the article would make a curmudgeon into an oracle. Schooling has increasingly shifted from the classroom to the internet, as universities have begun to make online learning a growing component of their academic offerings. Politicians have increasingly spoken of putting a greater reliance on the internet in the worlds of medicine and government, particularly in places like Wyoming, where Gov. Mark Gordon has set lofty objectives for government consolidation and telemedicine.
And as the years have passed by, the internet has become increasingly crucial to the vitality of the modern economy.
Once a novelty, the internet as we know it today has been part of roughly two-thirds of the median Wyomingite's lifespan, developing with its growth a generation fluent in a language unprecedented in the course of human history.
And with that evolution, the national economy has evolved with it.
In 2017, there were approximately 23.9 million jobs in the United States based on the internet, according to a broad-ranging study by the Internet Association, while countless other industries rely on the internet to engage in marketplaces that, over the past three decades, have developed regardless of the borders between them.
This has meant a growing significance for jobs tied to the internet as well: According to the Bureau of Economic Analysis, the national digital economy experienced an annual growth rate of 9.9 percent between 2008 and 2017, compared to 2.3 percent for the total economy. Today, no state counts fewer than 20,000 positions directly tied to the internet, with the web becoming a more and more ubiquitous part of industries from agriculture to manufacturing and finance.
But while more and more states have sought to expand their connectivity, Wyoming has lagged behind. Many of the most rural areas of the state have struggled to attract internet providers to their communities, even as the state – for years – has made expanding broadband connectivity a key component of its economic development strategy. In April, the state's Broadband Advisory Council announced that expansion – rather than improving the state's existing network – was the council's primary objective, and the group has been working to map areas in the state where internet connectivity is at its weakest.
But the question remains: if broadband is so important, why is it taking so long to reach rural Wyoming?
The ability to build and build quickly begins with the organization of the entity tasked with constructing that infrastructure, explained Russ Elliott, broadband manager for the Wyoming Business Council.
When the United States started building roads, for example, the task was often undertaken by local and regional organizations of private interests – in most cases, private automobile associations – before the federal government recognized highway systems as the critical infrastructure they are considered today, and took on most of the burden to fund them.
However, telecommunications has been founded on private investment, and its providers have since established businesses and economic models that potentially stand to be harmed by the nationalization of those systems.
In a place like Wyoming – where there is lots of ground to cover and a lower density of customers to pay for it – the type of lucrative opportunity that attracts companies to build are few and far between.
"We've decided to take a route where we believe an emphasis on private industry is what's best," Elliott said. "We're just that type of society. So what we're trying to do here is see through a mission where every citizen and every business in Wyoming is connected and future-proof this thing, so we can build something that allows for future expandability. We want to set a standard in Wyoming – we don't just want to play catch-up."
Luring the builders
Though federal and state governments have devoted substantial sums of money for subsidies to encourage companies to expand broadband into the nation's hardest-to-reach corners, those subsidies aren't always sufficient to make that investment worthwhile for the for-profit companies upon which the system relies.
After cycles of centralization and regulation followed by decentralization and deregulation, the economics of expansion often don't make sense for private investment, since all the lucrative opportunities have been addressed by the largest companies, explained Elliott. This is where state and federal programs come in, to provide the subsidies aimed at assisting providers in building out infrastructure in areas where the economics don't make sense.
Though those subsidies vaguely mirror a nationalized infrastructure program, they still very much respect the interests of private industries, no matter how small they may be.
Unlike road systems and energy infrastructure, which were essentially developed under virtual monopolies, broadband subsidy programs in places like Wyoming have sought to honor the established providers in those locations by allowing them to have first grabs at building that infrastructure. When companies in those regions decide it's not a priority to build out that infrastructure, Elliott said, the state will then pursue a competitive company to get the job done.
In short: rather than managing infrastructure, the government backs off and acts as an enhancement to industry – an intermediary to stoke an established system of supply and demand in places where it hasn't panned out organically.
"We're kind of the group that's trying to bring it all together in a way that everyone can be accountable and we can drill down on what the problem is," Elliott said.
Even with subsidies, companies in places with low-volume customer bases like Wyoming can face stiff challenges making their economic models work.
Another federal program — the Alternative Connect America Fund, or ACAF – only makes business sense for providers looking to build in service areas counting more than six households per square mile. For reference, Wyoming averages about six people per square mile, let alone households.
"On the one hand, these subsidies are crucial to closing the urban/rural divide found in Wyoming and across the nation," said Tyler Cooper, a content manager for the website BroadbandNow.com. "On the other, you are correct in that small communities often get less attention than others, even with government funding. I don't have an authoritative figure to cite, but based on my own personal conversations with ISPs and state regulators, it seems that communities with at least 5,000 individuals are more likely to benefit from these programs than those under this threshold."
From the telegraph lines to fiber
When Mountain View-based company Union Wireless was created in 1914, Wyoming – like much of the rural West – faced a conundrum similar to that experienced by the slowly-served communities of today.
The largest provider in the region at the time – AT&T – was too large to trifle with small communities like Mountain View. Those that did attempt to serve those regions – like the massive and aggressive Rocky Mountain Bell – flew too close to the sun, and proved to be unsustainable.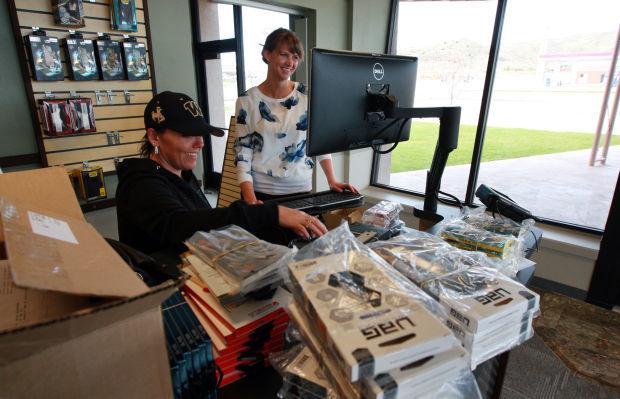 John Woody, Union's proprietor, worked to crisscross the prairie with a cooperative-based network of "rancher lines," named for enlisting the aid of locals to erect them, to build a network that eventually connected communities from Cheyenne all the way to Salt Lake City.
After the advent of wireless, the industry has begun to return to a similar point, said Brian Woody, John's great-grandson.
"Right now with broadband, it's a lot like we're doing that again," Woody said. "At Union, we went from a primarily wire line telephone company to a wireless company, and now I see it shifting back to an emphasis on the wire line and building out broadband infrastructure, not just for us, but the people we pass on the roads no companies really want to serve today."
Similar stories exist all over the state, with dozens of different service providers in different regions of the state providing service that is distinctly tailored to the needs of their communities to the best of their abilities.
"In Wyoming, there certainly are challenges," said Liz Zerga, a lobbyist for the Wyoming Telecommunications Association, which represents the state's independent service providers. "It's one of the highest-cost, most rural areas to serve. But despite those challenges, my clients – which serve those most rural areas – have made really good progress in getting broadband out, in spite of the obstacles of distance, lack of density and cost."
Those small providers – with smaller amounts of capital – are also the only ones willing to do it, particularly as projects in Wyoming can often be losing prospects from the start. A recent study out of the Wharton School of Business at the University of Pennsylvania, for example, found one municipal broadband project in Powell would take more than a century at current rates to recuperate its costs. Larger broadband companies that could solve Wyoming's connectivity issues tomorrow aren't willing to wait that long for a payoff – for obvious reasons.
"For us, it's not so much about making money – we are a for-profit company – but we don't need to profit on it next week," said Woody.
"We look at the long game, where a company like AT&T is looking at the next quarter – what it will look like for their stock prices," he added. "If they're looking out in the future, they're only looking out five years. For a lot of these projects, there's no payoff in five years."
A unique solution, not a bad one
While a decentralized system of small providers may not be the fastest way to solve the state's connectivity problem, it doesn't necessarily mean such a system is a bad one.
Although growth may come slowly, that model at least allows competition in, where monopolies or winner-take-all systems with high barriers to entry can, at times, prosper to the consumer's detriment. Though the shared costs of a nationalized system eliminates one of the downsides of the free market – a model driven by profits, rather than by need – there's also the question of whether consumers trust their government to be in the business of broadband, or whether or not it is capable of doing so.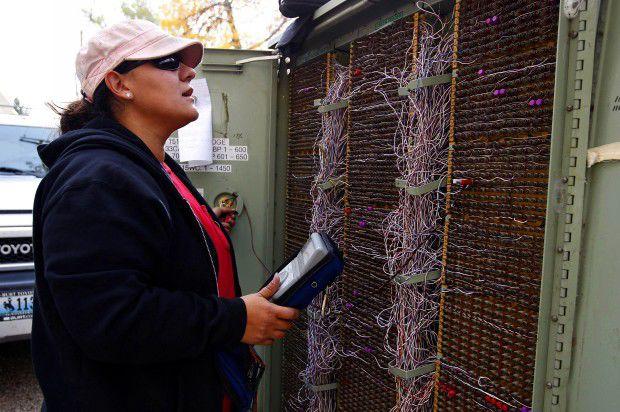 "Here, we let people who have certain core competencies use those core competencies, where in other countries under a nationalized model, we settle for a standard that might not be as great," said Elliott.
A decentralized solution also creates a network with more redundancies, and less prone to the types of outages that have plagued larger networks in cities like Casper and Cheyenne.
"In some respects, I lean toward the decentralized model a little bit," said Woody. "All it takes is one backhoe to cut a fiber line, stopping all the traffic in the state. Having all of these providers thinking in different ways across the state, I think it lends itself to redundancy and really, a better overall network."
The eventual solutions that federal, state and local governments come up with for places like Wyoming, ultimately, will fall down to how long customers are willing to wait, and how much they are willing to pay. Small towns and isolated ranches, inevitably, will have to pay more, or wait until the free market takes its course – if it ever does.
"You're going to pay for it one way or another, whether in your bill or in your taxes," Elliott said. "I think we'd all like to be creative with a more free market approach and spur competition, which will hopefully breed better prices. But because you don't have that reach, there will always be challenges. There just aren't companies chomping at the bit to try and get to Sunrise [a ghost town in eastern Wyoming]. Those are those areas where there's just never going to be an economic imperative. But if we can find a private provider to come in so the government doesn't have to build a network, doesn't have to manage a network, more power to them."